Act Now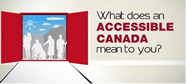 The Government of Canada is leading consultations to inform planned accessibility legislation.
In-person sessions are coming soon to your community. Now is the chance to have your say. Read more.
Sign Up for a Voice of Our Own
A quarterly newsletter from CCD.
Accessibility
CCD is committed to providing a website that is accessible—and usable—to all visitors. If you have any questions or suggestions regarding the accessibility of the site, please don't hesitate to contact us.
Accessibility Features
Visitors using recent versions of screen readers can navigate using the following keystrokes:
H to cycle forwards through the headings
Shift + H to cycle backwards through the headings
1 to navigate to the next level 1 heading (or a number between 1 and 6 to navigate to the next heading on this level)
Shift + 1 to navigate to the previous level 1 heading (or a number between 1 and 6 to navigate to the previous heading on this level)
INSERT + F6 to provide a list of all headings
In addition, the Opera browser has excellent keyboard navigation that is invaluable to visitors with motor difficulties. In Opera, the following keys can be used to navigate headings:
S to cycle forwards through the headings
W to cycle backwards through the headings