Act Now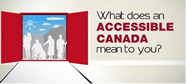 The Government of Canada is leading consultations to inform planned accessibility legislation.
In-person sessions are coming soon to your community. Now is the chance to have your say. Read more.
Sign Up for a Voice of Our Own
A quarterly newsletter from CCD.
Publications
CCD keeps its members and others informed by publishing reports and newsletters.
Voice of Our Own
This quarterly newsletter updates the community on the activities of CCD and its member organizations.
Chairperson's Update
In this monthly newsletter, CCD's Chairperson shares information about the work undertaken by the National Council of Representatives, Committees, volunteers and staff.
CCD Weblog
Reports