Act Now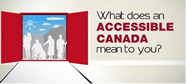 Empower U: Learn to Access Your Disability Rights Training on Canadian Human Rights, the Convention on the Rights of Persons with Disabilities (CRPD) and its Optional Protocol (OP) training aims to increase awareness of how to address discrimination using more familiar Canadian human rights laws such as Human Rights Codes and the newer international Convention on the Rights of Persons with Disabilities (CRPD). This is training for persons with disabilities by persons with disabilities. The training is part of a project funded by Employment and Social Development Canada and implemented by the Council of Canadians with Disabilities (CCD) in collaboration with Canadian Multicultural Disability Centre Inc. (CMDCI), Citizens With Disabilities – Ontario (CWDO), Manitoba League of Persons with Disabilities (MLPD) and National Educational Association of Disabled Students (NEADS). Read more.
Sign Up for our monthly digest
A monthly newsletter from CCD about what is happening in the community
Transportation
Individuals cannot pursue their personal goals without access to transportation. Since its founding in 1976, CCD has been working to remove obstacles to the mobility of persons with disabilities from the modes of transportation within federal jurisdiction—air, rail, inter-provincial bus, and marine. CCD seeks the adoption of enforceable accessibility regulations for these modes.
CCD's Transportation Committee monitors the services provided by transportation carriers, contributes to legislative reform, shares knowledge on access with researchers, challenges discriminatory transportation practices in the courts.
Recent Work
December 14, 2018
VIA Rail Canada is moving forward in our plan to acquire a new fleet for the Quebec City – Windsor corridor. This acquisition represents a $989 million investment towards safe, modern, accessible, and comfortable trains to ensure our customers love the way they travel. Read more.
July 10, 2018
"The Council of Canadians with Disabilities (CCD) was dismayed to learn that Greyhound has announced plans to shut down its operations in parts of Canada, because this withdrawal of service will put in jeopardy the range of safe, independent choices available to the travelling public, including people with disabilities," states Bob Brown, Co-Chairperson CCD Transportation Committee. Read more.
March 15, 2018
Bill C-49, the Transportation Modernization Act, will make some aspects of Canada's federally regulated transportation system more inaccessible than it already is for people with disabilities. Travelers with disabilities routinely encounter accessibility barriers, such as damaged or delayed mobility equipment, kiosks without audio output to make them accessible to blind travelers. If passed without amendment, Bill C-49 while adding new barriers, will also make it harder for organizations like the Council of Canadians with Disabilities, a national organization that has been working for more than 40 years in support on an accessible and inclusive transportation system, to take complaints in the public interest to the Canadian Transportation Agency (CTA). "We are dismayed that Bill C-49 is introducing new barriers at a time when the current Federal Government is about to introduce accessibility legislation designed to make Canada more accessible and inclusive," states Bob Brown, Chairperson of the CCD Transportation Committee. On March 20, 2018, CCD will be appearing before the Senate Committee on transportation calling for the removal of these new barriers to mobility of persons with disabilities in the federally regulated transportation. Read more.
More on Transportation
March 14, 2018
January 19, 2018
November 13, 2017
February 21, 2017
November 18, 2016
November 16, 2016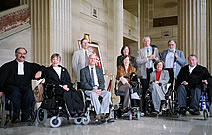 CCD wins VIA Rail case at the Supreme Court of Canada on March 23, 2007.
February 1, 2005
CCD undertakes a comparative international analysis of transportation regulatory frameworks and makes recommendations for Canada. Read more.