Act Now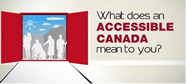 The Government of Canada is leading consultations to inform planned accessibility legislation.
In-person sessions are coming soon to your community. Now is the chance to have your say. Read more.
Sign Up for a Voice of Our Own
A quarterly newsletter from CCD.
Rail
Passenger rail travel and train stations are federally regulated. CCD has worked to remove obstacles to mobility in this mode of travel.
More on Rail
February 9, 2006
March 15, 2005
December 3, 2003
November 5, 2003
October 29, 2003
October 29, 2003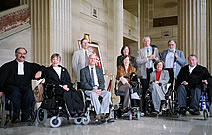 CCD wins VIA Rail case at the Supreme Court of Canada on March 23, 2007.