Act Now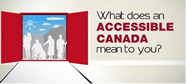 The Government of Canada is leading consultations to inform planned accessibility legislation.
In-person sessions are coming soon to your community. Now is the chance to have your say. Read more.
Sign Up for a Voice of Our Own
A quarterly newsletter from CCD.
RSS Feeds
CCD offers a syndicated feed of all English articles.
New to RSS?
RSS is a method for distributing frequently updated web content. Sites that use RSS create special files, called "feeds", that are updated periodically to contain the site's latest information.
Learn more about RSS, including how to use a "feed reader."