Act Now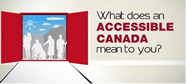 Empower U: Learn to Access Your Disability Rights Training on Canadian Human Rights, the Convention on the Rights of Persons with Disabilities (CRPD) and its Optional Protocol (OP) training aims to increase awareness of how to address discrimination using more familiar Canadian human rights laws such as Human Rights Codes and the newer international Convention on the Rights of Persons with Disabilities (CRPD). This is training for persons with disabilities by persons with disabilities. The training is part of a project funded by Employment and Social Development Canada and implemented by the Council of Canadians with Disabilities (CCD) in collaboration with Canadian Multicultural Disability Centre Inc. (CMDCI), Citizens With Disabilities – Ontario (CWDO), Manitoba League of Persons with Disabilities (MLPD) and National Educational Association of Disabled Students (NEADS). Read more.
Sign Up for a Voice of Our Own
A quarterly newsletter from CCD.
Social Policy
14.3% of Canadians report having a disability. Canadians with disabilities are more than twice as likely to live in poverty than other Canadians. They face exclusion from quality education, from employment and from participation in their communities. CCD's Social Policy Committee provides leadership on addressing the social and economic exclusion of persons with disabilities.
Recent Work
April 20, 2021
"It is good news the national disability benefit has not fallen off the Government's radar as people with disabilities face a disproportionate level of poverty," states Jewelles Smith, CCD Communications & Government Relations Coordinator. "However, our community often feels that we are in an endless consultation loop so we would have liked Minister Freeland to make a commitment on when the benefit is to be up and running." "We always seem to be a community in waiting," added Smith. Read more.
November 7, 2020
If you're in the middle of your working career and have a disability, you're invited to complete this survey. Your views are very important! This survey is a part of our project entitled, "Supporting mid-career workers with disabilities through community building, education and career-progression resources". Participation in this survey is voluntary and it will take about 15 minutes. There is a consent form for the survey. Read more.
November 7, 2020
The Council of Canadians with Disabilities (CCD) finds that the Liberal Government used a disability lens when developing its national work plan outlined in the September 23rd Throne Speech, including measures to address some of the concerns of people with disabilities. Read more.
More on Social Policy
November 7, 2020
November 7, 2020
November 6, 2020
November 6, 2020
November 6, 2020
November 6, 2020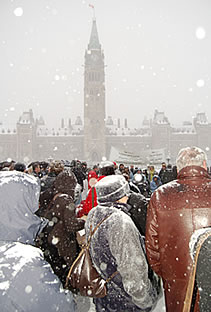 End Exclusion supporters rally in support of an accessible and inclusive Canada.
November 1, 2007
The National Action Plan presents a shared vision for an inclusive and accessible Canada. Read more.