Act Now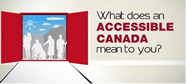 The Government of Canada is leading consultations to inform planned accessibility legislation.
In-person sessions are coming soon to your community. Now is the chance to have your say. Read more.
Sign Up for a Voice of Our Own
A quarterly newsletter from CCD.
Social Policy
14.3% of Canadians report having a disability. Canadians with disabilities are more than twice as likely to live in poverty than other Canadians. They face exclusion from quality education, from employment and from participation in their communities. CCD's Social Policy Committee provides leadership on addressing the social and economic exclusion of persons with disabilities.
Recent Work
May 4, 2019
CCD calls on the Government to accept the SOCI Committee's amendments and to incorporate them into Bill C-81. Read more.
April 11, 2019
On April 3, 2019, Accessibility Minister Carla Qualtrough told the Senate Social Affairs Committee she wants Bill C-81 to be "the best it can possibly be" and that she is open to amendments. The Minister and the Senate have the Open Letter, endorsed by 95 organizations, calling for 9 amendments to improve Bill C-81 and the recommendations of the Federal Accessible Legislation Alliance. These documents provide the formula for achieving the goal set out by Minister Qualtrough. Read more.
April 9, 2019
The Council of Canadians with Disabilities (CCD), a national organization of people with various disabilities working for an inclusive and accessible Canada, applauds the April 5th announcement by the Hon. Carla Qualtrough, Canada's Accessibility Minister, that 28 disability organizations are receiving operational funding in support of their work on social inclusion. Read more.
More on Social Policy
March 20, 2019
November 12, 2018
November 12, 2018
November 12, 2018
November 12, 2018
November 12, 2018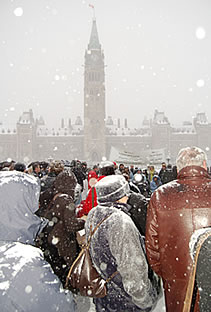 End Exclusion supporters rally in support of an accessible and inclusive Canada.
November 1, 2007
The National Action Plan presents a shared vision for an inclusive and accessible Canada. Read more.