Act Now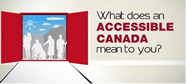 The Government of Canada is leading consultations to inform planned accessibility legislation.
In-person sessions are coming soon to your community. Now is the chance to have your say. Read more.
Sign Up for a Voice of Our Own
A quarterly newsletter from CCD.
Social Policy
14.3% of Canadians report having a disability. Canadians with disabilities are more than twice as likely to live in poverty than other Canadians. They face exclusion from quality education, from employment and from participation in their communities. CCD's Social Policy Committee provides leadership on addressing the social and economic exclusion of persons with disabilities.
Recent Work
February 14, 2017
CCD is interested in developing an ongoing collaborative working relationship with Parks Canada that will support increased access and inclusion in all of Parks Canada's activities. Read more.
December 17, 2016
The Standing Committee on Government Operations and Estimates released its report The Way Forward for Canada Post, which contains 45 recommendations. Read more.
November 25, 2016
While the Council of Canadians with Disabilities (CCD) is pleased with some aspects of the Government's electoral reform bill, "This Bill fails to respond to most of the important amendments to the Canada Elections Act that CCD proposed," said John Rae, 1st Vice Chair of CCD. Read more.
More on Social Policy
November 21, 2016
November 6, 2016
October 31, 2016
October 30, 2016
October 20, 2016
October 13, 2016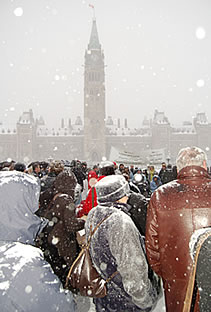 End Exclusion supporters rally in support of an accessible and inclusive Canada.
November 1, 2007
The National Action Plan presents a shared vision for an inclusive and accessible Canada. Read more.