Act Now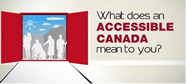 Empower U: Learn to Access Your Disability Rights Training on Canadian Human Rights, the Convention on the Rights of Persons with Disabilities (CRPD) and its Optional Protocol (OP) training aims to increase awareness of how to address discrimination using more familiar Canadian human rights laws such as Human Rights Codes and the newer international Convention on the Rights of Persons with Disabilities (CRPD). This is training for persons with disabilities by persons with disabilities. The training is part of a project funded by Employment and Social Development Canada and implemented by the Council of Canadians with Disabilities (CCD) in collaboration with Canadian Multicultural Disability Centre Inc. (CMDCI), Citizens With Disabilities – Ontario (CWDO), Manitoba League of Persons with Disabilities (MLPD) and National Educational Association of Disabled Students (NEADS). Read more.
Sign Up for our monthly digest
A monthly newsletter from CCD about what is happening in the community
Access/Inclusion
People with disabilities are moving toward equality. Evidence of this progress is apparent in the community: pay phones equipped with TTYs, audible traffic signals, tactile cues on streets, ramps, curb cuts, Braille elevator buttons. CCD has helped bring about these changes.
Through CCD, people with disabilities advise, critique, intervene, liaise and partner to improve access and inclusion in Canada.
A 2004 Environics poll demonstrated that Canadian citizens support inclusion and access for persons with disabilities.
CCD has been sharing its vision of how to achieve an accessible and inclusive Canada with private and public decision-makers responsible for the key systems of society, such as the physical and cultural environment, transportation, income and benefits, employment, health and social services.
Recent Work
December 18, 2021
"If you want to go fast go alone; if you want to go far go together. Now, at CCD we are moving together and we are going to go far in our efforts to create an equitable, accessible and inclusive Canada created by the many voices and viewpoints of our intersectional community. I want to thank everyone involved in CCD for their hard work this year and I look forward to going far with you in 2022 and beyond. Happy Holidays to everyone." ~ Heather Walkus, Acting Chair, 1st Vice Chair.
"Thank you for everything you do nationally and in your home province. I look forward to connecting with you on our Governance work over the coming year to build up CCD's effectiveness. May this season and the year to come bring you the best." ~ Tracy Odell, 2nd Vice-Chair.
"It is the holiday season and the dawn of a new year, a new year can bring new changes and new ideas, on behalf of myself, and the Executive Committee of the Council of Canadians with Disabilities, we extend happiness and peace throughout this season and all year round.
Thank you to the staff, the member organizations, and the strong citizens living with disabilities for continued support and input. You are very valued.
As one, we are a voice, as two, we are a concern, as a group, we become an action.
Happy Holidays!" ~ Ian Young, Secretary.
Pat Danforth has visions of not sugarplums but debits and credits. She is very busy balancing our books but she takes time off from that task to say,
"Wishing everyone a happy holiday season and all the best in the New Year," ~ Pat Danforth, Treasurer.
"As the holidays approach, may the magic of the holiday season fill your home with joy and peace. Best wishes for happy holidays and a magnificent New Year. Take care of yourselves and stay safe," Frank Folino, Member-at-Large on Executive Committee. Read more.
December 14, 2021
The Executive and Council of CCD has, since June 2020, worked on modernizing our policies, practices and systems, as well as strengthening our ability to play a meaningful, strategic and convening role as a human rights advocacy organization in the disability community. We have new work groups, committees and volunteers who are picking up the workload on finances, human resources, technology, and governance. Our human rights, social policy, international and transportation teams continue their work. Read more.
November 26, 2021
The Council of Canadians with Disabilities (CCD) welcomes Ingrid Palmer as a Member-at-Large to our National Council of Representatives. "Ingrid brings a wealth of experience and knowledge from the disability community," states Heather Walkus, Acting Chair. Read more.
More on Access/Inclusion
November 25, 2021
November 24, 2021
August 10, 2021
July 27, 2021
July 6, 2021
July 6, 2021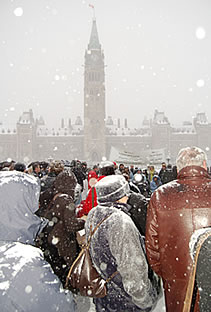 End Exclusion supporters rally in support of an accessible and inclusive Canada.