Act Now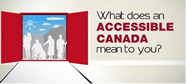 The Government of Canada is leading consultations to inform planned accessibility legislation.
In-person sessions are coming soon to your community. Now is the chance to have your say. Read more.
Sign Up for a Voice of Our Own
A quarterly newsletter from CCD.
Federal Elections
Every Federal Election, the Council of Canadians with Disabilities (CCD) presents disability issues to candidates and political parties. CCD challenges them to support the equality of persons with disabilities. CCD also challenges parties and candidates to run accessible campaigns so that Canadians with disabilities have the opportunity to participate in all campaign activities. In addition, CCD has worked with Elections Canada to improve the accessibility of voting in Federal elections.
Recent Work
October 13, 2015
CCD asked the Federal Parties to share with Canadians where, if elected, they would expand the Federal Government's leadership role with respect to poverty alleviation, the CRPD and access for persons with disabilities, so that we could make this information known to Canadian voters. "I encourage everyone to think about these responses before they cast their ballot and to vote for the Party that they believe has the best plans for improving access and inclusion for persons with disabilities, urges Tony Dolan, CCD Chairperson. "Accessibility and inclusion benefit all Canadians." Read more.
September 30, 2015
After the election is called, you can vote at any EC office across the country.
September 29, 2015
When Canada ratified the Convention on the Rights of Persons with Disabilities (CRPD), it committed to progressively improving accessibility (Article 9). The Council of Canadians with Disabilities (CCD) has challenged the leaders of Canada's federal political parties to implement the CRPD and to share their plans for improving accessibility. Read more.
More on Federal Elections
September 15, 2015
September 10, 2015
September 9, 2015
September 1, 2015
August 31, 2015
August 31, 2015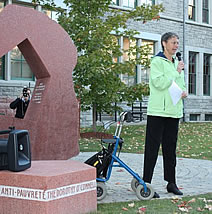 Marie White, a former Chairperson of CCD, addresses anti-poverty rally.