Act Now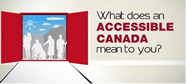 The Government of Canada is leading consultations to inform planned accessibility legislation.
In-person sessions are coming soon to your community. Now is the chance to have your say. Read more.
Sign Up for a Voice of Our Own
A quarterly newsletter from CCD.
International
CCD's approach to international cooperation is based upon human rights and our disability rights principles of equality, consumer-control, self-representation, citizenship, and empowerment. Canadians with disabilities focus on the need to remove barriers to participation that individuals with disabilities face within their communities. CCD's International Development Committee provides leadership on international issues.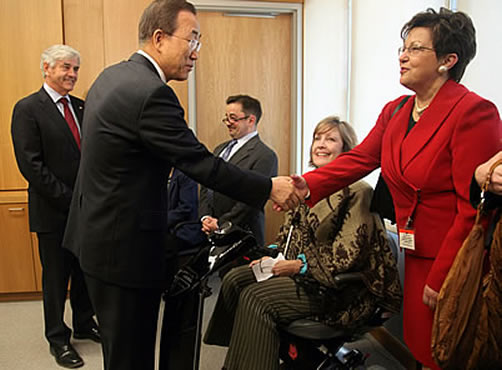 Canadian Foreign Minister Lawrence Cannon, far left, observes as U.N. Secretary-General Ban Ki-moon, second from left, meets members of the Canadian delegation, including CCD's Steve Estey. (AP Photo/Bebeto Matthews)
Recent Work
May 23, 2017
In light of the importance that the CCD attaches to the OP we have taken the time to consult with a number of international law experts on the matter along with our own membership, and what follows is a synthesis of their views and our own, in a process that very much mirror's the drafting of the treaty all those years ago. Read more.
December 23, 2016
Minister Qualtrough and Minister Dion announced that Canada would ratify the CRPD's Optional Protocol in 2017. Read more.
June 22, 2015
I want to share some thoughts about political participation, to mention some key provisions of the Convention on the Rights of Persons with Disabilities (CRPD), as well as relevant recommendations developed by the Community University Research Alliance (CURA), a project led by CCD. Read more.
More on International
February 28, 2014
August 2, 2013
June 3, 2013
May 8, 2013
April 5, 2013
March 27, 2013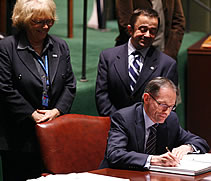 Canada signs the Declaration on the Rights of Persons with Disabilities at the United Nations. Members of the Canadian Delegation Steve Estey, Chair of CCD's International Committee, and Dulcie McCallum observe Canada's ambassador make this historic commitment.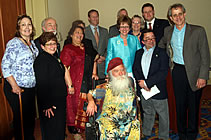 HRSDC Minister Diane Finley, Defense Minister Peter MacKay, NDP Disability Critic Judy Wasylycia-Leis, Liberal MP Mike Savage, Liberal MP the Hon. Carolyn Bennett and Bloc MP Yves Lessard joined leaders from the disability community at a CCD celebration of Canada's ratification of the CRPD.
May 12, 2008
As twenty countries have ratified the Convention on the Rights of Persons with Disabilities (CRPD), it now has the force of international law. Steve Estey, the Chairperson of CCD's International Development Committee joined other colleagues from the global disability rights movement at a UN ceremony to promote greater societal awareness of the CRPD, which provides guidance to countries on how to ensure people with disabilities experience full enjoyment of their human rights. Read more.