Act Now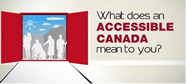 The Government of Canada is leading consultations to inform planned accessibility legislation.
In-person sessions are coming soon to your community. Now is the chance to have your say. Read more.
Sign Up for a Voice of Our Own
A quarterly newsletter from CCD.
Bus
CCD has worked to improve access in this transportation mode. A former CCD Vice Chair Irene McGinn worked on the Roadcruiser project (1983-85) that demonstrated how to build an inter-provincial bus accessible to wheelchair users. A former CCD Chairperson, Eric Norman worked on the complaint process used by the inter-provincial bus system. Inter-provincial bus transportation is somewhat of an anomaly, as accessibility complaints are not addressed by the Canadian Transportation Agency (CTA). (For more information on the complaint process, please refer to the Resources page.)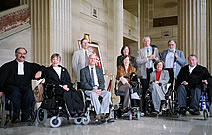 CCD wins VIA Rail case at the Supreme Court of Canada on March 23, 2007.