Act Now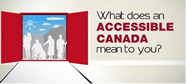 Empower U: Learn to Access Your Disability Rights Training on Canadian Human Rights, the Convention on the Rights of Persons with Disabilities (CRPD) and its Optional Protocol (OP) training aims to increase awareness of how to address discrimination using more familiar Canadian human rights laws such as Human Rights Codes and the newer international Convention on the Rights of Persons with Disabilities (CRPD). This is training for persons with disabilities by persons with disabilities. The training is part of a project funded by Employment and Social Development Canada and implemented by the Council of Canadians with Disabilities (CCD) in collaboration with Canadian Multicultural Disability Centre Inc. (CMDCI), Citizens With Disabilities – Ontario (CWDO), Manitoba League of Persons with Disabilities (MLPD) and National Educational Association of Disabled Students (NEADS). Read more.
Sign Up for our monthly digest
A monthly newsletter from CCD about what is happening in the community
Comments on the Broadcasting Accessibility Fund
November 4, 2011

Mr. Robert A. Morin
Secretary General
Canadian Radio-television and
Telecommunications Commission
Ottawa, ON
K1A 0N2
Fax: 819-994-0218
CRTC Broadcasting Notice of Consultation 2011-523
Call for comments on the Broadcasting Accessibility Fund
Dear Mr. Morin,
1. CCD is pleased to provide comments regarding Bell Canada's Proposal for the Broadcasting Accessibility Fund dated May 6, 2011. CCD requests to appear before the CRTC on this matter either in person or via teleconference. CCD is a national umbrella association of disability groups both national and provincial. CCD seeks to build a more Inclusive and Accessible Canada and improve the status of Canadians with disabilities. Several member groups of CCD will be providing their own comments on the proposal and CCD would urge that CRTC give careful consideration to the responses provided by the Canadian Association of the Deaf (CAD) and the Alliance for Equality of Blind Canadians (AEBC). CAD and AEBC are members of CCD and both have a long history and deep knowledge of the primary content issues related to broadcast accessibility. CCD will confine its comments to questions of governance, principle and means of building greater capacity of the community to address complex issues such as broadcast accessibility.
General Comments
2. Before providing initial comments, CCD wishes to share more generally with CRTC our overarching concerns with access to new information technologies. CCD has just been looking at the "Evolution of Access" and seeking input from our members and key leaders on the primary access issues of today. We have almost completed a yearlong survey of our members through focus groups in each province, key informantinterviews with 14 knowledgeable leaders and two discussions with CCD National Council on the topic of access to new technologies. Clearly, while access in our built environment has improved dramatically and we have greater than ever before access to information, sadly new barriers are being created. These barriers arise because access has not been regulated in the development of new technologies. Equally true is the fact that the pace of change is so rapid that adaptive technologies or approaches do not work because by the time the adaptation is created the original is outdated. Several key messages delivered by our members during our Evolution of Access study are:
Access must be regulated, market forces have not and will not ensure accessibility,
Adaptation is no longer a primary means of removing barriers because of the pace of change,
Too often what was accessible is now being made inaccessible. Ex. Olympics 2010 Broadcast coverage by CTV was fully captioned, but online streaming videos presented by CTV were not captioned because there are no access standards governing the internet. The result was that Broadcast coverage of the Olympics was more accessible to hearing Canadians than to Deaf or hard of hearing Canadians,
Even where accessible technologies exist, many Canadians with disabilities cannot use them because of poverty. An access to technology divide is being created between the rich and poor and public access programs seldom take into account access standards or ensure programs such as screen readers are built into public access service centres.
3. CCD fears we are creating a larger gap in Canada between those that can access information in timely and useful ways and those that cannot because they cannot afford it or because the new system has simply ignored the access concerns of Canadians with disabilities.
4. CCD recognizes this broader perspective does not apply directly to the Broadcast Accessibility Fund proposals but CCD believes that CRTC must keep these concerns in the forefront of its understanding and thinking as CRTC considers other initiatives to improve access for Canadians with disabilities.
Comments:
5. CCD supports the proposal put forward by the Canadian Association of the Deaf that the Broadcast Accessibility Fund (BAF) be either fully independent or an autonomous branch of the Commission itself.

6. The issues of concern to CCD in relation to Bell Canada's Proposal for the Broadcasting Accessibility Fund relate to:
Consumer Control/Accountability,
Equal Participation/Addressing Power Imbalance.
Consumer Control and Accountability
7. CCD suggests that any governance structure for the Broadcast Accessibility Fund must ensure that 2/3 of the directors be persons with disabilities who are accountable to the disability community and selected by the broader community of disability organizations. This is what CRTC has recommended.
For consumer control to work individual board members with disabilities must be accountable to the broader community of persons with disabilities and thus their initial selection and future replacement must be made by the disability community and their organizations.
8. CCD suggests that any governance structure not include "Independent Accessibility Directors". To whom would these individuals be accountable? CCD believes that any proposal must ensure representation from those with mobility, vision, hearing or cognitive impairments but it must be understood that within these broad categories there are differing issues of concern and that subdivisions of these broad categories might need to be created at specific times for specific purposes. For example: it will be difficult at times for the representative of the broad category of cognitive impairment to represent those with intellectual disabilities, learning disabilities and mental health concerns. Broadcast accessibility issues are of fundamental concern to those with hearing or vision impairments. CCD would suggest that the community of people who are Deaf and/or hard of hearing and the community of people with vision impairment be given additional representatives.
Ensuring Equal Participation and Addressing Power Imbalance
9. For many years the struggle of persons with disabilities has been to be included in key policy dialogues or program development discussions of concern to us. Our struggle has been to get a seat at the table where key issues are discussed and new directions are determined. To a large extent we have been successful. There are many examples in the areas of transportation access, advisory groups on taxation, technical committees on data collection, Canada's involvement in the drafting of the UN Convention on the Rights of Persons with Disabilities, etc. to name just a few, where our participation has been supported. Yet we often still find ourselves at a disadvantage. We are frequently invited to participate in policy advisory or decision-making tables but our volunteers find themselves having to respond to very technical proposals brought forward by large professional bureaucracies, While there may be consumer control in regard to representation, our community is not adequately resourced to respond to proposals submitted by large, well resourced agencies. The power imbalance of those sitting at these decision making tables must be addressed. Canadians with disabilities and their organizations must be supported to bring forward well researched, evidence based proposals. The Broadcast Accessibility Fund has the capacity to address this power imbalance if at the outset it is structured to do so. Addressing this imbalance not only means paying board members for their time but may also mean providing support to the organizations to whom they are accountable. There are options that could be considered in this regard should CRTC wish to explore this further.
10. The Broadcast Accessibility Fund through its process and actions must, support, enhance and build community capacity not simply to be at the table but to equally engage in the discussions and decision making process of any board created to address this issue area. To ensure good input and equality of participation resources must be made available to build community capacity.
11. In summary, any proposal under consideration by CRTC to address Broadcast Accessibility must ensure consumer control and accountability, as well as find creative ways to ensure people with disabilities come to the table as equal partners. CCD is most willing to discuss our ideas further if that is desired.
Sincerely,

Tony Dolan
National Chairperson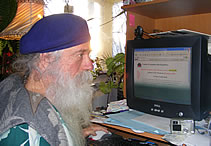 Jim Derksen checks out CCD Web Page.