Act Now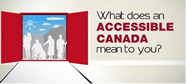 The Government of Canada is leading consultations to inform planned accessibility legislation.
In-person sessions are coming soon to your community. Now is the chance to have your say. Read more.
Sign Up for a Voice of Our Own
A quarterly newsletter from CCD.
CCD Chairperson's Update - August 2012
CCD Participates in HRSDC Meeting
On 17 August 2012, Laurie Beachell participated in a meeting called by Human Resources and Skills Development Canada (HRSDC), where the Department explained its plan to transform the Social Development Partnerships Program (SDPP). SDPP funds 18 national disability organizations. Over two years, HRSDC is transforming SDPP. By the end of the transformation, the program will not provide grants to the 18 national organizations that have had a long-term relationship with the Government of Canada and the program will receive project proposals from Canadian organizations addressing disability issues. CCD is one of the 18 organizations affected by this change, as are the majority of CCD's provincial member organizations.
Project Proposals Submitted
Prior to announcing the changes to SDPP, HRSDC put out a call for project proposals and CCD responding by submitting two proposals. CCD is seeking funding to work on employment issues and to update a paper written by Orville Endicott on safeguards that could protect vulnerable people if assisted suicide was to be legalized in Canada.
Discussions with Provincial Members
Via teleconference, Laurie Beachell met with the provincial coordinators of CCD's provincial member groups to discuss the changes that will alter CCD and its provincial members' relationship with their major funder, Human Resources and Skills Development Canada.