Act Now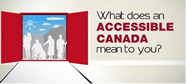 Empower U: Learn to Access Your Disability Rights Training on Canadian Human Rights, the Convention on the Rights of Persons with Disabilities (CRPD) and its Optional Protocol (OP) training aims to increase awareness of how to address discrimination using more familiar Canadian human rights laws such as Human Rights Codes and the newer international Convention on the Rights of Persons with Disabilities (CRPD). This is training for persons with disabilities by persons with disabilities. The training is part of a project funded by Employment and Social Development Canada and implemented by the Council of Canadians with Disabilities (CCD) in collaboration with Canadian Multicultural Disability Centre Inc. (CMDCI), Citizens With Disabilities – Ontario (CWDO), Manitoba League of Persons with Disabilities (MLPD) and National Educational Association of Disabled Students (NEADS). Read more.
Sign Up for our monthly digest
A monthly newsletter from CCD about what is happening in the community
Chairperson's Update: May 2012
Ending of Life Ethics
In March, Global Television broadcast an episode of 16X9, called "Taking Mercy" which portrayed people with disabilities as having a poor quality of life and included a call for legalized euthanasia. CCD's Ending of Life Ethics Committee, co-chaired by Rhonda Wiebe and Dean Richert, has been raising awareness about the impact of negative media portrayal on Canadians with disabilities and public policy which governs practices at end of life. CCD has written to Members of Parliament informing them about "Taking Mercy": and urging them to remain committed to maintaining Canadian law prohibiting assisted suicide. The Ending of Life Ethics Committee oversaw the development of an article for Abilities magazine which encouraged readers to make a complaint to the Canadian Broadcast Standards Council whenever they see a media piece which devalues people with disabilities. As Global plans to rebroadcast "Taking Mercy" two additional times, Rhonda Wiebe, Dean Richert, Jim Derksen and Laurie Beachell have been talking to the producers of 16X9, encouraging them to redo the episode to include people with disabilities who will counter the negative messages presented in the first broadcast.
The Supreme Court of Canada has decided to hear the Rasouli case, which is about who gets to make decisions about withdrawing treatment from a patient who cannot make that decision for him/herself—doctors or the patient's family. CCD has not intervened in this case but will be monitoring developments both in the media and at the court.

Transportation
In recent weeks, there has been a flurry of activity coming from the Canadian Transportation Agency (CTA). On 1 May 2012, the CCD Transportation Committee met to discuss proposals developed by the CTA. The CTA is planning a consultation on what they are terming "safety attendants". CCD is concerned about CTA's motivations with regard to this consultation and CCD will be emphasizing the principle of self-determination to CTA. CCD has also provided CTA comments on CTA's "Consultation Document Regulatory Proposal to amend the Air Transportation Regulations (SOR/88-58). In its response to CTA, CCD has taken a strong position that mobility aids must be considered as an extension of the passenger with disabilities and that carriers' obligations to transport passengers' mobility aids must not be reduced. To reduce these obligations would create undue obstacles to the mobility of persons with disabilities.

Social Policy
On 2 May 2012, the CCD Social Policy Committee met by Conference Call. During the meeting, the members gave feedback on a redrafted National Action Plan. The CCD Council will review the new version during its meeting in June.
The Committee is working on the plans for End Exclusion 2012, which will be held on the evening of November 28, 2012 and all day November 29, 2012 in Ottawa. The Committee decided to develop for End Exclusion 2012, an anthology of writings by people with disabilities, sharing their perspective on what was key in their becoming and staying employed.
On 11 May 2012, Jim Derksen and Laurie Beachell met with Senator David Smith, who was in Winnipeg. They provided a briefing to Senator Smith on CCD's current priorities. Senator Smith is a longtime friend of the disability community. He chaired the 1981 Special Parliamentary Committee which published the groundbreaking Obstacles Report, which laid the foundation for many positive undertakings on disability issues that occurred during the 1980s.
On 22 May 2012, Laurie Beachell participated in a conference call meeting of the Roundtable on the Canada Pension Plan Disability Benefit. The Roundtable looks at administrative reforms that can improve how the Benefit serves Canadians with disabilities.
On 23 May 2012, Vangelis Nikias, CCD CRPD Project Manager, participated in a meeting sponsored by Dignity for All, which discussed the 2012-2015, phase of the campaign to end poverty.

Access to Technology
The co-chairs of CCD's Access to Technology Committee, John Rae and Gary Birch, met by conference call to discuss upcoming activities. In the coming weeks, CCD will be seeking to strengthen its working relationship with the federal Department of Industry. CCD will also be encouraging the producers of Marketplace to undertake a program focusing on the barriers and opportunities presented by information and communication technology.

International
CCD Chairperson Tony Dolan met with Javed Abidi, Chairperson of Disabled Peoples' International (DPI). Javed was in Montreal to speak at the "Disability and Work Conference: Global Strategies to Equity", as was Tony. Tony moderated the session titled "Getting A Job, But Not Just Any Job: Towards Competitive, Meaningful Employment." Vangelis Nikias, CCD CRPD Project Manager, also attended this Conference.
DPI has closed its office in St. John's, NL and is relocating to Ottawa. Steve Estey, Chairperson of CCD's International Development Committee, is on contract with DPI.
On 24 May 2012, Vangelis Nikias participated in the Annual Forum of the Canadian Council for International Co-operation (CCIC). The forum's theme was "Changing realities, changing roles and the future of Canadian CSOs". At the forum, participants took the pulse of the sector on a range of emerging issues that challenge development organizations' ability to fulfil their various roles. The Forum's objectives were: To provide a platform for exchange on different assessments and understandings of the changing context and emerging trends for civil society organizations and our roles in international development; To explore key ways for civil society to address these emerging new realities; To identify priorities and concrete actions for the sector's collective responses to these realities, and to define what role CCIC can play in these. CCD is a member of CCIC.
On Monday, 7 May 2012, Vangelis Nikias met with the Olivier DeSchutter, the UN Special Rapporteur on the Right to Food. The purpose of the meeting was to discuss governance and policies impacting on the right to food: social and economic rights compliance. Vangelis drew the Rapporteur's attention to the Convention on the Rights of Persons with Disabilities and how this Treaty could be used in his work to advance food security.

News Flash! Court Decision Released
On 30 May 2012, the court released its decision in the Jodhan case, which seeks to secure access to Government of Canada websites by people with disabilities. CCD applauds Donna Jodhan and AEBC for their hard work on this issue. CCD sought intervenor status in this case but was denied by the Court.