Act Now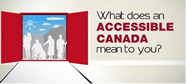 Empower U: Learn to Access Your Disability Rights Training on Canadian Human Rights, the Convention on the Rights of Persons with Disabilities (CRPD) and its Optional Protocol (OP) training aims to increase awareness of how to address discrimination using more familiar Canadian human rights laws such as Human Rights Codes and the newer international Convention on the Rights of Persons with Disabilities (CRPD). This is training for persons with disabilities by persons with disabilities. The training is part of a project funded by Employment and Social Development Canada and implemented by the Council of Canadians with Disabilities (CCD) in collaboration with Canadian Multicultural Disability Centre Inc. (CMDCI), Citizens With Disabilities – Ontario (CWDO), Manitoba League of Persons with Disabilities (MLPD) and National Educational Association of Disabled Students (NEADS). Read more.
Sign Up for our monthly digest
A monthly newsletter from CCD about what is happening in the community
CCD Chairperson's Update - September 2012
Canadian Human Rights Commission Not Named as CRPD Monitor
David Langtry, the Acting Chief Commissioner of the Canadian Human Rights Commission, wrote to CCD to report that the Government of Canada will not be naming the Commission as the monitor for the Convention on the Rights of Persons with Disabilities (CRPD). Article 33.2 of the CRPD calls upon each country, which has ratified the Convention, to formally designate an independent monitoring mechanism to oversee compliance with the Convention. The Honourable Rob Nicholson, Minister of Justice, has written to the Commission informing it of the Government of Canada's decision.

Toujours vivant/Not Dead Yet Canada
CCD's Ending of Life Ethics Committee is working with a group of interested Canadians with disabilities to form a new organization, Toujours vivant/Not Dead Yet Canada that will focus exclusively on end of life issues. The CCD National Council of Representatives endorsed this activity during its June Council meeting. Activist Amy Hasbrouck will be the person responsible for developing Toujours vivant/Not Dead Yet Canada. CCD has received a very generous charitable donation which is enabling this new work to take place. Since the spring, Rhonda Wiebe, Dean Richert, Jim Derksen, and Laurie Beachell have been meeting with Amy Hasbrouck via conference call to lay the groundwork for establishing this new organization. Welcome to Toujours vivant/Not Dead Yet Canada and Amy Hasbrouck.

Historic Victory Makes Websites Accessible to Blind Canadians
Canadians with vision impairments can sleep soundly in the knowledge that the Charter of Rights and Freedoms guarantees them (1) access to electronic means of communication, and (2) that as communication technologies change, the legal obligation to maintain accessibility will not. The technology exists to make websites accessible, but the federal government took the position that they were not obliged to use it. The Courts have given their final answer; ordering the federal government to provide accessibility now and into the future.
Donna Jodhan, a blind MBA graduate from McGill University, accessibility consultant and President of the Alliance for Equality of Blind Canadians (AEBC), found she was unable to access previously accessible federal government websites. She also discovered that interactive websites, on which business could be transacted with government online, were completely inaccessible.
She retained legal counsel and, with support from the now-cancelled Court Challenges Program, was able to bring a Charter challenge to the inaccessibility of government websites. The Attorney General of Canada responded with an intimidating and massive defence of its actions. Ultimately its defence was that the government did not need to respond to changing technologies and that the websites did not need to be accessible in any event because Ms. Jodhan could communicate with the government by phone, mail or in person ["alternate channels of communication"].
On November 29, 2010, Justice Michael A. Kelen of the Federal Court rejected the government's arguments and ruled that it had violated Ms. Jodhan's Charter equality rights. The Court also directed that it would retain jurisdiction to oversee the government's bringing itself into compliance with its Charter obligations.
The federal government appealed this decision. On May 30, 2012, Justice Nadon, on behalf of a unanimous panel of the Federal Court of Appeal, rejected the government's appeal. The Court confirmed Justice Kelen's decision that website inaccessibility violated the Charter rights of blind Canadians. It did, however, decide that circumstances did not warrant Justice Kelen overseeing government efforts to bring itself into compliance.
Both the federal government and Ms. Jodhan had to decide whether or not to appeal the Federal Court of Appeal's decision to the Supreme Court of Canada or to accept it as binding.
The federal government ultimately decided not to appeal, thereby acknowledging for the first time that it had discriminated against blind Canadians.
Ms. Jodhan remained in a quandary. The grace period granted by Justice Kelen to allow the federal government to bring itself into compliance had already passed. But Ms. Jodhan lacked the resources required to determine whether the government had done what the Court had ordered it to do. It would be very expensive to audit millions of web pages. She was, however, one of the very last to have Court Challenges funding with which she could appeal to the Supreme Court of Canada. If she didn't appeal, and the websites remained inaccessible, there would be no effective means of holding the government to account.
Not wishing to appeal unnecessarily, she requested that the federal government provide her with internal accessibility audits. It refused.
She then turned to the Canadian National Institute for the Blind ("CNIB"), which agreed to conduct a full accessibility audit within the tight timelines she had for appealing to the Supreme Court of Canada.
The CNIB audit identified a small number of "compliance failures", but concluded that "[t]he government of Canada has done well in remediating and addressing many of the issues found in prior assessments." [ie. the assessments that the Court had found justified a finding that it had discriminated against blind Canadians] With respect to interactive websites, the CNIB audit concluded that "… the government of Canada has largely met compliance obligations."
These conclusions were further substantiated by spot audits conducted by Ms. Jodhan's technical advisors, Jutta Treviranus and Jan Richards from OCAD's Inclusive Design Research Centre ("IDRC"), and an international comparative audit conducted by iTnews for Australian Business, an online publication, which rated Canada and the European Union as having the most accessible government websites of the 14 governments tested.
On the basis of these audits Ms. Jodhan has concluded she would not be letting blind Canadians down by deciding not to appeal the Federal Court of Appeal's decision to the Supreme Court of Canada. Her decision makes the Federal Court of Appeal's decision the final word on website accessibility.

Ms. Jodhan stated:
I am delighted and relieved that this matter has finally ended with a victory for all blind, partially sighted and deafblind Canadians. Ensuring our kids can now look forward to having independent and equal access to information, with less sighted assistance, was definitely worth the effort.
I thank my lawyers David Baker and Meryl Gary, and accessibility experts Jutta Treviranus and Jan Richards. I also thank the AEBC, CNIB and Council of Canadians with Disabilities (CCD) for their moral and legal support throughout, with a special thank you to CNIB for conducting the audit.
David Baker of bakerlaw stated:
Donna Jodhan's case has drawn recognition of Canada's pre-eminence in equality rights for its disabled citizens from around the world. It establishes that Canadians with disabilities now have a right to expect full access to goods, services and information.
Donna recognized that the cancellation of the Court Challenges Program meant that comparable cases would not be possible in the future. Before deciding whether or not to appeal, she ensured the government was in substantial compliance with the accessibility requirements established by the Charter of Rights and Freedoms.
CCD congratulates Donna Jodhan and her team for this victory and acknowledges the many years of work that went into the removal of this barrier.

Challenging Inaccessible TV Set Top Boxes
Ross Eadie, who has a vision impairment, has filed complaint with the Canadian Human Rights Commission against the Manitoba Telephone System (MTS) because MTS does not offer accessible TV set top box and software usable by a person with a vision impairment. Both CCD's Access to Technology Committee and CCD's Human Rights Committee have reviewed this case and are supportive of CCD becoming involved in this case, which if successful could be an important victory is achieving greater access to technology in Canada.

Networking with the Canadian Association for Community Living
Rhonda Wiebe, Dean Richert, Laurie Beachell and April D'Aubin participated in the Canadian Association for Community Living (CACL) event, The Choice Is Ours: A National Conference and Dialogue, which was held in Winnipeg on 28-29 September 2012. Participants focused on the affects of assisted suicide and new reproductive technology on the equality of persons with disabilities.