Act Now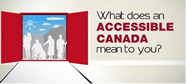 Empower U: Learn to Access Your Disability Rights Training on Canadian Human Rights, the Convention on the Rights of Persons with Disabilities (CRPD) and its Optional Protocol (OP) training aims to increase awareness of how to address discrimination using more familiar Canadian human rights laws such as Human Rights Codes and the newer international Convention on the Rights of Persons with Disabilities (CRPD). This is training for persons with disabilities by persons with disabilities. The training is part of a project funded by Employment and Social Development Canada and implemented by the Council of Canadians with Disabilities (CCD) in collaboration with Canadian Multicultural Disability Centre Inc. (CMDCI), Citizens With Disabilities – Ontario (CWDO), Manitoba League of Persons with Disabilities (MLPD) and National Educational Association of Disabled Students (NEADS). Read more.
Sign Up for our monthly digest
A monthly newsletter from CCD about what is happening in the community
CCD Chairperson's Update - January 2013
Surviving the Chill
The last weeks of January tend to bring some of Canada's coldest temperatures. In addition to the cold winds brought by Canadian weather systems, we in the self-representational corner of the disability community are also experiencing the chill that comes from the reality that Human Resources and Skills Development Canada is implementing a long-term plan to alter its funding relationship with groups like CCD and its member organizations. On 24 January 2013, CCD received a memo from the Coalition of Persons with Disabilities- NL (COD-NL), which announced a membership meeting where COD-NL members will consider whether to disband the organization. Correspondence like this demonstrates how dire the circumstances have become in our sector. Leaders in disability organizations are facing difficult choices from coast to coast. While we are making these hard decisions, it is important to remember that the forward momentum that the disability rights community has put behind access and inclusion has grown so strong that it will continue even while we are facing challenging circumstances.
Recognizing the power of our message of access and inclusion for all, the CCD Executive Committee has been working to further develop the strategies, suggested during our November Future Directions meeting in Ottawa that will contribute to the sustainability of CCD and, more generally, the disability rights sector. In addition, the day-to-day work continues. CCD is pleased to share the following update on recent activities.

Executive Committee Met
On 14 January 2013, the CCD Executive Committee met to discuss funding submissions. The Executive Committee and Laurie Beachell are working on submissions for HRSDC's transition funding. CCD has submitted its 2013-14 funding application to HRSDC.

HRSDC Launches Report
On Wednesday, 16 January 2013, Vangelis Nikias, CRPD Project Manager, was in attendance at IBM in Ottawa, when the Hon. Diane Finley, MP, Minister of Human Resources and Skills Development, released Rethinking disAbility in the Private Sector, the report of the Panel on Labour Market Opportunities for Persons with Disabilities. The report highlights actions employers can take to accommodate people with disabilities in their workplaces, as well as the benefits to both individuals and businesses. As well, the report recognizes the need for business leadership and effective community partnerships. "It is time for employers to step up their commitment to hiring and accommodating persons with disabilities," said Tony Dolan, National Chairperson of CCD. "The report acknowledges that leadership from senior management plays a crucial role in putting people with disabilities to work and CCD heartily agrees," said Dolan.

Accessible Air Transportation
Pat Danforth, Chairperson of CCD's Transportation Committee, submitted a response to the Accessible Transportation Directorate's consultation paper, "Regulatory Proposal to Amend the Air Transportation Regulations, SOR/88-58, as amended". The Accessible Transportation Directorate is located within the Canadian Transportation Agency, which regulates transportation in federal jurisdiction.

Lending Support for a National Housing Strategy
CCD participated in a teleconference which focused on developing support for Bill C-400 which calls for a Canadian housing strategy.

Assisted Suicide
Following the release of a new Quebec report, which supported making assisted suicide an option for people in palliative care, Amy Hasbrouck, Toujours vivant – Not Dead Yet, was a guest on CBC's The Current. Amy presented a strong disability rights argument for why assisted suicide should remain illegal in Canada. Listen to that episode of The Current.

Access at the Canadian Museum for Human Rights (CMHR)
Yvonne Peters, CCD Human Rights Committee, and Laurie Beachell, CCD National Coordinator, participated in a press conference hosted by the Canadian Museum for Human Rights on Tuesday, 29 January 2013. The CMHR discussed how access and inclusion will be the norm at the museum. On Tuesday evening, the CMHR hosted a gathering for the members of the disability community for a more in-depth discussion of accessibility and how the museum will be conveying the disability community's human rights journey. Over 60 participants attended the meeting and had the opportunity to hear presentations and ask questions. Read more.

Accessible and Inclusive Development Assistance
On 22 January 2013, Vangelis Nikias participated in a consultation addressing how the World Bank should improve its environmental and social protection safeguards. He explained how the inclusion of concepts such as affirmative action and reasonable accommodation in Bank safeguards could influence countries that borrow from the World Bank to adopt policies that would assist them achieve the goals of their poverty reduction programs. On 30 January 2013, CCD made a submission to the Department of Finance discussing how the World Bank could improve its outcomes on poverty reduction, consultation with poor people and consistency with human rights standards.

It's Time to Donate to CCD
Through the crowd funding web site Indiegogo, CCD continues to fund raise to cover the costs for its litigation in the Carter case. CCD is seeking to prevent the legalization of assisted suicide. Every gift brings CCD closer to its fundraising goal of $10,000. Please consider making your donations today. Read more.

CRPD Awareness Project Update
A wide range of audiences have heard CCD's message about the CRPD, as a result of activities undertaken by Vangelis Nikias, CRPD Project Manager. Some of the highlights of Vangelis's schedule for January have been:
On 8 January 2013, internet radio host Dan Windheim interviewed Vangelis about CCD's work to mobilize people with disabilities in support of the CRPD. Listen to the podcast on the Rockland web site.
Vangelis Nikias has been participating in meetings focused on the Universal Periodic Review.
He has become a popular guest lecturer at Canadian universities.
Vangelis has spoken about the CRPD to members of the Centre for Independent Living in Toronto and is currently working with them to develop educational materials about the CRPD.

Access Inclusion and Mobility Network
CCD has been in conversation with researchers from Carleton University seeking to develop a new network for knowledge mobilization on accessibility and inclusion. CCD will continue to dialogue with the researchers as the project unfolds.

Congratulations to Rhonda Wiebe Re: Book of the Year
Congratulations to Rhonda Wiebe, Co-chair CCD Ending of Life Ethics Committee! The book, Religious Understandings of a Good Death, has been named the 2012 book of the year in the hospice and palliative care category by the American Journal of Nursing. Rhonda co-authored a chapter in this book with Margaret Lavalee, Joe Kaufert and Pat Kaufert. The title of the chapter is "Seeking Physical, Cultural, Ethical and Spiritual 'Safe Space' for a Good Death: The Experiences of Indigenous Peoples in Accessing Hospice Care." Improving access to palliative care is an important component of the fight against assisted suicide, particularly with persons experiencing social marginalization.

Welcoming a New Member to the Team
CCD member organization, the National Network for Mental Health, has appointed Julie L. Flett as interim executive director. CCD looks forward to working in partnership with Julie and others at NNMH.

Condolences
CCD received sad news this month, when Amber-Joy Boyd, Program Director of the Saskatchewan Voice of People with Disabilities, informed us of the passing, on 6 January 2013, of Don Terry, a former staff person of the Voice and strong advocate for disability rights. CCD extends condolences and sympathy to our friends at the Saskatchewan Voice and the Terry family.

Mark Your Calendars
The following events will be taking place:
14 February 2013 – Steve Estey, Chairperson of CCD's International Committee, will be speaking at an event titled: Examining Canada's Human Rights Obligations under the Convention on the Rights of Persons with Disabilities: How Can a Civil Society Shadow Report Improve Accountability (1:00 – 3:00 pm) Location: Campbell Conference Facility, Munk School of Global Affairs, 1 Devonshire Place, Toronto.
18 – 20 April 2013 - Delegates will be focusing on ageing with an intellectual disability at the "Coming of Age Conference" in Winnipeg, Manitoba.
29-31 May 2013 - The CASHRA conference, "Renewing the Vision", will be taking place in Halifax, Nova Scotia. David Shannon, a former member of the CCD International Committee, is now the Executive Director of the NS Human Rights Commission.
18 – 20 June 2013 - The Congress of the Humanities and Social Science will take place at the University of Victoria.