Act Now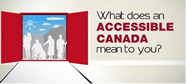 Empower U: Learn to Access Your Disability Rights Training on Canadian Human Rights, the Convention on the Rights of Persons with Disabilities (CRPD) and its Optional Protocol (OP) training aims to increase awareness of how to address discrimination using more familiar Canadian human rights laws such as Human Rights Codes and the newer international Convention on the Rights of Persons with Disabilities (CRPD). This is training for persons with disabilities by persons with disabilities. The training is part of a project funded by Employment and Social Development Canada and implemented by the Council of Canadians with Disabilities (CCD) in collaboration with Canadian Multicultural Disability Centre Inc. (CMDCI), Citizens With Disabilities – Ontario (CWDO), Manitoba League of Persons with Disabilities (MLPD) and National Educational Association of Disabled Students (NEADS). Read more.
Sign Up for our monthly digest
A monthly newsletter from CCD about what is happening in the community
Chairperson's Update - July - August 2013
Judicial Review Sought
On 14 August 2013, CCD, DAWN-RAFH Canada, People First of Canada and CACL wrote to the Minister of Justice, the Hon. Peter MacKay, about Quebec's Bill 52, "An Act Respecting End of Life Care". The groups explained to the Minister that many within the disability community believe the lives of persons with disabilities will be put in jeopardy should there be any change in the Criminal Code prohibition against assisted suicide or euthanasia. CACL and CCD clearly expressed this concern as interveners in the Carter Case heard by the BC Court of Appeal. Quebec's Bill 52 raises similar concerns for our community and also seeks to circumvent the current protections of the Criminal Code of Canada.
CACL, CCD, People First of Canada and DAWN-RAFH Canada consider the issues of assisting a person to die and euthanasia to be matters within the exclusive jurisdiction of the Federal government, specifically its jurisdiction over criminal law. The groups explained to the Minister that should it be determined that the Federal and provincial governments can be said to have concurrent legislative power over some end of life matters, the Criminal Code provisions and Quebec's Bill 52 are clearly inconsistent, and, to the extent of that inconsistency, the Federal legislation must be declared to be paramount.
They argued that to leave the matter unaddressed by the Courts, even for a short period of time, would leave life and death decisions affecting persons with disabilities in a state of uncertainty. The groups stressed that absolute clarity is required when the lives of citizens are at stake.
CACL, CCD, People First of Canada and DAWN-RAFH requested the Government of Canada to clearly assert its jurisdiction over these matters, and to seek judicial review of Bill 52, including an interim stay of its offending provisions. The letter was signed by Laurie Larson (President, CACL), Tony Dolan (Chairperson, CCD), Carmela Hutchison (President, DAWN-RAFH), and Shane Haddad (President, People First of Canada).
CCD at the UN
Steve Estey, Chairperson of CCD's International Development Committee, participated in the 6th Conference of State Parties to the Convention on the Rights of Persons with Disabilities (CRPD), which occurred at UN Headquarters in New York, 17-19 July 2013. The Permanent Representative of the Mission of Kenya to the UN, H.E. Amb. Mr. Macharia Kamau chaired the meeting. The Chair made an opening statement and noted that there remained a need to build further partnerships among Governments, NGOs, international organizations, and persons with disabilities.
Disabled People's International (DPI), along with SCRPD-DESA and UNICEF, organized a side-event on "Voices of Youth with Disabilities from the Global South" on Thursday, 18 July 2013.
Universal Periodic Review (UPR) Update
In July, CCD wrote to Martha LaBarge, Director Strategic Management and
Human Rights at the Department of Canadian Heritage, to reiterate the position that Canada must take the opportunity of responding to the Second Universal Review to announce and launch an implementation plan process as required under article 33 of the Convention on the Rights of Persons with Disabilities (CRPD). Canada ratified the CRPD in March 2010. A collaborative CRPD implementation process would provide Canada with an excellent opportunity to address remaining barriers impeding the full participation of Canadians with disabilities to all aspects of life. It would also enhance Canada's international reputation as a leader in the field of human rights.
CCD's Employment and Poverty Agenda
In August, on behalf of CCD, Laurie Beachell, National Coordinator, made a submission to the Standing Committee of Finance in response to the Government's call for submissions regarding the next Federal Budget. CCD's submission focused on addressing poverty and employment of persons with disabilities.
CRPD Update
Mad Pride Week – In July, Vangelis Nikias, CRPD Project Manager, took part in a panel discussion and his comments focused on aspects of the CRPD of particular relevance to persons with mental disabilities.
DRC Work- In July, Vangelis Nikias spoke to North Yorkers, a group of persons with disabilities, and he also made a presentation at Ryerson University.
Welcome to My World - Carleton University's CKCU weekly radio show "Welcome to My World", which covers disability issues, featured an interview with Vangelis Nikias, CRPD Project Manager of the Council of Canadians with Disabilities (CCD) on the 30 July 2013 episode. Vangelis discussed the UN Convention on the Rights of Persons with Disabilities with hosts Kim Kilpatrick and Shelly-Ann Morris. You can tune in using the Listen On Demand feature: http://cod.ckcufm.com/programs/438/12945.html
Fund Raising
In July, Adele Furie assisted CCD develop a proposal to become a provider of outreach services regarding the Registered Disability Savings Plan (RDSP).
Passing of a Leader: Maria Barile
CCD was saddened to learn of the passing of Maria Barile. DAWN Canada shared the following information about Maria's contributions to the disability rights movement.
Sudden loss of disabled women's leader – Maria Barile (1953-2013)
July 26, 2013 (Montréal) - It is with profound sadness that we learned about Maria Barile's death on the night of July 24th at Sacré-Cœur hospital at the age of 59. She was a major icon within the women's rights movement and disability rights movement in Quebec and Canada.
Maria was ahead of her time in her vision of disability rights activism. "We cannot achieve social change by using the same structures that exclude people. Rather, it can be achieved by replacing these, with more egalitarian structures" she said at Action des femmes handicapées Montréal (AFHM)'s 25th anniversary conference in 2011. It is these structures that she worked her entire life to change.
Among the concrete changes she made were co-founding the DisAbled Women's Network of Canada – DAWN-RAFH Canada - as well as being a co-founder of Action des femmes handicapées (Montréal) over 26 years ago; two institutions by and for women with disabilities to which she was passionately dedicated.
Maria has said: "The lesson learned from living with many barriers is that the impossible is possible if you look for other ways to achieve your goals." This is what she aimed to do her entire life through her active involvement in projects linked to innovations in assistive technologies, universal design and the concept of inclusion practice. Maria was a strong supporter of equal access to education and information for people with disabilities. She always advocated for the autonomy and empowerment of women with disabilities through access to knowledge, education and information.
She spoke out against violence faced by people with disabilities, and women with disabilities in particular, and spent her entire life ensuring their voices were heard and their needs were met.
She was a woman filled with empathy, generosity and resilience. She has left us an invaluable legacy: her impressive career as an activist, her involvement in issues affecting women with disabilities, her optimism, and love of life.
At DAWN-RAFH Canada, Maria was recently working on a project linked to women's shelters and transition houses for women who have experienced abuse. This project will be a catalyst for implementing the principle of universal design to ensure these essential services become accessible to all women. Until the very end of her life, Maria worked to find ways to support and assist women who have been victims of violence.
All of our thoughts are with you, Maria. We will miss you, but know that you will remain in the hearts of everyone who knew you and you will always be remembered for the path you have paved for those who will follow you.