Act Now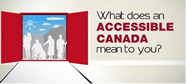 The Government of Canada is leading consultations to inform planned accessibility legislation.
In-person sessions are coming soon to your community. Now is the chance to have your say. Read more.
Sign Up for a Voice of Our Own
A quarterly newsletter from CCD.
CCD Chairperson's Update - Get Ready to Vote
The Council of Canadians with Disabilities is helping Elections Canada (EC) inform Canadians about how to get ready to vote. EC's Spring e-bulletin updates Canadians about:
EC's accessibility services
Registering to vote
How to prove your identity and address at the poll
Connect with EC through YouTube and Twitter.
Of particular interest to Deaf Canadians will be EC's YouTube videos Getting ready to vote (ASL) and What happens when I go to vote (ASL).
In the coming weeks, CCD will be sharing additional information from EC, so that people with disabilities will be aware of all of the ways that people with disabilities can participate in the 2015 Federal Election.