Act Now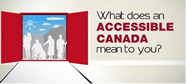 Empower U: Learn to Access Your Disability Rights Training on Canadian Human Rights, the Convention on the Rights of Persons with Disabilities (CRPD) and its Optional Protocol (OP) training aims to increase awareness of how to address discrimination using more familiar Canadian human rights laws such as Human Rights Codes and the newer international Convention on the Rights of Persons with Disabilities (CRPD). This is training for persons with disabilities by persons with disabilities. The training is part of a project funded by Employment and Social Development Canada and implemented by the Council of Canadians with Disabilities (CCD) in collaboration with Canadian Multicultural Disability Centre Inc. (CMDCI), Citizens With Disabilities – Ontario (CWDO), Manitoba League of Persons with Disabilities (MLPD) and National Educational Association of Disabled Students (NEADS). Read more.
Sign Up for our monthly digest
A monthly newsletter from CCD about what is happening in the community
CCD Chairperson's Update - March 2015
This edition of the Update shares some recent activities undertaken by CCD's Council and Committees.
National Council
On 19 March 2015, the CCD National Council met by conference call to discuss CCD's priorities for Budget 2015.
Executive Committee
The application period for the position of National Coordinator came to an end on 31 March 2015. The Executive Committee will be reviewing the applicants and making a selection.
Social Policy
The CCD Social Policy Committee has been considering a document titled, "Proposed Disability Priorities for 2015 Election Platform". The document focuses on the need for robust public policy that will address social and economic insecurity, unemployment, the lack of adequate disability-related supports.
In the lead-up period to the federal election, all federal parties need to be informing Canadians about how they plan to improve access and inclusion for people with disabilities.
The Social Policy Committee held a conference call to review the proposals of a new group called Barrier-Free Canada/Canada Sans Barrieres (BFC/CSB). BFC/CSB is calling for a Canadians with Disabilities Act that would remove barriers to full and equal participation of people with disabilities. CCD will continue to study this option.
The Social Policy Committee is undertaking a costing exercise to determine how much a refundable Disability Tax Credit would cost the Federal Government.
Ending of Life Ethics
On 9 March 2015, representatives from CCD and CACL met in Toronto to look at ways to safeguard people with disabilities from abuse. In light of the Supreme Court of Canada decision in the Carter case (assisted suicide), which will allow people with disabilities and terminal illnesses to have a doctor assisted death, there is a concern about possible negative effects of legalization on people with disabilities. The presence of ableist discrimination in Canadian society makes CCD concerned that some people with disabilities will be pressured to end their lives. CCD is looking at how to communicate this concern to Canadians and how to create safeguards that would lessen the danger inherent in legalization.
CRPD Awareness Project
Vangelis Nikias continues to provide educational sessions to groups interested in the Convention on the Rights of Persons with Disabilities. For example, CCD has been in conversation with allies ranging from the Canadian Association of Social Workers to the labour movement about CRPD.