Act Now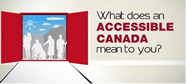 Empower U: Learn to Access Your Disability Rights Training on Canadian Human Rights, the Convention on the Rights of Persons with Disabilities (CRPD) and its Optional Protocol (OP) training aims to increase awareness of how to address discrimination using more familiar Canadian human rights laws such as Human Rights Codes and the newer international Convention on the Rights of Persons with Disabilities (CRPD). This is training for persons with disabilities by persons with disabilities. The training is part of a project funded by Employment and Social Development Canada and implemented by the Council of Canadians with Disabilities (CCD) in collaboration with Canadian Multicultural Disability Centre Inc. (CMDCI), Citizens With Disabilities – Ontario (CWDO), Manitoba League of Persons with Disabilities (MLPD) and National Educational Association of Disabled Students (NEADS). Read more.
Sign Up for our monthly digest
A monthly newsletter from CCD about what is happening in the community
CCD Chairperson's Update - Reflections on Advancing Disability Rights at the UN
Editorial Note - Jewelles Smith, CCD Chairperson, was a member of the Canadian civil society delegation, which travelled to Geneva, for the 16th session of the UN Committee on the Rights of Persons with Disabilities, as the Committee was developing its List of Issues concerning Canada's Initial Report. The other members on the delegation were Audrey-Anne Trudel (COPHAN), Bonnie Brayton (DAWN-RAFH Canada), Frank Folino (CAD), and Steve Estey (staff to disability community's CRPD Secretariat). The delegation will be preparing a report on their work in Geneva. While in Geneva, Jewelles blogged about her experiences and has given CCD permission to republish her writings in this edition of the Update. To view photos from Geneva, please visit Jewelles' website.
Meetings and Unusual Art with the IDA Team
August 30, 2016
That moment when your group arrives and there is the potential for 3-4 languages and you feel safe to order food once again. That was the moment today. I am so excited to be addressing the issues that people living with disabilities are experiencing in Canada with this team. Although very jet-lagged, we hit the day running. Thank you to Bonnie, Audrey-Anne, Frank, Steve, and Liz! What a great day meeting with IDA (International Disability Alliance)--many people at the IDA were simply amazing and I don't want to post one or two names when I don't have all the others in front of me. Suffice to say, their work is indispensable in support of disability rights organizations in doing the work we do.
The IDA folks--great support in creating our timeline for the coming days and supporting us in the protocol and possibilities.
If you are interested in the background of the work I am doing, click the CRPD link to read the Convention on the Rights of Persons with Disabilities.
So technically, we are at the 16th Session of the CRPD. There is much going on around us as the CRPD is celebrating the 10th year anniversary of the implementation of the CRPD. Canada ratified in March 11. 2010. Canada is currently conducting a review of implementation. We have many hopes that Canada will rescind some of their reservations.
I am excited to review the General recommendations that have just been adopted: No. 3 Article 6: Women and Girls with Disabilities and recommendation No. 4 for Article 24: The Right to Inclusive Education.
We, as a delegation, need to narrow our focus to the key issues over the next day or two before we address the UN-CRPD Committee. We also must prepare to discus in more depth some of the issues in side events.
Other links: Monitoring Tools for Inclusive Development: the Role of DPOs in Monitoring CRPD.
I rarely write about accommodation in my blogs. I often allude. I was having a really difficult time here before my colleagues arrived. It is clear to me that the Swiss understand French and English but they regarded my English as an affront. I was actually very concerned about travel and food. The front desk was irritated with me for asking about food outside the hotel (all their food here comes from without and is mostly frozen and reheated). NOT safe for me and my allergies. But also, I am struggling with my pain management and travel, so traveling with vague directions is frightening. Amsterdam is truly a multi lingual society that is so inviting and helpful--I have at least 10 stories of folks that went out of their way to make sure I found the place I was going to.
So, my colleagues arrived and we have French (albeit Quebec French) speakers--the mood changed in this place. And now there is more English from the staff than before.
I had an incident at the IDA meeting where out of nowhere I could not catch my breath. Probably some waft of orange or peanut or perfume but I don't know. It was incredible to know that I was okay, whatever happened.
I am not going to stop doing what I love (which requires travel) but I am so grateful for a team when I have it around me.
The thing about allergies and travel is that the world needs to think more about this as we move forward. Thank you to my friends that helped me translate my allergies into the languages where I was traveling. You made it so much safer.

Meetings and Fondue Success!
August 31, 2016
Today was an incredibly full day! We began the day with a meeting of our delegation over breakfast to try and nail down our top priorities and to discuss our notes from the previous meeting with Victoria Lee from IDA and her advice related to the specific roles of those we were meeting today. I think it's a good thing having a solid group as we each had noted particular points from the meeting.
We then headed out in a cab (all six of us) to the first meeting of the day with Facundo Chavez, OHCHR human rights and disability advisor. Facundo Chavez is a human rights lawyer and was keen to hear our key issues. He explained the structure of their office and the specific work that he is involved with related to report writing and the process of submitting concerns.
Chavez is just wrapping up two reports: one related to Article 5 of the CRPD, and one specifically discussing Mental Health and Human Rights. I mentioned some of the issues we are experiencing with the BC Mental Health Act. He is interested in a charter challenge that CCD is attached to and I already followed up with him related to the specifics of that case. [Two individuals and CCD filed a legal action in the BC Supreme Court to challenge a BC law that forces psychiatric treatment on people without their consent. The case alleges that the law violates the Canadian Charter of Rights and Freedoms. People who are involuntarily detained under BC's Mental Health Act — or released from hospital on leave — currently have no right to give or refuse consent to any psychiatric treatment.]
This was a very interesting meeting and I am still processing all that I learned as it was a very full meeting.
We next met with Carlos de la Torre, OHCHR desk officer on Canada. He was very generous with his time and we spent over two hours discussing many of the issues each of our organizations are involved with. Unfortunately, at this time, there is not an office in Canada, therefore, he does his work from Geneva. Mr. de la Torre is preparing a report on Canada and was quite interested to speak to us directly after reviewing all of our reports, and other reports he has been examining. It became really clear to me why these face to face meetings are so critical as often issues are not as easily understood from the reports, media, statistics, and such.
Again, it was stressed the importance of identifying our key issues as a group. I think that the process of these meetings is actually helping us to filter what is critical to address and what is most likely to be something that the UN-CRPD Committee can actually address. One thing is very clear to our organizations is the difficulty to see federal legislation implemented into provinces and territories. I feel like there is so much to understand of the process and I will be digesting this for many weeks to come. I also think that our work this visit will truly inform our next steps after the List of Issues is formally filed.
Our final meeting of the day was with Stefan Trömel from ILO. Stefan gave us an overview of his work and the role of the ILO related to disability issues as well as the ways in which he can and cannot support work in a developed country. The ILO is made up of a very strict structure: 50% government, 25% employer representatives and 25% trade unions. They have adopted over 200 Conventions with the disability one having been adopted in the 1980s (Convention 159). It was ground breaking at that time but in many ways it is out of date at this time. The structure of the ILO is different from the other UN committees and branches but I won't get into that here.
I did bring up a couple of issues I see related to his file: specifically some of the work NEADS is doing related to unemployment rates of university graduates who are disabled, and the example of WorkBC related to supportive employment plans and the engagement of an individual's support network when developing a plan to move to employment.
It is interesting to me how many pieces of my work (both paid, volunteer and school-related) intersect and are important to my own knowledge base and expertise.
We wrapped up our meetings and headed back to the hotel for a little rest and regroup after which we went on a food adventure that was facilitated by our incredible helpful and funny cab driver when we left the ILO. Several members of our delegation wanted to experience Fondue. Our cab driver suggested Café du Soleil as one of the best Fondue places. We made a reservation and headed out a little before 7 PM. When we left the hotel to wait for our cab, a double rainbow appeared outside for what several took to be a good sign for the evening, however, we had some issues with our cab not arriving. Eventually we made it to the restaurant. Now, let me tell you, I was feeling less than hopeful. I mean, it's bread they dip in the cheese and I did not think that I would be able to enjoy the experience with the others. I was wrong!
The servers and kitchen were simply incredible and accommodated me not only with my own fondue and gluten-free fresh baked bread, but with a lovely and mouth-watering dark chocolate mousse. OMG!!! I am stuffed and so content. We had a full and fulfilling day. Enjoy the photos! I am tired but look forward to the next series of meetings tomorrow and the 10th anniversary reception in the evening!
Nearly the Last Day!
September 01, 2016
We were at Palais Wilson today and what a full day it was! We spent a lot of the day preparing for our presentation to the CRPD committee tomorrow but we also met with a number of Committee members over the day, either as a group or later at the reception celebrating the 10th anniversary of the drafting of the CRPD.
For more information on current committee members, check out the membership description.
We met with Theresia Degener, Vice Chair of the Committee. Later we met with Mr. Rusksu from Lithuania, and Mr. Basharu from Nigeria. For me, what was interesting was to hear the questions that the committee members have for our country and the clear interest they have for the issues we are experiencing. Much like those of us in our delegation, each member has a number of issues that they are clearly passionate about. I look forward to our formal presentation tomorrow and the opportunity to answer the questions they bring to us.
We also had a brief meeting with the brand new legal advisor to the Canadian Mission, Lorraine Anderson. Although short, I think our meeting was productive in that she clearly was interested in our comments and concerns.
I feel the process we have been through in the past few days is a critical piece to the work of addressing clearly the situation in our country. Many countries do not have the opportunity to meet with the committee members this early in their process of drafting the questions to a state. I have come to realize how critical these face to face discussions are for delving into the complicated issues present in a country. I think it is incredibly helpful for us as a delegation to hone our issues down and through each discussion, become clearer about the themes that run through our communities and the top priorities for our country to address at this time.
Tomorrow is going to be an exciting day!
Thoughts on Last Day in Geneva
September 04, 2016
The last day in Geneva our delegation presented to the UN-CRPD Committee on issues in Canada. We also were able to answer many of the questions put forward by the committee regarding areas of concern in Canada.
It is apparent that internationally, many countries are surprised that Canada, a leader in the development of the CRPD, has not signed the Optional Protocol which allows for monitoring of the country by international bodies. We are hopeful that under the new government, this will be ratified. As well, the committee expressed its concerns on the reservations Canada has over some of the articles, especially Article 12. This is one of the priority concerns of Canadians with disabilities as well. We are hopeful that both concerns will be addressed by the Canadian government and rectified.
Having a governing mechanism in place and the optional protocol to rely on gives Canadians security in the event that we are once again in a position of having a government that does not support human rights as a right for all. As well, it offers individuals and organizations an additional place to address our concerns, much like the current Missing and Murdered Women's Inquiry and the visit from the Special Rapporteur that brought national attention to this issue via protocol under CEDAW. Canadians with disabilities deserve these same protections and international options.
The Committee also expressed concern for many other issues. One that was particularly important is the discrepancies of definitions across the country. How disability is defined directly affects access to resources and services. Definitions by the UN include that disability is an evolving and changing concept. In Canada, the differences in definitions between provinces, territories and federal jurisdictions mean that so many Canadians fall through the cracks and cannot access many resources.
Another question the committee had was regarding services and resources for children with autism. As many of you know, this is an issue that has affected my own immediate family. Because the transition between provincial and federal resources vary depending on age, and because many families cannot benefit from the disability tax credit (those with low incomes), or from the disability child tax credit (those with high incomes, or for children 18 and older), families are struggling to provide the best services possible for their children and youth.
The committee had concerns about our Deaf community as well, especially considering that Canada does not recognize Deaf languages as official languages. This creates an immediate barrier to many Canadians for many essential services. During crisis, such as a fire, flood, or other, Deaf Canadians rely on sign interpretation for directions. Without official recognition, for example, during the Alberta fires last year, the official television and other notifications did not include sign or captioning to inform Deaf and hard of hearing Canadians what they needed to do, where they needed to go, and other important information. Committee members asked about specific issues for disabled women (some of this is related to General Comments #3 that was just released). There were many questions, and some we were unable to address in the time we had and will be following up in the coming weeks.
There is so much more that I want to write on this, but for now, I will end it off. It was an incredible experience and I learned how very important it is to build these relationships in order to have international support for human rights. In the coming weeks, I will try to write a bit more about the behind the scenes and what comes next for Canadian Civil Society DPOs.
Thanks for following the adventure!
--Jewelles