Act Now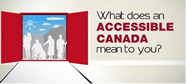 The Government of Canada is leading consultations to inform planned accessibility legislation.
In-person sessions are coming soon to your community. Now is the chance to have your say. Read more.
Sign Up for a Voice of Our Own
A quarterly newsletter from CCD.
Staffing Change at Council of Canadians with Disabilities
There has been a staffing change at the Council of Canadians with Disabilities (CCD), with James Hicks no longer occupying the position of national coordinator. CCD wishes James all the best in his future activities and thanks him for his contribution to the advancement of disability rights in Canada.

During this time of change, Steven Estey (steven@ccdonline.ca) will hold a temporary contract with CCD to provide transition support.

Along with Steven, Jewelles Smith, CCD Chairperson (jewelles.smith@gmail.com), and April D'Aubin, CCD Research Analyst (april@ccdonline.ca) will be available to volunteers, funders and representatives of other organizations to ensure continuity in CCD's activities.

CCD's team of volunteers and staff are committed to the fulfillment of CCD's mission and mandate.

Mission: The Council of Canadians with Disabilities (CCD) is a social justice organization of people with all disabilities that champions the voices of people with disabilities, advocating an inclusive and accessible Canada, where people with disabilities have full realization of their human rights, as described in the UN Convention on the Rights of Persons with Disabilities.

Mandate: The Council of Canadians with Disabilities (CCD) unites advocacy organizations of people with disabilities to defend and extend human rights for persons with disabilities through public education, advocacy, intervention in litigation, research, consultation and partnerships. CCD amplifies the expertise of our partners by acting as a convening body and consensus builder.