Act Now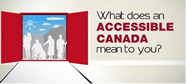 The Government of Canada is leading consultations to inform planned accessibility legislation.
In-person sessions are coming soon to your community. Now is the chance to have your say. Read more.
Sign Up for a Voice of Our Own
A quarterly newsletter from CCD.
A Voice of Our Own: Special Edition #4
Special Edition #4
Voice of Our Own
Council of Canadians with Disabilities'
CCD Election Challenge
This edition of the CCD Election Challenge provides a fuller focus on the commitments that the Conservative Party of Canada has made to Canadians with disabilities. The source of this information is the 19 March 2005 Policy Declaration of the Conservative Party of Canada. To view this document go to: http://www.conservative.ca/EN/policy_declaration/
In Special Edition #2, CCD provided a summary of the major parties' positions. Future Special Editions will focus more fully on the Liberals and the New Democratic Party.
The Conservative Party of Canada
The Conservatives have made three distinct commitments to persons with disabilities in the areas of:
transportation,
legislation and
social policy.
They have also addressed areas of concern to persons with disabilities:
foreign affairs,
diversity and
consultation.
In this newsletter, CCD provides a commentary on these commitments.
Sending out our critique of the political parties' record on disability issues.
Transportation
The Policy states: "41. Transportation-viii) A Conservative Government will ensure access to future transportation infrastructure for people with disabilities is a fundamental priority for all future public or private transportation installations."

CCD Commentary: CCD believes that both the present and the future transportation system should be made accessible.
The Conservatives do not elaborate on how they intend to achieve access. CCD is seeking a strong regulatory system.
National Disability Act
The Charter of Rights and Freedoms promises us equality before and under the law. Why would we settle for anything less?
National Disability Act
The Policy states, "71. National Disability Act A Conservative Government would introduce a National Disability Act designed to promote reasonable access to medical care, medical equipment, education, employment, transportation and housing for Canadians with disabilities."
CCD Commentary: CCD, after a thorough analysis, rejected the "national disability act" approach because it ghettoizes disability, ignores jurisdictional issues and it sidesteps Charter and Human Rights guarantees to people with disabilities. We don't need a new act, we need the will to make existing tools work!
CCD asks who will define what is reasonable access for people with disabilities to medical care, medical equipment, education, employment transportation and housing?
Social Policy
The Policy States, "59. Social Principles
The Conservative Party... will work with the provinces and territories to strengthen the social fabric of Canada to improve the quality of life for all Canadians but especially children, seniors and the disabled."
CCD Commentary: While the social policy section mentions people with disabilities, it is disappointing it did not address disability-related supports.
Consultation
112. Policy Development Principles
... We will commit to broad consultation with citizens across Canada to further the ongoing policy development process …
CCD Commentary: CCD emphasizes the need for full consultation. An important question is consultation with whom? We believe government should consult with self-representational organizations of persons with disabilities.
CELEBRATING CANADA'S DIVERSITY
The Policy states, "89. Diversity Principles The Conservative Party believes that Canada's multicultural society is a valued reality and accepts the need to foster understanding and equality of opportunity while promoting common values across Canada. "
CCD Commentary: CCD is disappointed that the Conservatives want to forge our multicultural society on the equal opportunity principle. Equality of opportunity means everyone gets the same piece of the pie, regardless of what is actually needed. In order to achieve true equality, people's real needs must be taken into account and addressed. We strive for true equity not equal opportunity.
Disability activists say where's the beef on the Conservatives National Disability Act. They have not given us enough information on how this act would work in order to give us any confidence in it.
Foreign Affairs
The Policy states, "108. International Treaties
...A Conservative Government will ensure that Parliament is fully informed and consulted before binding action is taken [on international treaties]. The provinces will also be fully consulted…"
CCD Commentary: CCD is disappointed there was not a positive statement on the proposed UN convention on disability rights.
CCD Priority Issues
CCD is seeking Parties' commitments on:
A National Disability Supports Fund
A Labor Market Strategy for Persons with Disabilities
Poverty Reduction
A Barrier Removal Process
Addressing issues for specific populations, including Aboriginal persons with disabilities and persons with disabilities living in institutions
Accessible Campaigns. (See Special Edition #1 for a full discussion.)
Council of Canadians with Disabilities
CCD
926-294 Portage Ave
Winnipeg, MB
R3C 0B9
Phone: 204-947-0303
Fax: 204-942-4625
E-mail: ccd@ccdonline.ca
CCD, a national advocacy organization of persons with disabilities, works to build a disability-positive environment in Canada. Founded in 1976, CCD brings together national, provincial and territorial organizations of persons with disabilities to work on issues of concern to men and women with disabilities in Canada. Participation in the electoral process has been a priority for CCD since its earliest days. The CCD National Council of representatives endorsed the 7 issue areas addressed in this publication.
Share our election plan with others
Our Challenge
There are many ways to educate both the public and candidates during the Federal Election. Some consumers will be running in the election. Others will be working on campaigns. There will also be consumers who will be raising disability rights issues during the election. All these activities are important. The challenge is for consumers to be as visible as possible during the election. This visibility draws attention to the citizenship of persons with disabilities and what we need to achieve full participation. In these pages, you will find a discussion of key issues for consumers to raise during this election and some suggested activities.
Ask Candidates
Do you support a national investment in a Disability Supports Fund?
How do we develop a labor market strategy, addressing disability?
What would you do to eliminate the poverty experienced by persons with disabilities?
Do you support the development of accessibility regulations, not voluntary codes, to improve access to the federal transportation system?
How would you go about making disability a priority in all Federal initiatives?
More specifically, how would you go about making disability a priority in all Federal initiatives on Aboriginal issues?
Are you prepared to support measures that would get people with disabilities out of institutions and living in the community?
How did you make your campaign accessible?