Act Now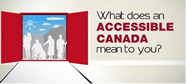 The Government of Canada is leading consultations to inform planned accessibility legislation.
In-person sessions are coming soon to your community. Now is the chance to have your say. Read more.
Sign Up for a Voice of Our Own
A quarterly newsletter from CCD.
#AllianceChat
The Alliance for an Inclusive and Accessible Canada will be hosting its fifth #AllianceChat in its series on Monday, January 15th, 2018 at 3 pm EST. Please note the new day and time! During the chat, the Alliance will be discussing healthcare for Indigenous people with disabilities. The Alliance is pleased to announce that Mr. Neil Belanger, Executive Director BCANDS (www.bcands.bc.ca) will be joining the chat. To participate in the chat just go to Twitter and search for #AllianceChat and you can join through there.