Act Now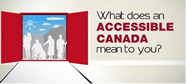 The Government of Canada is leading consultations to inform planned accessibility legislation.
In-person sessions are coming soon to your community. Now is the chance to have your say. Read more.
Sign Up for a Voice of Our Own
A quarterly newsletter from CCD.
#AllianceChat - Registered Disability Savings Plan
The Alliance for an Inclusive and Accessible Canada will be hosting the next #AllianceChat in the series on Wednesday, December 20th, from 4:00 pm until 5:00 pm EST. The topic of discussion will be the Registered Disability Savings Plan. Mr. Ron Malis is the special guest for the event. Mr. Malis is a financial advisor based out of Toronto who serves people with disabilities and their families.
A registered disability savings plan (RDSP) is a savings plan that is intended to help parents and others save for the long term financial security of a person who is eligible for the disability tax credit (DTC). For more information about the RDSP please visit: http://https://www.canada.ca/en/revenue-agency/services/tax/individuals/topics/registered-disability-savings-plan-rdsp.html
To participate in the chat please go to Twitter and search for #AllianceChat and you can join through there.

The Alliance for an Inclusive and Accessible Canada is made up of 12 member organizations and 4 partner organizations. Together, the Alliance members are consulting Canadians about the new federal accessibility legislation. CCD is a member of the Alliance.