Act Now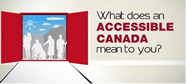 The Government of Canada is leading consultations to inform planned accessibility legislation.
In-person sessions are coming soon to your community. Now is the chance to have your say. Read more.
Sign Up for a Voice of Our Own
A quarterly newsletter from CCD.
#AllianceChat - Basic Income
The Alliance is very happy to be hosting its third Twitter chat this Wednesday, December 6th from 4:00 P.M. until 5:00 P.M. E.S.T. Dr. Michael J. Prince is our special guest for the hour-long chat! Dr. Prince is the Lansdowne professor of Social Policy at the University of Victoria and a disability rights advocate!
To participate in the chat please go to Twitter and search for #AllianceChat and you can join through there.
The Alliance for an Inclusive and Accessible Canada is made up of 12 member organizations and 4 partner organizations. Together, we are consulting Canadians about the new federal accessibility law. CCD is a member of the Alliance.