Act Now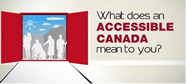 The Government of Canada is leading consultations to inform planned accessibility legislation.
In-person sessions are coming soon to your community. Now is the chance to have your say. Read more.
Sign Up for a Voice of Our Own
A quarterly newsletter from CCD.
"What Should Canada's Promised National Accessibility Law Include?"
August 22, 2017 - Join us for a first-ever online disability expert conference: "What Should Canada's Promised National Accessibility Law Include?" convened by the Alliance for an Inclusive and Accessible Canada.*
The conference will be chaired by David Lepofsky, who is a renowned lawyer, disability rights advo-cate/community organizer, and will be attended by Canada's first Minister Responsible for People with Disabilities, the Honourable Carla Qualtrough, as well as an amazing array of experts speaking to us from Canada, the U.S. Israel and Switzerland.
The conference will be live streamed from OCAD University on August 22, 2017 from 10:00 am until 1:00 pm EDT: http://alliance-canada.org/en/expert-conference.
Questions for panel members can be submitted ahead of time by emailing dave@ccdonline.ca.
Join us in a critical conversation about what Canada's new accessibility law should include. Hear from experts from around the world how we can make Canada accessible!
**ASL and CART services will be provided on the live stream.**
Simultaneous French/English interpretation will not be provided at this event.

* If you missed the live streaming of the Alliance's Disability Expert Conference "What Should Canada's Promised National Accessibility Law Include? Cutting-edge Ideas from Experts from Around the World", it is available on YouTube at https://www.youtube.com/watch?v=c8_D5M4pvdY&feature=youtu.be