Act Now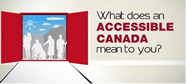 The Government of Canada is leading consultations to inform planned accessibility legislation.
In-person sessions are coming soon to your community. Now is the chance to have your say. Read more.
Sign Up for a Voice of Our Own
A quarterly newsletter from CCD.
Join the conversation
The Alliance for an Inclusive and Accessible Canada (the Alliance*) is consulting Canadians about the Government of Canada's proposed accessibility law.
We want to hear from people with disabilities, their families and caregivers. We also want to hear from service providers, businesses, unions and other community organizations. We are collecting information through surveys, public meetings and discussion groups. We will be compiling our findings in a report for the Honorable Carla Qualtrough.
The Alliance invites you to attend our public sessions being held across Canada between May and June 2017. Visit alliance-canada.org to learn more and register for a consultation near you.
This is an opportunity for you to share your accessibility priorities and help shape Canada's new accessibility law. Join the conversation. Help us build a more inclusive and accessible Canada!