Act Now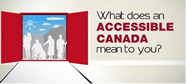 The Government of Canada is leading consultations to inform planned accessibility legislation.
In-person sessions are coming soon to your community. Now is the chance to have your say. Read more.
Sign Up for a Voice of Our Own
A quarterly newsletter from CCD.
Board
CCD refers to its Board of Directors as the National Council of Representatives. The National Council of Representatives elects the CCD Executive Committee. The current CCD Executive Committee includes:
Chairperson: Jewelles Smith
Past Chairperson: Tony Dolan
1st Vice Chairperson: John Rae
2nd Vice Chairperson: Carlos Sosa
Secretary: Carmela Hutchison
Treasurer: Kory Earle
Member-at-Large on Executive: Melanie Benard
The National Council of Representatives:
Jewelles Smith
Tony Dolan
Pat Danforth (DABC)
Ian Young (ACCD)
George Thomas (SVOPD)
Carlos Sosa (MLPD)
Terry Green (CWDO)
Richard Lavigne (COPHAN)
Deborah Wood Salter (PEI Council)
Steve Estey (NSLEO)
Jerry Weir (COD - NL)
Denise McKee (NWTDC)
Alan Conway (AEBC)
Frank Folino (CAD)
Carmela Hutchison (DAWN-RAFH)
Nicole Gibson (NEADS)
Ellen Cohen (NNMH)
Kory Earle (PFC)
Gregor Wolbring (TVAC)
Melanie Benard
John Rae
See past Annual Reports .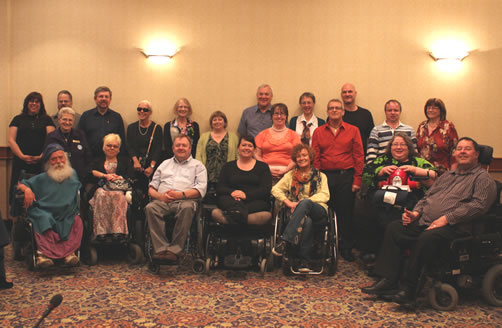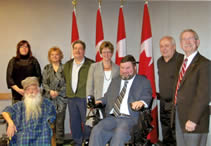 CCD shares its views on policy reform with Federal Ministers. For example, in January 2011, CCD, along with others in the disability community met with Minister Diane Finley and Minister Steven Fletcher. From left to right: Jim Derksen (CCD), Shelly Rattai, Rose Flaig, John Young, Minister Finley, Minister Fletcher, Ross Young and Ken Burford.