Act Now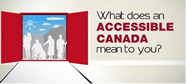 Empower U: Learn to Access Your Disability Rights Training on Canadian Human Rights, the Convention on the Rights of Persons with Disabilities (CRPD) and its Optional Protocol (OP) training aims to increase awareness of how to address discrimination using more familiar Canadian human rights laws such as Human Rights Codes and the newer international Convention on the Rights of Persons with Disabilities (CRPD). This is training for persons with disabilities by persons with disabilities. The training is part of a project funded by Employment and Social Development Canada and implemented by the Council of Canadians with Disabilities (CCD) in collaboration with Canadian Multicultural Disability Centre Inc. (CMDCI), Citizens With Disabilities – Ontario (CWDO), Manitoba League of Persons with Disabilities (MLPD) and National Educational Association of Disabled Students (NEADS). Read more.
Sign Up for a Voice of Our Own
A quarterly newsletter from CCD.
Board
CCD refers to its Board of Directors as the National Council of Representatives. The National Council of Representatives elects the CCD Executive Committee. The current CCD Executive Committee includes:
Acting Chairperson/ 1st Vice Chairperson:

Heather Walkus

2nd Vice Chairperson: Tracy Odell
Secretary: Ian Young
Treasurer: Pat Danforth
Member-at-Large on Executive: Frank Folino
Executive Committee Biographies
Acting Chairperson / 1st Vice Chair
Heather Walkus is a seasoned and well respected advocate in multiple arenas including disability issues and social justice, with a strong knowledge and belief in human rights legislation. Heather's beliefs include, "the diverse voices of people must come first" and "the way we work and organize, must reflect the diversity and inclusion of the society we are building". A fresh approach to advocacy is what Heather brings to the CCD.
2nd Vice Chair
Tracy Odell brings a wealth of experience working to improve the lives of persons with a variety of types of disabilities both in paid and volunteer roles. She believes it is vital to have a strong, united voice on national issues.
Tracy has a B.A. in Special Education and English, and a Masters' degree in Critical Disability Studies. She received CCD's 2007 John Lord Participatory Action Research Award for her Major Research Paper, "Not Your Average Childhood."
Tracy worked for over 30 years in policy at the provincial government level. Her roles in government included managing adult literacy and special education policy as well as planning to address accessibility, anti-racism and inclusion for a ministry delivering public-facing services.
Tracy is currently President of Citizens With Disabilities - Ontario (CWDO), a non-profit organization that actively promotes the rights, freedoms and responsibilities of persons with disabilities.
Secretary
Ian Young has been in disability activism since becoming disabled in 2004 from a brain injury.
He has been very vocal in the province of Alberta, being a member/advisor for "The Voice of Albertans with Disabilities", The City of Edmonton Accessibility Advisory Committee, Brain Injury Association of Canada, Friends of Medicare Alberta, The Glenrose Rehabilitation Hospital Foundation, and Public Interest Alberta.
Ian has completed Human Rights Facilitator Training, and has completed Humanities Courses through The University of Alberta, he has also been writing a column since 2010 titled "Community and Ability" for an Edmonton Community Newspaper.
Treasurer
Pat Danforth has more than 30 years' governance and board experience in government and non-profit sectors. Pat has worked on rights-based issues since becoming reliant on a wheelchair in 1970. She represents the Disability Alliance BC on the Council of Canadians with Disabilities (CCD) board. She also volunteers on CCD's Transportation Committee and Human Rights Committee. She is a founding mother of the DisAbled Women's Network (DAWN). Pat's career includes work for provincial and federal governments, Saskatchewan Human Rights Commission, as well as the Canadian Labour Congress. Her varied background includes the Saskatchewan Public Service Commission Board of Commissioners, Regina Health District Board, National Transportation Agency and CUPE National's Disability Working Group. She has specialist knowledge of rights and disability issues, policies and programs.
Member-at-Large on Executive Committee
Frank Folino is a Deaf Canadian who brings a wealth of experience of human rights and accessibility on national and international level. He shares his knowledge on governance in multiple areas related to not-for-profit and profit sectors.
Recently on July 2019, Frank Folino got elected at General Assembly in Paris, France to sit as Board Member for the World Federation of the Deaf (WFD) from 2019 to 2023, which is an international human rights organization representing at least 125 countries around the world. In addition, he presided during the Opening Lead Session on Civil Society Forum prior to the Conference of States Parties to the United Nations Convention on the Rights of Persons with Disabilities (CRPD) in June 2019.
Frank served as an Interim Board of Director for the Canadian Administrator of Video Relay Services (CAV) in 2014-2015, which is a not-for-profit telecommunications services company with a mandate from the Canadian Radio-television and Telecommunications Commission (CRTC) to design, implement and oversee the delivery of Video Relay Service (VRS) in Canada.
His work has focused on public education, consultation, and advocacy related to the implementation of the CRPD and other international human rights treaties in Canada and around the world where he provides his expertise on human rights and accessibility issues related to sign languages.
Frank was awarded with honour the Queen Elizabeth II Diamond Jubilee Medal in December 2012 for his advocacy and volunteerism. Frank Folino holds an Honours Bachelor of Arts (BA) in Political Science from York University.
The National Council of Representatives:
Pat Danforth (DABC)
Margot Brunner (ACCD)
Marg Friesen (SVOPD)
Joelle Robinson (MLPD)
Tracy Odell (CWDO)
Jérôme Plante (COPHAN)
Deborah Wood Salter (PEI Council)
Sherry Costa (NSLEO)
Nancy Reid (COD - NL)
Denise McKee (NWTDC)

Frank Folino (CAD)

Jim Tokas (CCB)
Heather Walkus (National Coalition of People who use Guide and Service Dogs)
Mohamed Behi (NEADS)
Ellen Cohen (NNMH)

Gregor Wolbring (TVAC)

Ian Young (Member-at-Large on Council)
John Rae (Member-at-Large on Council)
Ingrid Palmer (Member-at-Large on Council)
See past Annual Reports .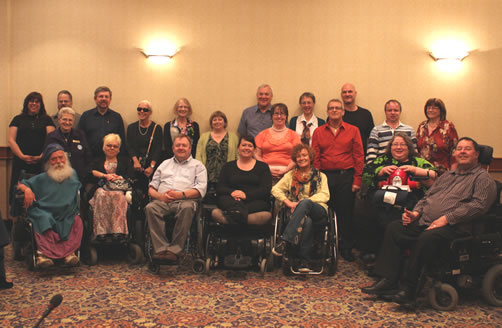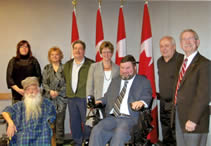 CCD shares its views on policy reform with Federal Ministers. For example, in January 2011, CCD, along with others in the disability community met with Minister Diane Finley and Minister Steven Fletcher. From left to right: Jim Derksen (CCD), Shelly Rattai, Rose Flaig, John Young, Minister Finley, Minister Fletcher, Ross Young and Ken Burford.