Act Now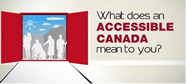 Empower U: Learn to Access Your Disability Rights Training on Canadian Human Rights, the Convention on the Rights of Persons with Disabilities (CRPD) and its Optional Protocol (OP) training aims to increase awareness of how to address discrimination using more familiar Canadian human rights laws such as Human Rights Codes and the newer international Convention on the Rights of Persons with Disabilities (CRPD). This is training for persons with disabilities by persons with disabilities. The training is part of a project funded by Employment and Social Development Canada and implemented by the Council of Canadians with Disabilities (CCD) in collaboration with Canadian Multicultural Disability Centre Inc. (CMDCI), Citizens With Disabilities – Ontario (CWDO), Manitoba League of Persons with Disabilities (MLPD) and National Educational Association of Disabled Students (NEADS). Read more.
Sign Up for our monthly digest
A monthly newsletter from CCD about what is happening in the community
CCD Chairperson's Update: December 2009
Count Down of Top Ten Accomplishments of 2009
As the New Year begins, I wish everyone in the CCD network all the best in the coming months. In preparation for the work ahead of us this year, I would like to remind everyone of the remarkable achievements that the disability rights movement accomplished during the last 12 months. While others might create a different list, this is CCD's top ten countdown for this past year:
Number 10: The Registered Disability Savings Plan was successfully promoted by the disability community, thus qualifying individuals with disabilities are being helped by the Government of Canada to save for the future. Finance Minister Jim Flaherty included Laurie Beachell on the panel of experts who assisted the Department of Finance develop this new way for people with disabilities to save.
Number 9: CCD continues to be active in Disabled Peoples' International (DPI). I now serve on both the DPI North American Caribbean Regional Council and DPI's World Council. CCD is also demonstrating leadership in Canadian development organizations. The Co-chair of CCD's International Development Committee, Mary Reid, is now also the Co-chair of Mines Action Canada. Yutta Fricke, a member of the CCD International Development Committee, has been elected to the Board of the Canadian Council for International Co-operation (CCIC).
Number 8: CCD successfully concluded the second year of its CURA research project, Disabling Poverty/Enabling Citizenship.
Number 7: In October, the third End Exclusion event was held in Ottawa—bringing together leaders in the disability and poverty movements to learn from each others' experiences and efforts to alleviate poverty.
Number 6: CCD developed closer ties with the community of people working to eradicate poverty in Canada. CCD endorsed Canada Without Poverty's Dignity For All campaign, which is addressing poverty through a human rights lens. CCD is now part of the Steering Committee for the campaign.
Number 5: There was public recognition of the important public interest work being done by members of the disability rights community. In May, Jim Derksen, a member of CCD's Human Rights Committee, received an honorary doctorate from the University of Manitoba. In November, John Rae, a CCD vice chair, received the City of Toronto Access Award. Through our own CCD Award the following were recognized for their contribution to the disability rights movement: Pat Danforth (nominated by BCCPD), Donna Martyn (nominated by ACCD), Brad Choquette (nominated by Saskatchewan Voice), Valerie Wolbert, Susie Weiszmann, David Weremy, Mark Blanchette, Kevin Johnson the co-creators of the Freedom Tour (nominated by the MLPD), Véronique Vézina (nominated by COPHAN), Dorothy Kitchen (nominated by NS LEO), Michelle Murdoch (nominated by COD), Stephen MacDonald (nominated by PEI Council), Chris and Marie Stark (nominated by AEBC), Scott Simser (nominated by CAD), Zelda Rempel (nominated by DAWN Canada), Marie Harnois (nominated by TVAC), Dr. Chris Summerville (nominated by NNMH), Julie Flumerfelt (nominated by NWT Council).
Number 4: CCD's motto is A Voice of Our Own and CCD's expertise is sought at the highest levels. Last January, I shared our National Action Plan with Finance Minister Jim Flaherty and I also appeared before the House of Commons Committee on the Status of Women and recommended the expansion of the EI Sickness Benefit to 52 weeks of coverage. I also appeared before the Senate Sub-committee on Cities, which released the report "In From the Margins", which endorsed all our recommendations on poverty. Steve Estey appeared before the Senate Committee on Human Rights. In October, John Rae spoke at the Collections, Connections and Communities Conference on access to museums. Pat Danforth serves on the Canadian Transportation Agency Advisory Committee. Laurie Beachell participates on the Content Advisory Committee of the Canadian Museum for Human Rights. Jim Derksen is participating on a committee working to develop a new mechanism that would distribute accessible library materials to Canadians for whom print is a barrier.
Number 3: CCD intervened in the Moore case, which was about the lack of accommodation provided to a student with a learning disability in BC and about how decision-making about accommodation should be undertaken. Yvonne Peters and Gwen Brodsky were in the court for CCD.
Number 2: Citizens with Disabilities-Ontario (CWDO) became a full member of CCD. Congratulations to everyone at CWDO for having organized a representative cross- disability organization in a province as vast and complex as Ontario. Al Buchan was CWDO's first representative to CCD and most recently Terry Green has been appointed to this position.
Number 1: In December, the Government of Canada tabled the Convention on the Rights of Persons with Disabilities in the House of Commons and there was a unanimous motion in the House in support of ratification. Due to the work of Steve Estey, Mary Ennis, Vangelis Nikias, Dulcie McCallum, Anna MacQuarrie and many others, the CRPD has a "made in Canada" feel to it, as it contains many concepts advocated by the Canadian disability rights movement, such as the duty to accommodate. This is something the Canadian disability rights movement can take pride in.