Act Now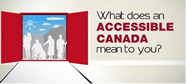 Empower U: Learn to Access Your Disability Rights Training on Canadian Human Rights, the Convention on the Rights of Persons with Disabilities (CRPD) and its Optional Protocol (OP) training aims to increase awareness of how to address discrimination using more familiar Canadian human rights laws such as Human Rights Codes and the newer international Convention on the Rights of Persons with Disabilities (CRPD). This is training for persons with disabilities by persons with disabilities. The training is part of a project funded by Employment and Social Development Canada and implemented by the Council of Canadians with Disabilities (CCD) in collaboration with Canadian Multicultural Disability Centre Inc. (CMDCI), Citizens With Disabilities – Ontario (CWDO), Manitoba League of Persons with Disabilities (MLPD) and National Educational Association of Disabled Students (NEADS). Read more.
Sign Up for our monthly digest
A monthly newsletter from CCD about what is happening in the community
CCD Chairperson's Update: July-August 2010
CCD's Summer Agenda
While the temperature was rising outside, CCD turned up the heat on a number of disability issues—data collection, poverty, and the Convention on the Rights of Persons with Disabilities (CRPD).
Technical Advisory Group on Data Collection
Who could have predicted that the census's long form would be one of the summer's hot topics? While we in the disability community were surprised by the general public's interest in data collection, we were not surprised by the fact that Government of Canada was altering a long standing approach to data collection—mandatory census compliance. (Like many others, CCD expressed its dismay about the Government's decision to go the voluntary route.) Perhaps in a harbinger of things to come, in the spring, the Federal Government had indicated to the disability community that it was changing how it would collect data on disability issues.

The Federal Government informed the disability community that it would not be undertaking the Participation and Activity Limitation Survey (PALS), in conjunction with the upcoming census. PALS is used by governments and other data users to develop services and programs that meet the needs of Canadians with disabilities. When we expressed our concerns to the Hon. Diane Finley, HRSDC Minister, she promised an improved approach to data collection on disability and that members of the community would be involved in its development. HRSDC held the first meeting of the Technical Advisory Group on 22 July 2010 and it was attended by Marie White and Laurie Beachell, who both represented CCD, Gary Birch, Michael Bach, Cam Crawford, Adele Furie, Michael Prince and Doug Willms, as well as Federal Government officials. CCD is calling for a broader community consultation.
Poverty Roundtable
On 4 August 2010, in advance of the meeting of the Council of the Federation, which is an institution for collaborative intergovernmental relations created in 2003, CCD sponsored a roundtable on poverty. Other sponsors were: the Social Planning Council of Winnipeg, Campaign 2000, and the Canadian Council on Social Development. Jim Derksen was one of the speakers at the roundtable and Laurie Beachell also attended. In addition to members of the disability community, the roundtable was attended by the following MPs: Mike Savage, Anita Neville, Gerard Kennedy, Tony Martin, Yves Lessard and Senator Eggleton. The objective of the event was to draw the Premiers' collective attention to the need for poverty eradication.
End Exclusion to Focus on Poverty
This year's End Exclusion will focus on poverty. Participants will have the opportunity to hear the preliminary findings of CCD's research project Disabling Poverty/Enabling Citizenship. Mark 2 November 2010 on your calendar and plan to be in Ottawa at the Delta Hotel to hear from the disability community's leading poverty researchers. To register, email Maureen@ccdonline.ca. Enrollment is limited to the first 150 people who register.
Council of the Federation Addressed CRPD
The Premiers informally discussed the significance of the United Nations Convention on the Rights of Persons with Disabilities (CRPD) toward improving the lives of Canadians with disabilities. Manitoba will convene a meeting this Fall of government ministers responsible for persons with disabilities as well as ministers responsible for human rights to discuss the next steps and review options for implementing the UN Convention. On Thursday, 5 August 2010, Jim Derksen and Laurie Beachell attended a Manitoba barbeque for the premiers. As a result, Premiers Campbell (BC), Stelmach (Alberta), Selinger (Manitoba), Charest (Quebec), Dexter (Nova Scotia), Ghiz (PEI), and Williams's (NFLD) replacement, the NFLD Minister of Health, heard the CCD message directly from Jim and Laurie.
Federal Budget 2011
CCD submitted a preliminary brief to the pre-budget consultations. CCD's priorities include: new investment in disability-related supports, poverty eradication, employment initiatives and investments in support of barrier removal and community participation.
New and Noteworthy
CCD member group the National Educational Association of Disabled Students has developed an excellent web-based resource, DisabilityAwards.ca, which is a fully accessible comprehensive online portal containing information on financial assistance for post-secondary students in Canada. The searchable portal provides students with disabilities with relevant disability-related financial aid information.