Act Now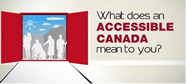 Empower U: Learn to Access Your Disability Rights Training on Canadian Human Rights, the Convention on the Rights of Persons with Disabilities (CRPD) and its Optional Protocol (OP) training aims to increase awareness of how to address discrimination using more familiar Canadian human rights laws such as Human Rights Codes and the newer international Convention on the Rights of Persons with Disabilities (CRPD). This is training for persons with disabilities by persons with disabilities. The training is part of a project funded by Employment and Social Development Canada and implemented by the Council of Canadians with Disabilities (CCD) in collaboration with Canadian Multicultural Disability Centre Inc. (CMDCI), Citizens With Disabilities – Ontario (CWDO), Manitoba League of Persons with Disabilities (MLPD) and National Educational Association of Disabled Students (NEADS). Read more.
Sign Up for our monthly digest
A monthly newsletter from CCD about what is happening in the community
CCD Chairperson's Update - August 2015
Information from Elections Canada on Ways to Vote
There are four ways to vote.
Away from home or busy on election day? Ready to vote early? You choose the way you want to vote.
Vote on election day – Monday, October 19, 2015
Vote on advance voting days – October 9, 10, 11 and 12, 2015
Vote at one of 400 Elections Canada offices
Vote by mail
To vote, you must be registered. Check to see if you are registered.
Vote on Election Day – Monday, October 19, 2015
Polls are open for 12 hours.
If you're registered, you will get a voter information card by mail. It tells you when and where to vote. You should receive it by October 1.
Vote on Advance Voting Days
There are four advance voting days. Polls are open from noon to 8:00 p.m.
Friday, October 9
Saturday, October 10
Sunday, October 11
Monday, October 12
Your voter information card tells you the address of your advance polling place.
Vote at One of 400 Elections Canada Offices
If you find it more convenient, you can vote at any Elections Canada office across Canada.
Visit the office before the deadline of Tuesday, October 13 at 6:00 p.m. (local time). Offices are open Monday to Friday, from 10 a.m. to 5 p.m. Bring your proof of identity and address.
Find the Elections Canada office nearest you.
When you vote at an Elections Canada office, you use a special ballot voting kit – learn more.
From October 5 to 8, Elections Canada is opening offices at several campuses, youth centres and Friendship Centres to help make the voting process more accessible. Check the list of where these offices will be located.
Vote by Mail
If you will be travelling outside your riding, or if you find it more convenient, you can vote by mail – apply now.
Apply as soon as possible, to allow time for your voting kit to reach you and for your marked ballot to reach Elections Canada by election day.
The deadline to apply to vote by mail is Tuesday, October 13 at 6:00 p.m. Eastern Time for anyone applying online or sending their application to Elections Canada in Ottawa.
Want to Vote by Mail But Can't Apply Online?
You can apply to vote by mail by visiting any Elections Canada office or mailing in an application form. Forms are available at any Elections Canada office or Canadian embassy, high commission or consulate, or by calling Elections Canada (Tel: 1-800-463-6868, TTY: 1-800-361-8935 toll free in Canada and the US). (If you apply through a local Elections Canada office, the deadline to apply is Tuesday, October 13 at 6:00 p.m. local time.)
When you vote by mail, you use a special ballot voting kit – learn more.
Elections Canada is your best source of information about voting in the federal election.
Check out Elections Canada's videos:
A Question to Ask Candidates Running in the Federal Election
If you are going to a political rally for a federal election candidate, why don't you ask them if they support making the Disability Tax Credit refundable, which is CCD's priority issue for this election campaign.
A refundable DTC would help offset additional costs for eligible persons living with significant disabilities, regardless of the person's income. It would provide a modest annual amount of money to many people with disabilities living on low income. A refundable DTC would be a first step toward poverty alleviation for people with disabilities.
The refundable DTC was the number one recommendation of CCD's just completed research initiative, Disabling Poverty, Enabling Citizenship (DPEC). DPEC, funded by the Social Sciences and Humanities Research Council, brought together community and academic researchers to investigate solutions to the poverty experienced by a disproportionate number of Canadians with disabilities.
Download CCD's New E-book
CCD is proud to announce the publication of its first e-book, Disabling Poverty, Enabling Citizenship (DPEC), which is available at the Kindle, Kobo, I-book stores and at the e-book's webpage (http://dpec.ccdonline.ca/), where a free PDF version of the book is available. DPEC is a compilation of the research reports produced during our five year research project, led by Professor Michael J. Prince and Yvonne Peters.
Readers will be introduced to four disability community members—Marie Ryan, Sharon Murphy, Laurie Larson and Calvin Wood—who share their lived experiences of poverty. In "Making the Invisible Visible", Sharon Murphy wrote, "I want to speak of social exclusion especially as it applies to children. It is a constant feeling of being on the outside looking in. If I may relate a personal story: I desperately wanted to be a Girl Guide when I was seven or eight years old but my parents could not afford the uniform I needed. One of my most poignant childhood memories is looking through the window of the church where other little girls were having their meeting during the evening. I was on the outside looking in. You carry these memories into adulthood like it was yesterday." This story poignantly illustrates why CCD is dedicated to the creation of an inclusive and accessible Canada.
In addition to compelling personal stories, DPEC contains hard facts about the level of poverty experienced by Canadians with disabilities and recommendations for policy reform to alleviate poverty. The book is a resource for community members to use in their anti-poverty work. For example, share information from DPEC, when speaking to candidates running in the federal election about disability issues.
CCD's poverty research focused on four areas of inquiry: demographic research which investigated the poverty experienced by people with disabilities, policy research to build a greater understanding of the income security issues of Canadians with disabilities and how they relate to tax policy and disability-related supports and services, legal research examining poverty in the context of human and equality rights and the development of proposals for reform.
The project was guided by a philosophical and practical approach to research, which emphasized community-academic partnerships, a social rights model to disability, a cross-disability perspective, and was informed by a gender analysis emphasizing the lived experiences and voices of persons with disabilities.
CRPD Awareness Project Update
CCD has been working collaboratively with the Canadian Association of Statutory Human Rights Agencies (CASHRA) and the Canadian Human Rights Commission (CHRC) on activities in support of monitoring and implementation of the Convention on the Rights of Persons with Disabilities (CRPD). Most recently, CCD responded to a report produced jointly by CASHRA and the CHRC about discrimination faced by Canadians with disabilities. Among other issues, CCD commented on the need for comparable pan-Canadian data on disability issues.
James Hicks, CCD National Coordinator, and Vangelis Nikias, CRPD Project Manager, met with Marie Frawley-Henry and Will David, representatives of the Assembly of First Nations (AFN), to discuss how the two organizations can collaborate to advance the CRPD in Canada. The AFN's commitment to disability rights is apparent in a resolutioni passed by the Assembly in December 2014.
The AFN expressed interest in having Vangelis provide a briefing on the CRPD to AFN staff in the fall. Vangelis will be available to do presentations on the CRPD until the end of December. E-mail Vangelis (Vangelis@ccdonline.ca), if you would like him to participate in an event.
CCD Calls for an Ongoing Standard for Lifting Systems for Aircraft Boarding
CCD was contacted by the Canadian General Standards Board (CGSB), as it is considering the withdrawal of the Lifting Systems for Aircraft Boarding of Passengers with Mobility Impairments Standard (CAN/CGSB-189.1-95). CCD's Transportation Committee responded that the continuation of the standard is absolutely necessary to prevent travelers with disabilities encountering undue obstacles to their mobility. Smaller planes are being introduced in major air transportation corridors and it is necessary to have reliable equipment for level transfer changes and boarding facilities.
The Canadian General Standards Board (CGSB) is part of the Department of Public Works and Government Services Canada (PWGSC). It is a member of the Canadian National Standards System, accredited by the Standards Council of Canada (SCC) as a standard development organization (SDO).
Staying in the Loop for Funding Opportunities
To keep up-to-date about calls for proposals from federal government programs, register on the Grants and Contributions Online Service site at http://www.servicecanada.gc.ca/eng/epb/gcos/login.shtml. Information is also posted at http://www.esdc.gc.ca/eng/funding/index.shtml#programs.
---
Notes

iSPECIAL CHIEFS ASSEMBLY
December 9, 10 & 11, 2014, WINNIPEG, MB Resolution no. 48/2014

TITLE: Support for Persons with Disabilities
SUBJECT: Social Development
MOVED BY: Bernd Christmas, Proxy, Indian Island First Nation, NB
SECONDED BY: Chief Gilbert Whiteduck, Kitigan Zibi Anishinabeg, QC
DECISION: Carried by Consensus
WHEREAS:
A. The preamble of the United Nations Convention on the Rights of Persons with Disabilities notes that States are "concerned about the difficult conditions faced by persons with disabilities who are subject to multiple or aggravated forms of discrimination on the basis of race, colour, sex, language, religion, political or other opinion, national, ethnic, indigenous or social origin, property, birth, age or other status".
B. The United Nations Declaration on the Rights of Indigenous Peoples states:
Article 21 (1): Indigenous peoples have the right, without discrimination, to the improvement of their economic and social conditions, including, inter alia, in the areas of education, employment, vocational training and retraining, housing, sanitation, health and social security.
Article 21 (2): States shall take effective measures and, where appropriate, special measures to ensure continuing improvement of their economic and social conditions. Particular attention shall be paid to the rights and special needs of indigenous elders, women, youth, children and persons with disabilities.
Article 22 (1): Particular attention shall be paid to the rights and special needs of indigenous elders, women, youth, children and persons with disabilities in the implementation of this Declaration.
Article 22 (2): States shall take measures, in conjunction with indigenous peoples, to ensure that indigenous women and children enjoy the full protection and guarantees against all forms of violence and discrimination.
C. Indigenous persons with disabilities continue to encounter structural and attitudinal barriers with respect to opportunities to improve their economic and social wellbeing.
D. Indigenous persons disproportionately encounter a higher prevalence of all forms of disability.
THEREFORE BE IT RESOLVED that the Chiefs-in-Assembly:
Direct the National Chief and Executive to establish a process to raise awareness and create opportunities for Indigenous persons with disabilities to fully contribute to their own economic, social and human rights.
Direct the National Chief and Executive to advocate Canada to ratify the First Optional Protocol to the Convention on the Rights of Persons with Disabilities and monitor Canada's first review under the Protocol.
Advocate for greater First Nations participation in the review process articulated in Article 33 of the Convention on the Rights of Persons with Disabilities.
Direct the National Chief to report back to the Chiefs-in-Assembly on this matter.