Act Now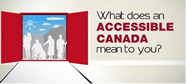 Empower U: Learn to Access Your Disability Rights Training on Canadian Human Rights, the Convention on the Rights of Persons with Disabilities (CRPD) and its Optional Protocol (OP) training aims to increase awareness of how to address discrimination using more familiar Canadian human rights laws such as Human Rights Codes and the newer international Convention on the Rights of Persons with Disabilities (CRPD). This is training for persons with disabilities by persons with disabilities. The training is part of a project funded by Employment and Social Development Canada and implemented by the Council of Canadians with Disabilities (CCD) in collaboration with Canadian Multicultural Disability Centre Inc. (CMDCI), Citizens With Disabilities – Ontario (CWDO), Manitoba League of Persons with Disabilities (MLPD) and National Educational Association of Disabled Students (NEADS). Read more.
Sign Up for our monthly digest
A monthly newsletter from CCD about what is happening in the community
Chairperson's Update - September 2015
First, A Message from Elections Canada
The Council of Canadians with Disabilities is helping Elections Canada (EC) inform Canadians about how to get ready to vote. EC's Ready to Vote, e-Bulletin (October 2015), is now available. Check it out to get the latest information on voting in the October 19, 2015 Federal Election and share it throughout your networks.
Ways to Vote
Canada is counting down to the Federal Election on October 19, 2015. However, there are more opportunities to vote than just on Election Day. CCD is sharing Elections Canada's information about the four ways to vote.
Away from home or busy on Election Day? Ready to vote early? You choose the way you want to vote.
To vote, you must be registered. Check to see if you are registered.
Vote on Election Day – Monday, October 19
Polls are open for 12 hours.
If you're registered, you will get a voter information card by mail. It tells you when and where to vote. You should receive it by 1 October. You can also use the online Voter Information Service to find out where to vote.
Vote on Advance Voting Days
There are four advance voting days. Polls are open from noon to 8:00 p.m.
Friday, October 9
Saturday, October 10
Sunday, October 11
Monday, October 12
Your voter information card tells you the address of your advance polling place. You can also find it in the Voter Information Service.
Vote at One of 400 Elections Canada Offices
If you find it more convenient, you can vote at any Elections Canada office across Canada.
Visit the office before the deadline of Tuesday, October 13 at 6:00 p.m. Offices are open Monday to Friday from 9:00 a.m. to 9:00 p.m., Saturday from 9:00 a.m. to 6:00 p.m. and Sunday from noon to 4:00 p.m. Bring your proof of identity and address.
Find the Elections Canada office nearest you.
When you vote at an Elections Canada office, you use a special ballot voting kit.
From October 5 to 8, Elections Canada is opening offices at several campuses, youth centres and Friendship Centres to help make the voting process more accessible. Check the list of where these offices will be located.
Vote by Mail
If you will be travelling outside your riding, or if you find it more convenient, you can vote by mail – apply now.
Apply as soon as possible, to allow time for your voting kit to reach you and for your marked ballot to reach Elections Canada by Election Day.
The deadline to apply to vote by mail is Tuesday, October 13 at 6:00 p.m. Eastern Time for anyone applying online or sending their application to Elections Canada in Ottawa.
Want to Vote by Mail but Can't Apply Online?
You can apply to vote by mail by visiting any Elections Canada office or mailing in an application form. Forms are available at any Elections Canada office or Canadian embassy, high commission or consulate, or by calling Elections Canada. (If you apply through a local Elections Canada office, the deadline to apply is Tuesday, October 13 at 6:00 p.m. local time.)
When you vote by mail, you use a special ballot voting kit – learn more.

The Fall Agenda at CCD
For voluntary organizations, September kicks off a busy season of work and, with the Federal Election in progress, the workload has been elevated, particularly for the Social Policy Committee, as the National Council of Representatives assigned it the responsibility of overseeing CCD's educational activities with Federal Parties, candidates, the media and the public. Representative of CCD's other committees have been networking with colleagues from a variety of sectors who are well positioned to remove barriers to access and participation.
Promoting an Accessible and Inclusive Canada – CCD has shared with the major Federal Parties and with the media a call for reforms that will alleviate the poverty experienced by people with disabilities, increase employment opportunities, ensure that Canadians with disabilities have full enjoyment of their human rights and improve access and remove barriers. Have a look at CCD's media releases:
James Hicks, CCD National Coordinator, spoke out to the media about the need for accommodations to make the electoral process accessible to people with disabilities.
At a Toronto all-party candidates debate on disability issues and accessibility, John Rae, Chairperson of the CCD Social Policy Committee, raised the need for reform which would enable people with vision impairment to independently verify that their ballot has been marked correctly.
CCD – IL Canada Project – CCD and Independent Living Canada (ILC) are collaborators on projects to effect change in the lives of people with disabilities at the political, social and individual levels. As a part of this initiative two CCD representatives attended and participated in ILC's Annual General Meeting held in Ottawa.
In September, we launched a campaign to get politicians to agree to make the Disability Tax Credit Refundable. The groups jointly held a media conference at the National Press Gallery to promote the campaign. But you are probably wondering - What does this mean for me? It means that whether you are employed or not, a refundable disability tax credit will help people with disabilities pay for the extra costs associated with disability. Currently, the majority of people who benefit from this program are those with full time jobs who pay taxes through their employment. But all people with disabilities need support to pay for these costs.
The Refundable Disability Tax campaign (#DTCfor All) needs your support to show politicians that Canadians with disabilities support this initiative. There is still time to sign the petition. So log on, sign up and be a part of a united community of people with disabilities.
CCD Met with Canadian Human Rights Commission – Anne Levesque, Chairperson of the CCD Human Rights Committee, Tony Dolan, and James Hick met with Marie-Claude Landry, Chief Commissioner and Keith Smith, Director of the Policy, Research and International Affairs Division, Human Rights Promotion Branch. This meeting focused on a discussion of future priorities of the Canadian Human Rights Commission, the unique contribution that the Commission is best placed to make, and potential areas of collaboration between CCD and the Commission. In summary, CCD encouraged the Commission to promote the Convention on the Rights of Persons with Disabilities (CRPD) with the Government of Canada, to lobby for changes in the Canadian Human Rights Act whereby Tribunals would have the authority to award costs and to advocate for an accessible electoral process. The Chief Commissioner stressed the importance of having an open dialogue with equality seeking groups in order to fulfill its mandate of promoting human rights in Canada.
CCD Met with Canadian Transportation Agency – Bob Brown, Co-Chair of the CCD Transportation Committee, Tony Dolan and James Hicks met with Scott Streiner, Chairperson, Member, and Chief Executive Officer of the Canadian Transportation Agency (CTA). Topics of discussion included: the CRPD, precedents that empower tribunals, such as the CTA, to apply human rights principles when making rulings, the need for enforceable access regulations rather than voluntary codes of practice, emerging barriers (the new Bombardier seat configuration in that presents barriers to an attendant assisting a person with a disability), and antiquated lift technology used by Via Rail.
Assisted Suicide – CCD made a submission to the Canadian Provincial/Territorial Expert Advisory Group on Physician-Assisted Dying in which it proposed principles and procedural safeguards to govern assisted suicide. CCD's first principle is "Only Assisted Suicide (not euthanasia) will be permitted." The drafting team for CCD's submission was Amy Hasbrouck, Rhonda Wiebe, Carmela Hutchison, with editing and review provided by Heidi Janz and Nancy Hansen. CCD co-intervened with the Canadian Association for Community Living in the Carter Case (assisted suicide).
CCD and the UN – The CCD International Committee continues the work to develop input regarding Canada's First Report, which will be shared with the United Nation's CRPD Committee. Steve Estey, Chairperson of the International Committee, has been networking with colleagues at the Canadian Association for Community Living and Disability Rights Promotion International.
CCD shared its perspective with the Government of Canada regarding the type of data collection that should be undertaken to ensure that people with disabilities are well served by the UN's sustainable development goals.