Act Now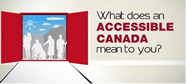 The Government of Canada is leading consultations to inform planned accessibility legislation.
In-person sessions are coming soon to your community. Now is the chance to have your say. Read more.
Sign Up for a Voice of Our Own
A quarterly newsletter from CCD.
CCD Elects Two Members at Large on Council
I am pleased to report that the CCD Council has elected two new Members at Large to the National Council of Representatives: John Rae and Natalie Spagnuolo. John was an incumbent Member at Large. Natalie is new to the Council. It is great to have John continuing on the Council and Natalie, welcome to the team!
Thanks to the outgoing Member at Large on Council May Recollet-Goulais.
As you will see from their biographies, John and Natalie bring a wealth of expertise to CCD.
~ Jewelles Smith,
CCD Chairperson
Joh Rae
I was elected as a Member at Large to CCD's National Council in 2014 and was re-elected two years ago.
I held a number of positions within the Ontario Public Service for 24 years before taking early retirement in 2005. During my government career, I served as a Consultant with the Centre for Disability and Work, an Education Officer with the Employment Equity Commission, and prior to retirement a Program Officer with the Accessibility Directorate of Ontario.
I believe that I bring a rather unique combination of government, labour and community experience to all of my involvements. I have been an active participant in Canada's disability rights movement since 1975, am a Past President of the Alliance for Equality of Blind Canadians (AEBC), was co-chair of the committee that led to human rights coverage for persons with disabilities in Ontario, and have served as a Board and Committee member of numerous human rights, labour and disability rights organizations at the local, provincial and national levels.
I previously represented the AEBC on CCD's National Council from 2003 until 2012, and served in various capacities on the National AEBC board for 13 years, including four and a half years as its National President.
During my time with CCD, I have had the honour to serve as CCD's Treasurer, Co-Chair of CCD's Technology Committee, and 1st Vice Chair on Council.

I currently serve as 1st Vice Chair on CCD's Executive, Chair of CCD's Social Policy Committee, and a member of CCD's Human Rights and National Accessibility and Inclusion Act Committees.

I am also a Board member of Injured Workers Community legal clinic, the Steering Committee of the ODSP Action Coalition, and a member of the Canadian Human Rights Museum's Accessibility Committee.

Natalie Spagnuolo
Natalie is active in the disability movement at the local and national level and through CCD's Social Policy Committee. Much of her advocacy and policy work has focused on experiences of disability and migration, intellectual disability, and women with disabilities. She has served as managing editor for health and disability-related peer review journals and has contributed research on a range of disability issues, producing articles, book chapters, reports, and pieces for popular publications. Over the past few years, Natalie has organized conferences, working groups, and community-based workshops. She is currently co-director of Memory, Witness and Hope/Mémoire, témoignages et espoir, a participatory, multi-modal project where English and French-speaking survivors of regional centres access supports to tell their stories with peers and the community at large.