Act Now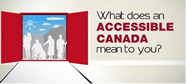 The Government of Canada is leading consultations to inform planned accessibility legislation.
In-person sessions are coming soon to your community. Now is the chance to have your say. Read more.
Sign Up for a Voice of Our Own
A quarterly newsletter from CCD.
Weblog
Today, we are launching our new site, with features that will keep CCD volunteers, members of the disability community and the public informed about our human rights work in support of an accessible and inclusive Canada.
2019
May 6, 2019
April 29, 2019
April 2, 2019
2018
November 12, 2018
November 12, 2018
November 12, 2018
November 12, 2018
November 12, 2018
November 12, 2018
November 12, 2018
November 12, 2018
June 24, 2018
April 29, 2018
April 5, 2018
April 5, 2018
January 24, 2018
2017
November 16, 2017
April 4, 2017
April 3, 2017
March 31, 2017
March 30, 2017
March 30, 2017
March 29, 2017
March 28, 2017
March 27, 2017
February 21, 2017
February 14, 2017
January 23, 2017
2016
December 17, 2016
November 19, 2016
November 11, 2016
April 18, 2016
March 11, 2016
2015
August 27, 2015
2014
September 29, 2014
March 26, 2014
February 12, 2014
2013
December 12, 2013
April 25, 2013
April 17, 2013
January 29, 2013
January 17, 2013
2012
November 19, 2012
November 8, 2012
November 4, 2012
July 13, 2012
June 29, 2012
June 11, 2012
June 4, 2012
April 17, 2012
April 16, 2012
April 5, 2012
April 3, 2012
February 22, 2012
2011
November 18, 2011
May 31, 2011
May 3, 2011
April 28, 2011
April 26, 2011
2010
December 17, 2010
December 2, 2010
September 21, 2010
February 19, 2010
2009
December 15, 2009
November 10, 2009
November 9, 2009
October 22, 2009
September 22, 2009
September 16, 2009
September 12, 2009
September 9, 2009
July 27, 2009
2008
December 4, 2008