Act Now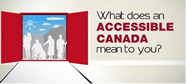 The Government of Canada is leading consultations to inform planned accessibility legislation.
In-person sessions are coming soon to your community. Now is the chance to have your say. Read more.
Sign Up for a Voice of Our Own
A quarterly newsletter from CCD.
Dealing with the t-word
The Globe and Mail,
Saturday, Feb. 27, 2010
Whether the new security fees are a tax or a user fee is not our concern (Security Fee Not A Tax: Ottawa - Feb. 26). For people with disabilities, the problem is having to pay for a system that is not accessible and that we cannot use. It appears that no thought has been given to the accessibility of these devices: People with disabilities who cannot go through the scanner with their wheelchair, mobility device, guide dog etc. have no choice but to submit to a more invasive "pat down."
Laurie Beachell, national co-ordinator,
Council of Canadians with Disabilities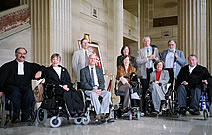 CCD wins VIA Rail case at the Supreme Court of Canada on March 23, 2007.