Act Now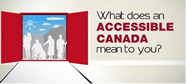 Empower U: Learn to Access Your Disability Rights Training on Canadian Human Rights, the Convention on the Rights of Persons with Disabilities (CRPD) and its Optional Protocol (OP) training aims to increase awareness of how to address discrimination using more familiar Canadian human rights laws such as Human Rights Codes and the newer international Convention on the Rights of Persons with Disabilities (CRPD). This is training for persons with disabilities by persons with disabilities. The training is part of a project funded by Employment and Social Development Canada and implemented by the Council of Canadians with Disabilities (CCD) in collaboration with Canadian Multicultural Disability Centre Inc. (CMDCI), Citizens With Disabilities – Ontario (CWDO), Manitoba League of Persons with Disabilities (MLPD) and National Educational Association of Disabled Students (NEADS). Read more.
Sign Up for our monthly digest
A monthly newsletter from CCD about what is happening in the community
Factum in the Mowat Case
Court File No. 33507
IN THE SUPREME COURT OF CANADA (ON APPEAL FROM THE FEDERAL COURT OF APPEAL)

BETWEEN:

CANADIAN HUMAN RIGHTS COMMISSION
APPELLANT
(Intervener in the Federal Court of Appeal)

-and-

THE ATTORNEY GENERAL OF CANADA
RESPONDENT
(Appellant in the Federal Court of Appeal)

-and-

DONNA MOWAT
RESPONDENT
(Respondent in the Federal Court of Appeal)

FACTUM OF THE INTERVENER
Council of Canadians with Disabilities
David Baker/Meryl Gary

Bakerlaw
672 Dupont St., Suite 400

Toronto, ON M6G 1Z6
Tel : 416-533-0040

Fax : 416-533-0050

Paul Champ/Anne Levesque

Champ and Associates
43 Florence Street
Ottawa, Ontario K2P 0W6
Tel: 613-237-4740
Fax: 613-232-2680
Counsel for the CCD
---
Overview
1. This Appeal concerns the scope of the remedial jurisdiction of the Canadian Human Rights Tribunal ("the Tribunal") to compensate and 'make whole' victims of discrimination.
2. Human rights legislation is the instrument chosen by Parliament to achieve the public goal of eradicating discrimination. For people with disabilities, the human rights system is the primary mechanism for challenging the attitudinal, physical and systemic barriers they face. In order for these barriers to be surmounted and for the objectives of the Canadian Human Rights Act to be truly achieved, the human rights system must be accessible and enable those who experience discrimination to be made whole.
Canadian Human Rights Act, R.S., 1985, c. H-6 ("the Act" or "CHRA")
3. The Federal Court of Appeal improperly rejected the plain and ordinary meaning of the words "any expenses" and held the Tribunal had no jurisdiction to compensate complainants for legal expenses. Adopting a narrow construction of remedial provisions is contrary to the principles governing the interpretation of human rights statutes, and does not properly account for the history and purpose of equality rights. The Tribunal must have the discretion to compensate those who experience discrimination for the legal expenses incurred when asserting their right to be free from discrimination.
4. Complaints from people with disabilities represent the largest proportion of cases in human rights systems across Canada. The disposition of this appeal will have a significant impact on a historically disadvantaged group that faces perhaps the greatest barriers to equality. The Council of Canadians with Disabilities ("CCD") adopts the submissions of the Appellant Canadian Human Rights Commission and makes the following additional points and arguments to assist this Honourable Court.
---
PART I – STATEMENT OF FACTS
5. The CCD adopts the Statement of Facts and the Questions at Issue set out in the Appellant's factum. The CCD also adopts the Appellant's submissions on the standard of review.
---
PART II – THE ARGUMENTS
A. Social Importance of our Human Rights System
6. Discrimination is a public wrong that harms all of society, not just those whose equality rights are violated. While it is true that human rights statutes and the human rights system serve to resolve individual disputes, their overriding purpose is to remove discrimination in Canadian society. The filing and adjudication of human rights complaints help create a more inclusive and just society which benefits all. This broader public purpose is reflected in the remedial powers of human rights tribunals, which include the authority to craft public interest and systemic remedies.
CN v. Canada (Canadian Human Rights Commission), [1987] 1 S.C.R. 1114, p. 1134 ["Action des femmes"]
Dickason v. University of Alberta, [1992] 2 S.C.R. 1103, p. 1154
Hughes, James Peter v. Election Canada, 2010 CHRT 4 (CanLII) ["Hughes"], at paras. 64 and 79
7. The social importance of equality is also demonstrated by the significant role that the CHRA confers on the Canadian Human Rights Commission, a statutory body vested with the responsibility to further the public interest in the eradication of discrimination. The Commission acts as a gatekeeper to the Tribunal process and advances human rights through research and public education. Historically, the Commission also played a more active role in making the human rights process more accessible by assisting complainants through the steps of achieving either a settlement or a Tribunal ruling. The CCD submits that access to justice and human rights are promoted when the Commission assumes the responsibility of carrying complaints to resolution, including appearing before Tribunals.
8. However, in recent years, as the Federal Court of Appeal noted, the Commission practice has changed. The Commission often chooses not to represent complainants and not to appear before the Canadian Human Rights Tribunal. In these circumstances, complainants require legal assistance to enforce their right to be free from discrimination. It is also consistent with the remedial purpose of creating an inclusive society.
Annual Report of the Canadian Human Rights Commission for 2009, Minister of Public Works and Government Services 2010, p. 17. CHRA, sections 51 and 53(2)(a)
B. Importance of Human Rights System for People with Disabilities
9. This Court has recognised that people with disabilities often face physical, attitudinal and systemic barriers which cause their social, financial and political exclusion and marginalization. Justice LaForest articulated this issue well in Eldridge:
Persons with disabilities have too often been excluded from the labour force, denied access to opportunities for social interaction and advancement, subjected to invidious stereotyping and relegated to institutions; see generally […] This historical disadvantage has to a great extent been shaped and perpetuated by the notion that disability is an abnormality or flaw. As a result, disabled persons have not generally been afforded the "equal concern, respect and consideration" that s. 15(1) of the Charter demands. Instead, they have been subjected to paternalistic attitudes of pity and charity, and their entrance into the social mainstream has been conditional upon their emulation of able-bodied norms.
Eldridge v. British Columbia (Attorney General), [1997] 2 S.C.R. 624, para. 56
10. The Supreme Court of Canada has observed that human rights legislation is "often the final refuge of the disadvantaged and the disenfranchised." For people with disabilities, human rights legislation can be an effective public mechanism for promoting social inclusion and creating a more equal society for all. In many cases, complainants are not seeking a financial remedy, but rather are trying to secure public or systemic remedies that benefit the wider community. Human rights complaints have been responsible for realizing equal access to housing, health care, education, transportation, and social services.
Zurich Insurance Co. v. Ontario (Human Rights Commission), [1992] 2 S.C.R. 321, p. 374
Battlefords and District Co-operative Ltd. v. Gibbs, [1996] 3 S.C.R. 566, para. 19
British Columbia (Superintendent of Motor Vehicles) v. British Columbia (Council of Human Rights), [1999] 3 S.C.R. 868, para. 2
Tranchemontagne v. Ontario (Director, Disability Support Program), [2006] 1 S.C.R. 513
Dixon v. 930187 Ontario, 2010 HRTO 256 (CanLII)
Ontario Human Rights Commission v. Lepofsky, 2005 HRTO 36 (CanLII)
11. But people with disabilities face distinct challenges and incur unique expenses when attempting to prosecute violations of the CHRA. Disability discrimination cases often require expert evidence relating to the existence of a disability, the need for accommodation, the appropriate comparator group, and the extent of hardship to a respondent. In light of this, the Federal Court of Appeal's denial of compensation for the expenses associated with asserting the right to be free from discrimination disproportionately impacts people with disabilties. It renders the human rights system less accessible and represents yet another barrier to equality.
Bunda v. Hamilton Health Sciences, 2010 HRTO 698 (CanLII), para. 8
Eaton v. Brant County Board of Education, [1997] 1 S.C.R. 241, para. 69
Report of the Canadian Human Rights Review Act Panel (Department of Justice: Ottawa, 2000) ["La Forest Report"] at page 74
C. Evolution of Canadian Human Rights Legislation Supports Interpretation
12. Statutory interpretation is a search for the intention of Parliament, which must be ascertained from the facts on the ground when s. 53(2)(c) was drafted. The remedial provision under review in this appeal has remained unchanged since the initial enactment of the Act in 1977. Section 53(2) (c) of the Act states:
If at the conclusion of the inquiry the member or panel finds that the complaint is substantiated, the member or panel may, subject to section 54, make an order against the person found to have been engaged in the discriminatory practice and include in the order any of the following terms that the member or panel considers appropriate:

(c) that the person compensate the victim for any or all of the wages that the victim was deprived of and for any expenses incurred by the victim as a result of the discriminatory practice;

CHRA, s. 53(2)(c)
13. In determining whether Parliament intended "any expenses" to include a complainant's legal expenses, the CCD urges the Court to consider the evolution of human rights legislation in Canada immediately prior to 1977 and the American laws upon which Canadian human rights statutes, including the CHRA, were modeled.
14. Comprehensive human rights legislation in Canada was originally quasi-criminal and based on declaring certain discriminatory practices illegal with sanctions imposed on those found guilty of engaging in a prohibited practice. This legislative approach suffered from a number of limitations, not least of which was the reluctance of victims from initiating the criminal action. Without their involvement, meaningful action to combat discrimination was impossible.
W.S. Tarnopolsky, Discrimination and the Law in Canada (Toronto: Richard De Boo Limited, 1982) ["Tarnopolsky"], p. 27
15. Thereafter Canadian legislators decided to adapt models that had been enacted in the United States. Abandoning the quasi-criminal approach, Canadian jurisdictions followed the American lead and enacted civil fair employment and fair accommodation practices acts. But as noted by legal scholar and jurist Walter Tarnopolsky, these statutes still placed "the whole emphasis of promoting human rights on the individual who had suffered most". Since persons from historically disadvantaged groups were rarely in a position to actively engage the legal system, very few complaints were made and little enforcement was achieved.
Tarnopolsky, supra, pp. 27-31
16. Meanwhile, in the United States distinct pieces of legislation prohibiting discrimination were being enacted by Congress. These statutes created bodies that were responsible for investigating and prosecuting violations, including the discretion to assume carriage of discrimination cases on behalf of "plaintiffs". Individuals were not restricted to accepting this public representation, and remained free to directly access adjudication with the assistance of their own counsel.
Equal Employment Opportunity Commission v. Shell Oil Co., 466 U.S. 54 (1984), pp. 62-68.
17. Under the American human rights law that existed at the time the CHRA was introduced, there was virtually a one-way shifting of legal expenses in favour of the plaintiff who had experienced discrimination. The Civil Rights Act of 1964 included a provision for awarding "a reasonable attorney's fee" to the prevailing party. Courts interpreted the provision to mean that, while a successful plaintiff should recover his or her legal expenses, it was only reasonable for a defendant to recover attorney's fees where the plaintiff's claim was "frivolous, unreasonable, or groundless". The U.S. Supreme Court articulated two reasons for this outcome:
First, as emphasized so forcefully in Piggie Park, the plaintiff is the chosen instrument of Congress to vindicate "a policy that Congress considered of the highest priority." 390 U.S., at 402 . Second, when a district court awards counsel fees to a prevailing plaintiff, it is awarding them against a violator of federal law. As the Court of Appeals clearly perceived, "these policy considerations which support the award of fees to a [434 U.S. 412, 419] prevailing plaintiff are not present in the case of a prevailing defendant." 550 F.2d, at 951. A successful defendant seeking counsel fees under 706 (k) must rely on quite different equitable considerations.

Christiansburg Garment Co. v. EEOC, 434 U.S. 412 at 418-419
Chester Antieau, Federal Civil Rights Acts: Civil Practice, (Rochester, New York: The Lawyers Co-operative Publishing Co., Dec. 1986)(2nd ed.Cumulative Supplement) Vol. II, pp. 64-71.
18. The most important difference between the American statutes and the Canadian human rights legislation that followed was the "gatekeeping" role assigned to human rights commissions in Canada. In the United States, there is no preliminary review of the merits of a case with a broad discretion to dismiss. Given that direct access to adjudication was the rule under U.S. human rights legislation, there was a stronger rationale for granting defendants a limited right to recover an award of attorney's fees where the plaintiff's claim was not only dismissed but lacked merit from the outset. Under the CHRA, the Commission's role is to screen out weak or frivolous complaints, making it harder for respondents to complain that they are exposed to vexatious complaints before theTribunal.
CHRA, sections 43, 44 and 49(1)
19. According to Tarnopolsky, the access to justice inadequacies that had confronted complainants under earlier human rights legislation in Canada were widely recognized. By following the American lead, Parliament designed the CHRA with a view to minimizing barriers to enforcement while demonstrating the high public priority attached to eliminating and remediating discrimination.
Tarnopolsky, supra, pp. 27-31
20. In light of this history, the CCD submits that it was Parliament's intention to design a 'make whole' remedial scheme that compensates complainants for "any expenses incurred", including any necessary legal expenses associated with prosecuting violations of the Act.
D. Conflicting Jurisprudence
21. Following enactment of the CHRA, Tribunals and Courts were initially divided regarding the remedial jurisdiction of the Canadian Human Right Tribunal to award compensation for legal expenses incurred. However, it is fair to say that, until the Court of Appeal's ruling in Mowat, the view that "any expenses" included legal expenses had largely prevailed. This debate over the jurisdiction of human rights tribunals to award legal expenses has also played out in the provincial and territorial jurisdictions. For many Courts and Tribunals, granting compensation for legal expenses was integral to the human rights system because it provided an effective remedy to victims of discrimination.
Canada (Attorney General) v. Thwaites [1994] 3 F.C. 38 (T.D.)
Brooks v. Canada (Attorney General), 2005 CHRT 14
Brooks v. Canada (Attorney General), 2006 FC 500 (T.D.)
Curling v.Torimiro, [2000] O.H.R.B.I.D. No. 16, paras. 55-65
Senyk v. WFG Agency Network (No. 2), 2008 BCHRT 376 (CanLII)
22. It is recognized that some courts have rejected this 'make whole' approach to remedying discrimination. Drawing on common law principles governing the award of costs, these courts have concluded that, unless the statute in question expressly addresses the issue of "legal costs" for successful complainants, human rights tribunals do not have the remedial jurisdiction to compensate victims of discrimination for legal expenses incurred to prosecute the violation. For the reasons outlined below, CCD submits that the common law is inapplicable.
Ontario (Liquor Control Board) v. Ontario (Ontario Human Rights Commission) (1988), 25 O.A.C. 161, 27 O.A.C. 46 (addendum) (Div. Ct.)
Moncton v. Buggie and N.B. Human Rights Commission (1985), 21 D.L.R. (4th) 266, 65 N.B.R. (2d) 210 (C.A.)
23. A final group of cases hinge on the specific wording in provincial human rights legislation, which differs from and post-dates the remedial provisions of the CHRA.
Halifax (Regional Municipality) v. Nova Scotia (Human Rights Commission), 2005 NSCA 70, 253 D.L.R. (4th) 506 ["Halifax"] at para. 35
Quereshi v. Ontario (Human Rights Commission), 2006 CanLII 63686 (Ont. Div. Ct.)
E. Broad Statutory Remedial Powers Are Different Than Common Law
24. The CCD submits that the Federal Court of Appeal erred by presuming the common law applies unless explicitly ousted by statute. This approach fails to recognize that no common law regime previously existed for challenging discrimination. By introducing the CHRA, Parliament neither codified nor modified the common law, nor did it incorporate common law concepts or terms. Rather, it passed a comprehensive statutory scheme to deal with the societal problem of discrimination.
Ruth Sullivan, Ruth Sullivan in Construction of Statutes, 4th ed. (Toronto: Butterworths, 2002) ["Sullivan"], pp. 431-439
25. In 1939, the Supreme Court of Canada held that, in the absence of legislation, neither the civil law nor the common law prevented business owners from refusing service to a person based on skin colour. Thus, "Egalitarian civil liberties or human rights are somewhat different from the other civil liberties, except some of the economic ones, in that they require positive legislative support for their existence".
Tarnopolsky, supra, p. 25
Christie v. York Corp., [1940] S.C.R. 139
26. Section 2 of the CHRA expressly states, "The purpose of this Act is to extend the laws of Canada…", meaning the Act was intended by Parliament as an extension of its authority into a new area in which common law principles did not have application. The Act represents an "exhaustive code", and therefore its interpretation should be based on the plain and ordinary meaning of the words chosen by Parliament, with reference to the structure and purposes of the CHRA, and without any presumption that common law principles be applied.
Seneca College v. Bhadauria, [1981] 2 S.C.R. 181
Honda Canada Inc. v. Keays, 2008 SCC 39, [2008] 2 S.C.R. 362
Sullivan, supra, pp. 442-443
27. Use of the term "expenses" in s. 53(2)(c) of the Act represents a choice not to use comon law language ["damages"] from which it might be inferred that "costs" were to be excluded. The Supreme Court of Canada has recognized that broad and generally- worded statutory remedial powers may authorize administrative tribunals to make awards that are superior to common law damages, provided such an interpretation is consistent with the objects and purposes of the Act. In considering the remedial powers of the Canada Industrial Relations Board, the Court said:
At common law, courts were restricted to an award of damages, whereas under the Canada Labour Code, a broader range of remedies designed to "make whole" are available. The range of remedies recognizes that often an award of damages will only go a short distance in remedying the effects of a breach. Parliament has substituted a broad, comprehensive remedial scheme much superior to an award of damages available at common law.

Gendron v. Supply and Services Union of the Public Service Alliance of Canada, [1990] 1 S.C.R. 1298 ["Gendron"]
28. Moreover, special principles of statutory interpretation apply to human rights legislation. The Court of Appeal did not truly consider these principles when intepreting the simple phrase "any expenses". The language chosen by Parliament plainly indicates that it intended to confer on the Tribunal a broad remedial discretion to compensate successful complainants for "any" expenses incurred as a consequence of the discrimination. The Tribunal was expected to exercise its discretion and fashion remedies in a manner that is consistent with the structure and purposes of the Act.
Prebushweski v. Dodge City Auto (1984) Ltd., [2005] 1 S.C.R. 649, paras. 26-28, 36, 43
Chopra v. Canada (Attorney General), 2007 FCA 268 (CanLII), ["Chopra"], paras. 35-36
F. Purpose and Objects of The Act Support Full Compensation
29. Given its unique objective of eradicating the public wrong of discrimination, human rights legislation holds a unique status in Canadian law. This Court has repeatedly held that it is quasi-constitutional in nature and ought to be interpreted in a broad, liberal and purposive manner:
Human rights legislation is intended to give rise, amongst other things, to individual rights of vital importance, rights capable of enforcement, in the final analysis, in a court of law. I recognize that in the construction of such legislation the words of the Act must be given their plain meaning, but it is equally important that the rights enunciated be given their full recognition and effect. We should not search for ways and means to minimize those rights and to enfeeble their proper impact. [emphasis added]
Action des femmes, supra, p. 1134
30. This Court has also held that human rights tribunals and courts cannot limit the meaning of terms in human rights legislation which are meant to advance the purpose of the Act. Only Parliament, and not courts or tribunals, may narrow the scope of quasi-constitutional legislation. As expressed by the Ontario Human Rights Tribunal,
… a legislature would have to use very clear language to limit the ambit of a term; it is not open to the Tribunal to read in a limitation that the legislature has not created.

Dopelhamer v. Workplace Safety and Insurance Board, 2009 HRTO 2056 (CanLII), para. 9
Canada (House of Commons) v. Vaid, [2005] 1 S.C.R. 667, para. 81
31. As the Federal Court of Appeal acknowledged, the plain and ordinary meaning of "any expenses" would obviously include "legal expenses". But the Court ultimately rejected this interpretation because it held that the ordinary meaning should not be followed because "costs" is a "legal term of art". The CCD submits that this intepretive approach contradicts the guidance of this Honourable Court and the statutory direction to afford remedial legislation a broad, fair and liberal interpretation.
Interpretation Act, R.S.C. 1985 c. I-21, section 12
32. The plain and ordinary meaning of "any expenses" in s. 53(2)(c) of the Act does not reveal any Parliamentary intent to restrict the Tribunal's ability to compensate successful complainants for legal expenses incurred. In the absence of clear language to this effect, the Tribunal and courts should not assume that the expansive phrase "any expenses" excludes legal expenses. On the contrary, it must be assumed that if Parliament had intended to create any exception or limitation on the Tribunal's ability to compensate victims of discrimination for "any expenses incurred", it would have done so expressly.
33. Equal and meaningful access to the human rights system is one objective that is met by interpreting "any expenses" to include legal expenses. According to the LaForest Report, complainants often face many barriers when seeking to assert their equality rights. There is a fundamental power and status inequality between parties in human rights disputes: complainants are not just members of disadvantaged groups but are also employees rather than employers, tenants not landlords, and consumers rather than service providers. These compounded disadvantages create an important barrier for complainants when seeking to assert their equality rights. As explained by Justice LaForest,
The experience in other jurisdictions demonstrates that a complainant must be represented before a tribunal. In the United Kingdom and Québec, complaints are filed directly with the tribunal or court, and a complainant unrepresented claimants are rarely successful, partially because respondents are often large well-resourced corporations or governments. This will be particularly true in the federal sector. The practical result of no assistance would be to deny access. The human rights tribunal process is often complicated and requires experience in human rights in order to assemble and argue a case successfully. In the human rights context many claimants do not speak either official language or have disabilities that may make it difficult for them to access the system.

LaForest Report, supra, Chapter 11, p. 4
34. The failure to allow legal expenses hinders the ability of complainants, particularly complainants who have disabilities and who experience disproportionate levels of poverty, to retain counsel. This prevents complainants from having a meaningful opportunity to assert their right to be free from discrimination and increases the likelihood that discrimination will go unadressed. Faced with an intepretation of "expenses" that promotes meaningful access to the human rights system and one that does not, the former intepretation must be favored as it best advances the purpose of the Act.
United Brotherhood of Carpenters and Joiners of America, Local 1386 v. Bransen Construction Ltd. [2002] N.B.J. No. 114, para. 58
35. Furthermore, the objectives of the Act are also advanced when human rights tribunals have the discretion to truly make successful complainants whole. Human rights tribunals across the country have held that the purpose of human rights remedies is to help eradicate discrimination and to make complainants whole for the expenses they suffered as a result of discrimination. In addition to appropriately compensating complainants for breaches of their human rights, human rights remedies must also not be "so low as to trivialise" the discrimination.
Sanford v. Koop, 2005 HRTO 53 , para. 34
36. In sum, the purposive interpretation of "any expenses" necessarily includes legal expenses. Only this interpretation ensures that the human rights system is accessible to members of historically disadvantaged groups and that victims of discrimination are truly 'made whole'. Any other intepretation of this term would significantly undermine the purpose of the Act and the intent of Parliament.
G. Conclusion
37. It is recognized that the interpretation urged by the intervener means that the Act has established a "one-way" shifting of legal expenses. Such a result is consistent with legislation that both depends upon complaint-driven enforcement in furtherance of important public objectives and recognition of pervasive inequities in the relative ability of complainants and respondents to enforce their rights.
Harold Krent, "Explaining One-Way Fee Shifting", (1993), 79 Va. L.Rev. 2039, pp. 2044-45
38. A purposive interpretation of the remedial authority contained in federal and provincial labour and employment legislation, where the indicia of important public objectives and pervasive inequities also exist, has led to the legal expenses of employees being compensable. Moreover comparable American laws making provision for one-way shifting of legal expenses abounded during the formulation of Canadian human rights law. Both support a conclusion that Parliament recognized that ensuring access to justice for complainants would be critical to achieving the goals underlying the CHRA.
Banca Nazionale v. Lee-Shanok, [1988] F.C.J. No. 594 (F.C.A.) (QL), p. 11
Canadian Paperworkers' Union v. McNamara, [1988] B.C.J. No. 2447 (B.C.S.C.) at para. 8
Phyllis A. Munroe, "Financial Barriers to Litigation: Attorney Fees and the Problem of Legal Access", (1981-82) 46 Alb. L. Rev. 148, pp. 168-69
39. The power to award costs as part of "any expenses" does not mean legal expenses would be fully compensated in all cases. The Tribunal retains discretion to withhold or limit recovery, notwithstanding a positive outcome for the complainant. For example, the fact that the complainant was only partially successful in the present case was considered by the Tribunal to be a relevant factor when exercising its remedial jurisdiction. The involvement of the Commission in prosecuting the violation before the Tribunal is another factor. By creating a potential one-way shifting of legal expenses, Parliament made it clear that prosecuting violations of human rights statutes and providing comprehensive compensation for victims of discrimination are overriding factors to be considered by Tribunals when exercising their remedial discretion.
Chopra, paras. 35-36
Mowat v. Canadian Armed Forces, [2006] C.H.R.D. No. 49
40. Access to justice is an important objective that seems to become more elusive with the passage of time. Clearly Parliament, when enacting the CHRA in 1977, was deeply to committed to ensuring human rights are accessible to complainants. The complaint-driven system was the mechanism chosen by Parliament to achieve the public goal of eliminating discrimination in our society. An interpretation based upon the plain and ordinary meaning of the word "expenses" allows for awards of compensation to cover all of the expenses flowing from discrimination the complainant experienced, without exception. Such a 'make whole' remedy accords with access concerns that would have been uppermost in minds of Parliament in 1977. It also parallels closely this Court's efforts to enhance access to justice and the rule of law, where it is both just to do so and consistent with the intentions of Parliament.
Tranchemontagne v. Ontario (Director, Disability Support Program), [2006] 1 S.C.R. 513, para. 33
B.C.G.E.U. v. British Columbia (Attorney General) [1988] 2 S.C.R. 214 at para. 25
Gendron, supra
Grover v. National Research Council Canada, 1992 CanLII 629 (C.H.R.T.) para. 65
---
PART IV – SUBMISSIONS ON COSTS
41. The CCD does not seek costs from either party and respectfully requests that no costs award be made against it as it is a public interest litigant representing members of historically disadvantaged group.
---
PART V – ORDER SOUGHT
42. The CCD asks this Honarable Court to allow the appeal of the Appellant and to restore the decision of the Tribunal.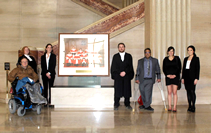 Some members of the CCD team at the Supreme Court of Canada on April 25, 2018 to intervene in S.A. v. Metro Vancouver Housing Corporation. (L. to R. Bob Brown, CCD Human Rights Committee member, Dianne Wintermute, legal counsel (ARCH), Dahlia James, a second year JD candidate at U. of Ottawa and Prof. Ravi Malhotra's Research Assistant and Luke Reid, legal counsel (ARCH) , and Prof. Ravi Malhotra, a member of the Human Rights Committee, Prof. Anne Levesque, Chair of the Human Rights Committee, and Erin Carr, a second year JD candidate.
The Latimer case directly concerned the rights of persons with disabilities. Mr. Latimer's view was that a parent has the right to kill a child with a disability if that parent decides the child's quality of life no longer warrants its continuation. CCD explained to the court and to the public how that view threatens the lives of people with disabilities and is deeply offensive to fundamental constitutional values. Learn more.