Act Now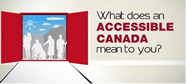 The Government of Canada is leading consultations to inform planned accessibility legislation.
In-person sessions are coming soon to your community. Now is the chance to have your say. Read more.
Sign Up for a Voice of Our Own
A quarterly newsletter from CCD.
Human Rights
CCD's work in the area of Human Rights and Equality Rights apprises judges, law-makers and other decision-makers about how disability must be taken into consideration in all areas of community life, thus ensuring Canadians with disabilities have full enjoyment of their human and equality rights. The Canadian Human Rights Act prohibits discrimination against persons with disabilities and the Equality Rights Section of the Canadian Charter of Rights and Freedoms guarantees people with disabilities equal benefit and protection before and under the law.
CCD's Human Rights Committee monitors court cases and law reform which could affect persons with disabilities, guides CCD's legal interventions, analyzes human rights/equality rights questions for the CCD National Council and provides recommendations on possible courses of action.
Recent Work
April 25, 2019
"Speak Out, as the Canadian Human Rights Commission (CHRC) has titled its 2018 Annual Report, reads to us like a call to action to speak our truth on the discrimination that people with disabilities encounter in Canada," states Jewelles Smith, Chairperson of the Council of Canadians with Disabilities (CCD). "Far too many of us face oppression and discrimination, while going to school, at work and doing the activities that many Canadians take for granted but for people with disabilities often mean navigating barriers, which are often systemic in nature," states Pat Danforth, CCD 1st Vice Chair. Read more.
January 25, 2019
The CCD is pleased by the Supreme Court's decision in S.A. v MVHC. Read more.
November 29, 2018
In August 2018, the BC government brought an application to have the case dismissed, arguing that CCD did not have the legal status ("standing") to defend the rights of people with mental disabilities in court. In October 2018, the BC Supreme Court decided that CCD did not have standing and dismissed the case before it got to trial. CCD has appealed the Court's decision. Read more.
More on Human Rights
October 24, 2018
September 4, 2018
July 12, 2018
April 24, 2018
February 27, 2018
July 28, 2017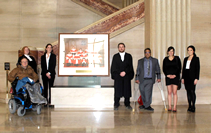 Some members of the CCD team at the Supreme Court of Canada on April 25, 2018 to intervene in S.A. v. Metro Vancouver Housing Corporation. (L. to R. Bob Brown, CCD Human Rights Committee member, Dianne Wintermute, legal counsel (ARCH), Dahlia James, a second year JD candidate at U. of Ottawa and Prof. Ravi Malhotra's Research Assistant and Luke Reid, legal counsel (ARCH) , and Prof. Ravi Malhotra, a member of the Human Rights Committee, Prof. Anne Levesque, Chair of the Human Rights Committee, and Erin Carr, a second year JD candidate.
January 26, 2004
This paper traces the evolution of disability equality rights; from demanding recognition and inclusion in human rights law, to becoming experienced litigatiors for a substantive vision of equality in Canada. Read more.
The Latimer case directly concerned the rights of persons with disabilities. Mr. Latimer's view was that a parent has the right to kill a child with a disability if that parent decides the child's quality of life no longer warrants its continuation. CCD explained to the court and to the public how that view threatens the lives of people with disabilities and is deeply offensive to fundamental constitutional values. Learn more.