Act Now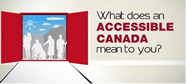 Empower U: Learn to Access Your Disability Rights Training on Canadian Human Rights, the Convention on the Rights of Persons with Disabilities (CRPD) and its Optional Protocol (OP) training aims to increase awareness of how to address discrimination using more familiar Canadian human rights laws such as Human Rights Codes and the newer international Convention on the Rights of Persons with Disabilities (CRPD). This is training for persons with disabilities by persons with disabilities. The training is part of a project funded by Employment and Social Development Canada and implemented by the Council of Canadians with Disabilities (CCD) in collaboration with Canadian Multicultural Disability Centre Inc. (CMDCI), Citizens With Disabilities – Ontario (CWDO), Manitoba League of Persons with Disabilities (MLPD) and National Educational Association of Disabled Students (NEADS). Read more.
Sign Up for a Voice of Our Own
A quarterly newsletter from CCD.
Promoting Human Rights
CCD's involvement in human rights and the Canadian Charter of Rights and Freedoms has been long-standing. CCD has played a leading role in consultations with government on Constitutional and human rights reform.
Recent Work
February 17, 2021
The federal government is responsible for procurement of the vaccinations and has a duty to take leadership in regard to protecting vulnerable citizens. Provincial and territorial governments are responsible under human rights legislation to ensure that vaccines are delivered to people with disabilities in a timely manner and that folks with disabilities are in the vaccine delivery plans. We call on all levels of government in Canada to look at their vaccination plans and reconsider where at risk disabled Canadians, their families and caregivers fall into these plans. Read more.
January 7, 2021
Roxana Jahani Aval, Chairperson, and Shari Hildred, National Coordinator, announced that Jewelles Smith has joined the staff of the Council of Canadians with Disabilities (CCD) as the organization's first Communications and Government Relations Coordinator. Read more.
More on Promoting Human Rights
December 3, 2020
November 13, 2020
November 7, 2020
November 7, 2020
November 6, 2020
April 25, 2019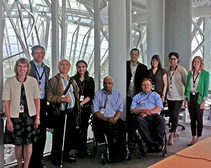 When UN Special Rapporteur on Disability Shuaib Chalklen (seated centre left), who is from South Africa, visited CCD in June 2014, one of the first stops was the Canadian Museum for Human Rights (CMHR), which has adopted a high standard of inclusive design.
The Latimer case directly concerned the rights of persons with disabilities. Mr. Latimer's view was that a parent has the right to kill a child with a disability if that parent decides the child's quality of life no longer warrants its continuation. CCD explained to the court and to the public how that view threatens the lives of people with disabilities and is deeply offensive to fundamental constitutional values. Learn more.