Act Now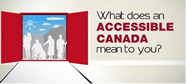 The Government of Canada is leading consultations to inform planned accessibility legislation.
In-person sessions are coming soon to your community. Now is the chance to have your say. Read more.
Sign Up for a Voice of Our Own
A quarterly newsletter from CCD.
Promoting Human Rights
CCD's involvement in human rights and the Canadian Charter of Rights and Freedoms has been long-standing. CCD has played a leading role in consultations with government on Constitutional and human rights reform.
Recent Work
April 25, 2019
"Speak Out, as the Canadian Human Rights Commission (CHRC) has titled its 2018 Annual Report, reads to us like a call to action to speak our truth on the discrimination that people with disabilities encounter in Canada," states Jewelles Smith, Chairperson of the Council of Canadians with Disabilities (CCD). "Far too many of us face oppression and discrimination, while going to school, at work and doing the activities that many Canadians take for granted but for people with disabilities often mean navigating barriers, which are often systemic in nature," states Pat Danforth, CCD 1st Vice Chair. Read more.
November 26, 2016
Featured panel speakers will include Ms. Morgan Rowe, Ms. Helen Ries, Dr. Jihan Abbas, and Mr. Charles Ng. Read more.
May 11, 2013
Along with others, some members of the CCD Human Rights Committee share their views on the impact of the Moore case. Read more.
More on Promoting Human Rights
January 29, 2013
April 17, 2012
March 23, 2012
March 21, 2012
May 16, 2011
March 8, 2011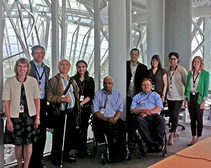 When UN Special Rapporteur on Disability Shuaib Chalklen (seated centre left), who is from South Africa, visited CCD in June 2014, one of the first stops was the Canadian Museum for Human Rights (CMHR), which has adopted a high standard of inclusive design.
The Latimer case directly concerned the rights of persons with disabilities. Mr. Latimer's view was that a parent has the right to kill a child with a disability if that parent decides the child's quality of life no longer warrants its continuation. CCD explained to the court and to the public how that view threatens the lives of people with disabilities and is deeply offensive to fundamental constitutional values. Learn more.