Act Now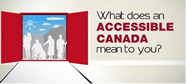 Empower U: Learn to Access Your Disability Rights Training on Canadian Human Rights, the Convention on the Rights of Persons with Disabilities (CRPD) and its Optional Protocol (OP) training aims to increase awareness of how to address discrimination using more familiar Canadian human rights laws such as Human Rights Codes and the newer international Convention on the Rights of Persons with Disabilities (CRPD). This is training for persons with disabilities by persons with disabilities. The training is part of a project funded by Employment and Social Development Canada and implemented by the Council of Canadians with Disabilities (CCD) in collaboration with Canadian Multicultural Disability Centre Inc. (CMDCI), Citizens With Disabilities – Ontario (CWDO), Manitoba League of Persons with Disabilities (MLPD) and National Educational Association of Disabled Students (NEADS). Read more.
Sign Up for our monthly digest
A monthly newsletter from CCD about what is happening in the community
Promoting Human Rights
CCD's involvement in human rights and the Canadian Charter of Rights and Freedoms has been long-standing. CCD has played a leading role in consultations with government on Constitutional and human rights reform.
Recent Work
July 6, 2022
It is with sadness that we report that long time CCD volunteer Jim Derksen has passed away.
Jim was a truly visionary leader, helping our organization meet challenges in a principled manner consistent with our human rights philosophy. Jim was a Chairperson of CCD, when it was called the Coalition of Provincial Organizations of the Handicapped (COPOH). He was also a National Coordinator of the organization.
Read more.
April 9, 2022
It is with sadness that we report that our fellow Council member John Rae passed away suddenly on the afternoon of April 8th in Toronto. Read more.
March 8, 2022
The Council of Canadians with Disabilities (CCD) commemorates International Women's Day. While celebrating the contribution of all women, we draw particular attention to women with disabilities who also contend with ableism and other forms of intersecting discrimination related to their particular identities. We celebrate the work that women with disabilities living in Canada are doing to promote access and inclusion. Read more.
More on Promoting Human Rights
February 17, 2021
January 7, 2021
December 17, 2020
December 3, 2020
November 13, 2020
November 7, 2020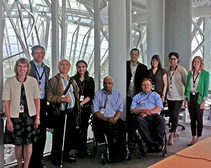 When UN Special Rapporteur on Disability Shuaib Chalklen (seated centre left), who is from South Africa, visited CCD in June 2014, one of the first stops was the Canadian Museum for Human Rights (CMHR), which has adopted a high standard of inclusive design.
The Latimer case directly concerned the rights of persons with disabilities. Mr. Latimer's view was that a parent has the right to kill a child with a disability if that parent decides the child's quality of life no longer warrants its continuation. CCD explained to the court and to the public how that view threatens the lives of people with disabilities and is deeply offensive to fundamental constitutional values. Learn more.