Act Now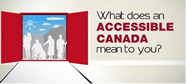 The Government of Canada is leading consultations to inform planned accessibility legislation.
In-person sessions are coming soon to your community. Now is the chance to have your say. Read more.
Sign Up for a Voice of Our Own
A quarterly newsletter from CCD.
Litigation
CCD intervenes in test cases so that the judge/judges hearing cases will have the opportunity to benefit from the collective experiences of the disability rights community and the analysis of human rights by legal experts fully informed by disability experience. (A test case is one which is likely to lead to a legal precedent and alter a law or practice.) CCD has been involved in many of the landmark cases that helped to bring down barriers that were preventing the full and equal participation of Canadians with disabilities. For example, CCD has used the Canadian legal system to advance jurisprudence on the following issues:
Recent Work
April 19, 2016
The Court Challenges Program of Canada ("CCPC") is essential to ensure access to justice for persons with disabilities in accordance with article 12 and 13 of the Convention on the Rights of Persons with Disabilities. If persons with disabilities do not have the means to access the courts, the rights to equality guaranteed in the Canadian Charter of Rights and Freedoms and in human rights legislation are hallow and meaningless. Read more.
September 5, 2014
CCD/CACL want the public to understand the concerns of the community assisted suicide/euthanasia is said to benefit. To learn more you can access the CCD/CACL factum submitted to the Supreme Court. Read more.
More on Litigation
January 2, 2014
January 2, 2014
January 2, 2014
January 11, 2013
November 18, 2012
March 23, 2012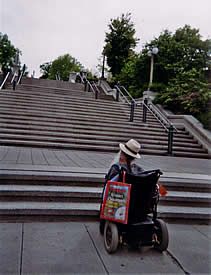 Jim Derksen views inaccessible York Street Steps in Ottawa. CCD intervened in the Brown Case, which challenged an inadequate accommodation developed for the Steps.
The Latimer case directly concerned the rights of persons with disabilities. Mr. Latimer's view was that a parent has the right to kill a child with a disability if that parent decides the child's quality of life no longer warrants its continuation. CCD explained to the court and to the public how that view threatens the lives of people with disabilities and is deeply offensive to fundamental constitutional values. Learn more.