Act Now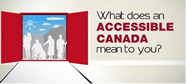 The Government of Canada is leading consultations to inform planned accessibility legislation.
In-person sessions are coming soon to your community. Now is the chance to have your say. Read more.
Sign Up for a Voice of Our Own
A quarterly newsletter from CCD.
Strategies for Competent and Ethical Disability Law Advocacy
Register now for this event on November 30th 2016 in Ottawa.

The 2nd annual CCD conference will discuss service, case management, and client guidance involving disability claims and clients who have disabilities. We will discuss the need to respect diversity when dealing with disability law cases. We will also discuss the access to justice issues that arise for people with visible and invisible disabilities. We will consider how counsel can effectively respond to the needs and interests of clients with disabilities.
Featured panel speakers will include Ms. Morgan Rowe, Ms. Helen Ries, Dr. Jihan Abbas, and Mr. Charles Ng.
The Latimer case directly concerned the rights of persons with disabilities. Mr. Latimer's view was that a parent has the right to kill a child with a disability if that parent decides the child's quality of life no longer warrants its continuation. CCD explained to the court and to the public how that view threatens the lives of people with disabilities and is deeply offensive to fundamental constitutional values. Learn more.