Act Now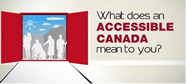 Empower U: Learn to Access Your Disability Rights Training on Canadian Human Rights, the Convention on the Rights of Persons with Disabilities (CRPD) and its Optional Protocol (OP) training aims to increase awareness of how to address discrimination using more familiar Canadian human rights laws such as Human Rights Codes and the newer international Convention on the Rights of Persons with Disabilities (CRPD). This is training for persons with disabilities by persons with disabilities. The training is part of a project funded by Employment and Social Development Canada and implemented by the Council of Canadians with Disabilities (CCD) in collaboration with Canadian Multicultural Disability Centre Inc. (CMDCI), Citizens With Disabilities – Ontario (CWDO), Manitoba League of Persons with Disabilities (MLPD) and National Educational Association of Disabled Students (NEADS). Read more.
Sign Up for a Voice of Our Own
A quarterly newsletter from CCD.
Canada and the CRPD
Canada has ratified the CRPD. Ratification means that a country agrees to abide by the standards set in a Convention.
Recent Work
December 16, 2020
You should check out the Disability Rights Online website. This website connects visitors with self-paced online training on human rights, other resources and contact information for expert speakers on human rights. Read more.
November 6, 2020
The Project aims to raise awareness of Canadians with disabilities, particularly youth with disabilities and people from ethno-cultural communities, about available human rights remedies to discrimination and how to access those remedies. Read more.
December 21, 2018
The Council of Canadians with Disabilities (CCD) celebrates Canada's accession to the Optional Protocol. We recognize that accession reinforces the commitment that the Federal, Provincial and Territorial governments have made to ensuring that people with disabilities have full enjoyment of their human rights, as elaborated in the CRPD, which Canada ratified in 2010. CCD called upon Canada to accede to the Optional Protocol because the mechanism strengthens the human rights protections that are available to people with disabilities in the CRPD, and we congratulate you on this important advance. Read more.
More on Canada and the CRPD
May 23, 2017
December 23, 2016
June 22, 2015
February 28, 2014
August 2, 2013
June 3, 2013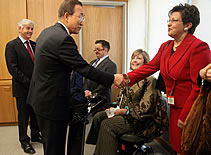 Canadian Foreign Minister Lawrence Cannon, far left, observes as U.N. Secretary-General Ban Ki-moon, second from left, meets members of the Canadian delegation including Steven Estey, center, with the Council of Canadians with Disabilities; Traci Walters, second from right, with Independent Living Canada; and the Canadian Association for Community Living President Bendina Miller, far right, at the United Nations in New York, Thursday March 11, 2010. Canada ratified the U.N. Convention on the Rights of Persons with Disabilities, a historic first international treaty that comprehensively recognizes the rights of persons with disabilities. (AP Photo/Bebeto Matthews)