Act Now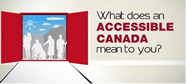 The Government of Canada is leading consultations to inform planned accessibility legislation.
In-person sessions are coming soon to your community. Now is the chance to have your say. Read more.
Sign Up for a Voice of Our Own
A quarterly newsletter from CCD.
Monitoring of the CRPD
That the Canadian Human Rights Commission (CHRC) be appropriately resourced and named as the lead monitoring body in Canada for the United Nations Convention on the Rights of Persons with Disabilities (CRPD); and that the CHRC carry out this function in partnership with other provincial/territorial human rights commissions; and that the CHRC develop an appropriate engagement strategy with organizations representing persons with disabilities as partners in the monitoring process; and that the CHRC appoint a Disability Commissioner to oversee the CRPD monitoring work.
Background

Canada ratified the CRPD on March 11, 2010.
In the Government of Canada's Explanatory Memorandum on the CRPD they do not specifically name the Canadian Human Rights Commission as the CRPD monitoring body. They did state that the monitoring body would meet the Paris Principles. They did name the Office for Disability Issues in HRSDC as the governmental focal point for development of an implementation strategy.
CHRC meets the requirements of the Paris Principles.
New Zealand has developed an approach similar to this recommendation. It has designated its national human rights commission as the independent mechanism to promote, protect and monitor the implementation of the rights contained in the CRPD. It further enhanced this role by appointing a special commissioner with responsibility for disability rights to meet the obligations required by the CRPD. New Zealand also gave a monitoring role to a Convention Coalition made up of organizations representing persons with disabilities.
Canada named Mines Action Canada (an NGO) some years ago as the body to monitor the Landmines Treaty Ban. Initially this NGO was resourced to do the monitoring work but resources have been greatly diminished and the work is no longer sustainable.
CCD is of the opinion that establishing a separate, independent monitoring mechanism, at this time in Canada, poses several challenges including that it:
Would likely not succeed given the current political climate;
Could contribute to segregation and isolation of the human rights of persons with disabilities from other equality rights claims and interests, i.e., the disability community is not a homogenous group, individuals may face discrimination on multiple grounds – disability, gender, ethnicity, sexual orientation, etc.;
May lead human rights commissions to reduce emphasis on disability-based discrimination.
Some are concerned that Human Rights Commissions have not met the expectations of equality seekers and thus providing them with a greater role may only exacerbate the problem. Others argue to separate monitoring of CRPD from the Commission would further diminish the capacity of Commissions to fulfill the broad vision equality seekers expect of them.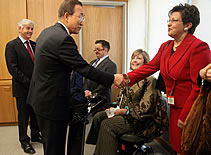 Canadian Foreign Minister Lawrence Cannon, far left, observes as U.N. Secretary-General Ban Ki-moon, second from left, meets members of the Canadian delegation including Steven Estey, center, with the Council of Canadians with Disabilities; Traci Walters, second from right, with Independent Living Canada; and the Canadian Association for Community Living President Bendina Miller, far right, at the United Nations in New York, Thursday March 11, 2010. Canada ratified the U.N. Convention on the Rights of Persons with Disabilities, a historic first international treaty that comprehensively recognizes the rights of persons with disabilities. (AP Photo/Bebeto Matthews)