Act Now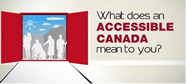 The Government of Canada is leading consultations to inform planned accessibility legislation.
In-person sessions are coming soon to your community. Now is the chance to have your say. Read more.
Sign Up for a Voice of Our Own
A quarterly newsletter from CCD.
CCD Wins Removal of Longstanding Barrier to Mobility and Travel
On November 20, 2008, CCD won the removal of another longstanding barrier to mobility and travel—air carriers' practice of charging additional fares to people with disabilities whose disabilities necessitated the use of an extra seat in-flight. The Supreme Court of Canada denied Air Canada and WestJet's request to appeal the decision of the Canadian Transportation Agency which requires Air Canada and WestJet to accommodate persons who need additional seating because of their disability. CCD launched this case in 2002 to remove this barrier. Following the decision, there was a positive response in the media to this decision. The following Globe and Mail editorial for November 21, 2008 is one example of the coverage received on this issue:
Actual, bearable accommodations

November 21, 2008
Accommodating disabled people should be seen as part of the cost of doing business in Canada. That is at the heart of a Supreme Court judgment yesterday upholding free domestic flights for the attendants of severely disabled people. The same judgment went too far, however, in its accommodation of obese passengers. That excess may have the effect of undermining broad support for special treatment for those with special needs.
Severely disabled people are required by the airlines to have a personal attendant with them. This applies to those who need help with the most basic functions: using the bathroom, eating meals, taking medicine, evacuating the plane in an emergency. (Those who need personal attendants to disembark are not covered.) These people may have intellectual or physical disabilities to the point that they are not self-reliant. If they have to pay for a seat for their required attendant, many will not be able to travel by plane. And Parliament, when it passed the Canadian Transportation Act, which covers the airlines, insisted on accessibility. This isn't a case of a court or tribunal "reading in" a provision to a law. (The initial ruling was made by the Canadian Transportation Agency, a quasi-judicial tribunal; yesterday, the Supreme Court declined to hear an appeal by Air Canada and WestJet.)
It is difficult to see, however, how the obese fit among the severely disabled. It is not making light of the matter to ask why a team of Sumo wrestlers might be deserving of a free upgrade to business class or two economy-class seats, which is what this ruling orders. In a society with more and more obese people, this seems a costly burden to impose on the airlines. As a precedent, it seems to lead into a vast unknown of onerous accommodations. Air Canada, for one, has flexible rates and policies for oversized passengers that should have sufficed.
In this case, the costs of accommodation were bearable. The free seats for attendants, even including the extra seating for obese people, would have cost $7.1-million in 2005, the CTA estimates. It's not pocket change, and airlines do run on thin margins, so much so that they are now charging customers who wish to bring a second piece of luggage. But out of total reported revenue of $8.2-billion, it's just 0.09 per cent. Air Canada could cover the cost by raising ticket prices 77 cents, the CTA said.
The real question is whether Canadians are content to pay lip service to bringing the disabled into the mainstream while leaving them in effect shut inside their homes. It is a question that involves the mentally ill as well as the physically disabled. Bringing either group into mainstream life - on to regular city or inter-city buses, into subways and movie theatres and the workplace, means making actual accommodations. And paying for them.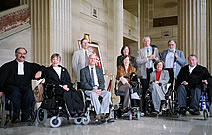 CCD wins VIA Rail case at the Supreme Court of Canada on March 23, 2007.