Act Now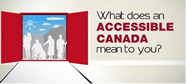 Empower U: Learn to Access Your Disability Rights Training on Canadian Human Rights, the Convention on the Rights of Persons with Disabilities (CRPD) and its Optional Protocol (OP) training aims to increase awareness of how to address discrimination using more familiar Canadian human rights laws such as Human Rights Codes and the newer international Convention on the Rights of Persons with Disabilities (CRPD). This is training for persons with disabilities by persons with disabilities. The training is part of a project funded by Employment and Social Development Canada and implemented by the Council of Canadians with Disabilities (CCD) in collaboration with Canadian Multicultural Disability Centre Inc. (CMDCI), Citizens With Disabilities – Ontario (CWDO), Manitoba League of Persons with Disabilities (MLPD) and National Educational Association of Disabled Students (NEADS). Read more.
Sign Up for our monthly digest
A monthly newsletter from CCD about what is happening in the community
An Overview of Progress and Barriers in Federally Regulated Transportation
by
Pat Danforth, CCD Transportation Committee Chairperson
Working for an inclusive and accessible Canada.
Progress is slow when it comes to accessibility in transportation in Canada. I would like to highlight a couple of successes that are emerging.
First, to be truly inclusive we need to be more user friendly for folks with sensory disabilities. That's why Air Canada's recent announcement gives CCD some hope.
Air Canada will be the first airline in the world to introduce 'text-to-speech' functionality on its in-flight entertainment system, making it easier for blind and vision impaired passengers to navigate.

The feature is available on Boeing 787s, which have recently been introduced to Air Canada's fleet. Voices are fed from the text-to-speech software that Air Canada licenses to operate its content management system. As well, Air Canada is looking at the possibility of adding audio description to its in-flight movies.
These developments come in the wake of a US Department of Transportation notice of proposed rulemaking about accessible in-flight entertainment systems, which it intends to implement in 2015.
Second, our friends at VIA have announced that the Canadian between Toronto and Vancouver will include a newly renovated Park car featuring an accessible cabin designed for people with disabilities. This new cabin is a result of a settlement of a class action complaint from Quebec. The new accessible cabin for two was designed following extensive research of accessibility requirements within the transportation industry. Four Park cars used on the Canadian will be reconfigured to include a fully accessible cabin. It means this cabin will be available from Halifax to Vancouver.
The Renaissance cars purchased in 2000 and subject to the CCD/VIA complaint to the Supreme Court decision of "no new barriers", are, finally on the tracks and useable by wheelchair users only 14 years after purchase. They include an Economy class car wheelchair tie-down, an accessible bathroom and a fully accessible sleeper cabin on each departure. Also each Renaissance Economy class car was modified to offer seating for passengers travelling with a service animal, and fold-up armrests were installed on 2 two-person seats as well as 4 individual alley seats.
While there are some positive changes we see the need for continued improvement. One area that we would like the CTA to look into further is the one person, one fare policy. While we acknowledge it is the airlines that were named in the original complaint that are solely responsible for the implementation and monitoring of the policy, recent press has pointed to some problems with folks with episodic disabilities.
CCD requested a survey be done by the CTA of Canadian airlines on 1 person 1 fare, domestically and internationally. The survey could examine posting of information to inform the travelling public and the application procedure followed.
Airlines have had more than sufficient time to review the AC and WestJet precedent and to adopt policies of their own.
This could be useful for the community (informed consumer choice).
Another area that makes the traveling public with disabilities frustrated is the ability to get from one carrier to another, including international flights.
Presently, carriers are only responsible to assist you to the ground transportation door. In my view, this is an undue obstacle when traveling especially for international flights. Often, they require you to proceed to another terminal within the same airport. It is not possible to get from one terminal to the other carrying baggage and medical equipment.
Travelers in the United States report carriers assisting individuals from one carrier to another carrier even in another terminal. CCD suggests that the same standard be implemented in Canada to mitigate this undo obstacle for traveling.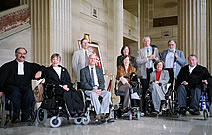 CCD wins VIA Rail case at the Supreme Court of Canada on March 23, 2007.