Act Now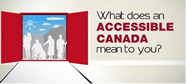 Empower U: Learn to Access Your Disability Rights Training on Canadian Human Rights, the Convention on the Rights of Persons with Disabilities (CRPD) and its Optional Protocol (OP) training aims to increase awareness of how to address discrimination using more familiar Canadian human rights laws such as Human Rights Codes and the newer international Convention on the Rights of Persons with Disabilities (CRPD). This is training for persons with disabilities by persons with disabilities. The training is part of a project funded by Employment and Social Development Canada and implemented by the Council of Canadians with Disabilities (CCD) in collaboration with Canadian Multicultural Disability Centre Inc. (CMDCI), Citizens With Disabilities – Ontario (CWDO), Manitoba League of Persons with Disabilities (MLPD) and National Educational Association of Disabled Students (NEADS). Read more.
Sign Up for our monthly digest
A monthly newsletter from CCD about what is happening in the community
Disability-Rights Organizations' Public Statement on the Urgent Need to Rethink Bill C-7, The Proposed Amendment to Canada's Medical Aid in Dying Legislation
COVID-19 Crisis has Exposed Systemic Ableism in Healthcare

COVID-19 has clearly revealed the ableism that is rampant in Canada's healthcare system. Over the past five months, we've seen not only the introduction of critical care triage protocols which identify the preexistence of a disability as an exclusion criterion for critical care, in the event that rationing of resources, such as ventilators, becomes necessary due to overwhelming demand; we've also seen elderly and disabled people who fall ill being left to die in nursing homes and never sent for medical care in hospitals. We are promised better facilities for warehousing elderly and disabled people, rather than in-home supports where the risk of contagion is lower. Provinces raise pay rates for personal support workers in nursing homes, luring away those who provided home care and stranding disabled and elderly people without community supports. In short, the policy failures that cause people to ask for assisted suicide and euthanasia have been laid bare and amplified, yet nothing is being done to change those policies. And the elective procedure that is MAiD continues apace, even as cancer and corrective procedures are postponed.

An Urgent Call to Re-Think Bill C-7

The Canadian disability-rights community remains united in denouncing Bill C-7 as an assault on the Equality Rights of people with disabilities. The flaws—and, indeed, the overt pro-MAID bias— which characterized the "consultation" process leading up to the tabling of Bill C-7 are well documented. In short, everything from the online questionnaire to the in-person consultations were geared toward a pre-determined outcome, namely, the expansion of Medical Assistance in Dying as a legally- and socially-sanctioned substitute for assistance in living that we see in Bill C-7.

Many social commentators have contended that the COVID-19 crisis is instigating a sober re-thinking of our values and priorities as a society, and speculate that our "new normal" will include a new appreciation of both the value and the fragility of human life, and a consequent new commitment to protecting and supporting the lives of everyone, including those who require assistance with personal care. Disability-rights advocates are calling for a parallel sober re-think of the ways in which the lives of Canadians with disabilities can be both protected and supported, while maintaining a careful balance of equality rights and autonomy rights. This re-think needs to begin with the substantive revision of Bill C-7 before it is reintroduced.
1. Council of Canadians with Disabilities (CCD)
2. Inclusion Canada (formerly Canadian Association for Community Living)
3. Val Surbey, Winnipeg, Manitoba - "as an individual who has Substitute Decision Making Status for two of my sons"
4. Nancy E Hansen, PhD, Winnipeg, Manitoba
5. Audrey D. Cole O.Ont.
6. Shabbir M.H. Alibhai, MD, MSc, FRCPC
7. Prof. Tanya Titchkosky, Disability Studies, University of Toronto.
8. Denise Walker, Smiths Falls, Ontario
9. Planned Lifetime Advocacy Network
10. Sally A. Kimpson, RN, PhD
Critical Disability Studies Scholar & Activist
11. Mary Kate Gazendam, MD, CCFP, FCFP
12. Nancy Craig , family doctor, Edmonton AB, and parent of an adult with disabilities
13. Eliza Garrett
14. Linda Sepp
Nepean, Ontario
15. Ann F. Garrett, Bright's Grove, Ontario
16. Sophia Ho, Aurora, Ontario
17. Community Living Ontario
18. Lisa Bendall, Toronto Ontario
19. Richard Wynia, Beamsville, ON
20. The Association for Reformed Political Action (ARPA)
21. Jeff Preston, PhD
22. Susan Mahipaul, PhD, OT Reg. (Ont.)
Critical Disability Scholar & Advocate
23. Rose Galbraith
24. Catherine Frazee, Professor emerita, Ryerson University School of Disability Studies.
25. Inclusion Saskatchewan
26. Robert M. Randoy
27. Beverly A. Randoy
28. Alexandre Savoie-Perron
29. Evangelical Fellowship of Canada
30. Lorraine Silliphant
31. Rabbi David Seed, president of the Toronto Board of Rabbis
32. L'Arche Canada
33. Karen Mason, Retired family physician
34. Mary OConnor MD, Ottawa, Ontario
35. Maria Wolfs, MD MHSc FRCPC
Staff endocrinologist St. Michael's Hospital, assistant professor University of Toronto
36. Dr. Teresa McKenna
37. Alex Schadenberg, Executive Director – Euthanasia Prevention Coalition
38. Karol Boschung, B.A.(Hons)
Medical Student, University of British Columbia
39. Sheila Rutledge Harding, MD, MA, FRCPC
40. Wlodzimierz (Vladimir) Sokolowski MD
41. Theresa Winchester
42. Michael Bayer, MD
43. Cynthia L Haig MD
44. Dennis Bowie, MD, FRCP(Respirology)
45. Robert J W Blanchard Md, BSc(Med), MS (Surg), FRCS, FACS. Professor Emeritus, Surgery
46. Thomas L. Cavanagh, Lloydminster, Alberta
47. Ivan R. Unger MD retired
48. Suzanne Parenteau
49. Judy Sloan
50. Teresa Ostapowicz, family physician
51. Jesse Fontaine
52. Colleen Shantz, Calgary, Alberta
53. Paul-Émile Trudeau
54. Hélène Lapointe, Montréal
55. Gordon Duncan
56. Lois Duncan
57. Margaret M Cottle, MD, CCFP(PC)
58. Rene Leiva, MD Ottawa
59. Dr. Sherry Chan, MD, CCFP
60. Andrea Milne-Epp, Edmonton, Alberta
61. Gordon Friesen, Montreal
62. Marie-Charlotte Koenig, MD, CCMF
63. Dr. Barbara Powell MD, CCFP, FCFP
64. Dr Eileen Cochien
65. Catherine Ferrier MD
66. Dr Pierrette Girard
67. Roman Zyla, MD
68. Alexandra Zyla, MD
69. Anthony Kerigan, Palliative Physician, Hamilton ON
70. André Rochon, médecin omnipraticien, Montréal
71. Paul Yong, MD, PhD, FRCSC
72. Jean-Bernard Girodias, CHU Sainte-Justine, Montréal, QC
73. Cameron W. Pierce (MD/FRCPC General Internal Medicine, Respirology), Vancouver, BC, Canada
74. Michael Hale, President, Alliance for Life Ontario
75. Mrs Jakki Jeffs, President Catholic Women's League, Basilica of Our Lady Immaculate
76. Canadian Angelman Syndrome Society
77. Dr Amy Megyesi, Full service family medicine, Salmon Arm, BC
78. Natalia Novosedlik, CCFP(PC)
79. Catherine L McCallum
80. Donald JB McCallum
81. Dre Geneviève Falardeau
82. Canadian Physicians for Life
83. Olga Riedemann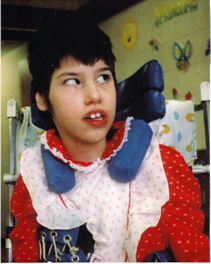 Tracy Latimer
The Latimer case directly concerned the rights of persons with disabilities. Mr. Latimer's view was that a parent has the right to kill a child with a disability if that parent decides the child's quality of life no longer warrants its continuation. CCD explained to the court and to the public how that view threatens the lives of people with disabilities and is deeply offensive to fundamental constitutional values. Learn more.