Act Now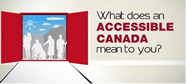 The Government of Canada is leading consultations to inform planned accessibility legislation.
In-person sessions are coming soon to your community. Now is the chance to have your say. Read more.
Sign Up for a Voice of Our Own
A quarterly newsletter from CCD.
Euthanasia/Assisted Suicide
CCD is committed to the principles of self-determination and the positive promotion of the image of Canadians with disabilities in society in a manner that is consistent with the principles of equality, personal security, freedom of conscience and human dignity.
CCD believes that the devaluation of the lives and experiences of persons with disabilities has been used to justify acts of violence against people with disabilities, including the murder of people with disabilities.
CCD opposes actions that may serve to further devalue the lives of people with disabilities in Canada or promote the negative stereotypes about people with disabilities as suffering individuals in need of state regulated assistance to end our lives.
CCD opposes any government action which denies people with disabilities their constitutional rights to equality, personal security, and human dignity.
CCD is committed to actions which promote a positive image of persons with disabilities.
CCD opposes government action to decriminalize assisted suicide because of the serious potential for abuse and the negative image of people with disabilities that would be produced if people with disabilities are killed with state sanction. (Policy statement passed by the CCD National Council of Representatives on June 8, 1996.)
Recent Work
September 4, 2018
The Canadian Association for Community Living (CACL) and the Council of Canadians with Disabilities (CCD) strongly call on the federal government to strengthen the monitoring system for medical assistance in dying (MAiD). Read more.
April 15, 2016
"In the Carter decision, the Supreme Court of Canada gave the Government of Canada two assignments (1) develop a regime to provide dying people access to assisted suicide and (2) protect vulnerable Canadians who at a time of weakness may be influenced to accept medical aid in dying. Unfortunately, C-14 has some serious gaps when it comes to protecting the vulnerable," states Rhonda Wiebe, a Co-Chair of CCD's Ending of Life Ethics Committee. "Canada must do enough to protect people like me and other Canadians with disabilities who can be made vulnerable by both our health conditions and our social and economic circumstances". Read more.
March 29, 2016
Read more for a sample letter that individuals can send to their MPs supporting the Vulnerable Persons Standard and asking that its terms be incorporated in the law regulating assisted suicide/euthanasia. Read more.
More on Euthanasia/Assisted Suicide
January 28, 2016
January 15, 2016
October 14, 2014
October 9, 2014
April 10, 2014
April 23, 2013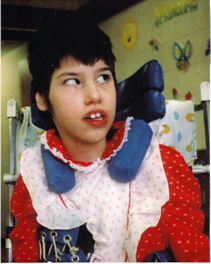 Tracy Latimer
The Latimer case directly concerned the rights of persons with disabilities. Mr. Latimer's view was that a parent has the right to kill a child with a disability if that parent decides the child's quality of life no longer warrants its continuation. CCD explained to the court and to the public how that view threatens the lives of people with disabilities and is deeply offensive to fundamental constitutional values. Learn more.