Act Now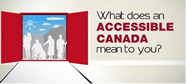 Empower U: Learn to Access Your Disability Rights Training on Canadian Human Rights, the Convention on the Rights of Persons with Disabilities (CRPD) and its Optional Protocol (OP) training aims to increase awareness of how to address discrimination using more familiar Canadian human rights laws such as Human Rights Codes and the newer international Convention on the Rights of Persons with Disabilities (CRPD). This is training for persons with disabilities by persons with disabilities. The training is part of a project funded by Employment and Social Development Canada and implemented by the Council of Canadians with Disabilities (CCD) in collaboration with Canadian Multicultural Disability Centre Inc. (CMDCI), Citizens With Disabilities – Ontario (CWDO), Manitoba League of Persons with Disabilities (MLPD) and National Educational Association of Disabled Students (NEADS). Read more.
Sign Up for a Voice of Our Own
A quarterly newsletter from CCD.
Excerpt from House of Commons: Bill C-304, an act to amend the Criminal Code (aiding suicide)
March 6, 1997
PRIVATE MEMBERS' BUSINESS
CRIMINAL CODE
Mr. Svend J. Robinson (Burnaby-Kingsway, NDP) moved that Bill C-304, an act to amend the Criminal Code (aiding suicide), be read the second time and referred to a committee.
He said: Mr. Speaker, each year in Canada more than 190,000 Canadians die. We know that some 40,000 Canadians die each year of tobacco related causes and I am very pleased that this House has just passed Bill C-71 which will have an impact on health, in particular young Canadians.
Of those 190,000 Canadians who die each year, some die of heart disease, cancer, respiratory diseases, AIDS and other infections. They die of trauma, genetic illness or a host of degenerative diseases.
Among those Canadians who die each year are a small number of Canadians who unfortunately and tragically suffer terribly. The purpose of the bill before the House today is to amend the provisions of the Criminal Code of Canada, specifically section 241 of the Criminal Code, to allow individuals who are terminally or incurably ill, who are suffering terrible anguish, pain or indignity who cannot be assisted by palliative care, to seek the assistance of a doctor to end that pain and suffering.
The last time I introduced this legislation was September 21, 1994. Earlier that same year, on February 12, 1994, Sue Rodriguez died. Sue had fought a long and courageous battle, a long and courageous battle in Parliament through parliamentary committees, in the media, publicly through a variety of public fora and of course in the courts to change the criminal law.
On September 30, 1993 the Supreme Court of Canada ruled against her petition. By the narrowest possible majority of five to four, the Supreme Court of Canada upheld the constitutionality of section 241 of the Criminal Code of Canada. Before that the British Columbia Court of Appeal, again a deeply divided court with the chief justice of the court dissenting, upheld the constitutionality of that law.
What every judge of the supreme court clearly argued, what each of the three judges of the B.C. Court of Appeal powerfully and eloquently stated, was that this issue, this complex, difficult and in some cases agonizing issue, is one which must ultimately be resolved by the Parliament of Canada, which must ultimately be decided by the elected representatives of the people of Canada.
In the days following the death of Sue Rodriguez the Prime Minister of Canada and the Minister of Justice both promised in this House and elsewhere that there would be a free vote in the House of Commons, that each member of the House of Commons would wrestle with their conscience, would listen to the arguments of their constituents and others and would be allowed to vote on this change in a free vote.
In my speech on this bill previously in September 1994, I reminded the government of that promise. I reminded the government of the commitment that was made, the solemn commitment of the Minister of Justice, the Prime Minister and of many other members of the government to allow this House to vote on that issue. I suggested that there might be a vote on that issue hopefully by June 1995.
Here we are over two and a half years later, and after those promises were made what we see is once again betrayal, once again another broken Liberal promise.
There is a very important and fundamental principle here. Canadians are entitled to assume that when a minister of the crown, when the first minister, the Prime Minister, promises that the House of Commons will be able to vote, surely they are entitled to believe that promise, to take the Prime Minister at his word, to take the Minister of Justice at his word.
That has not happened. When I questioned the Minister of Justice last fall on this issue it was very clear that the House would not be allowed to vote in a free vote or any other vote on this issue in this Parliament. Shame on the government of Canada.
I hear one of my colleagues from the Reform Party agreeing, the member for Elk Island. Whatever one's perspective on this issue, surely we as members of this House should be given an opportunity to voice that perspective, to vote according to our conscience on this issue of how we live and how we die.
What has happened in the meantime since the last debate in this House in September 1994? Too many terminally or incurably ill patients have suffered, in some cases terrible pain or anguish or indignity, or they have been sedated to the point of pharmaceutical oblivion, or in some cases they have chosen to take their own life prematurely because they did not want to face those terrible choices. In some cases they have been assisted, assisted by a loved one, by a family member or by a doctor to end their life in some cases in defiance of the criminal law.
I recall the case of a gentleman from Windsor, Austin Bastable, who chose to leave his country. I say chose to leave his country. He felt he had no choice other than to leave his own country because he was not able to obtain the assistance he sought to end his suffering at the end of his life.
Under the present provisions of the Criminal Code of Canada for an individual who is one of those individuals, and I believe it is a very small number, who is terminally or incurably ill, who has sought the assistance of a physician, who has sought palliative care, pain management, that individual for whom palliative care or proper pain management simply and unfortunately did not respond to their suffering, what are their choices?
Yes, there are Canadians in that situation. Fortunately through good palliative care there are only a small number of Canadians who cannot be assisted. But even the Canadian Association of Palliative Care Physicians and others acknowledge that there are a small number who cannot be assisted by palliative care, who will suffer pain, anguish, profound indignity.
Under the existing provisions of the Criminal Code, those people, in the final few months of their lives, face one of two choices. I remind this House that suffering in many cases is shared by their families and loved ones. Either they continue to suffer or be sedated into a state of complete stupor or pharmaceutical oblivion, as one of the witnesses to the Senate committee recently said.
For some Canadians those choices are simply not acceptable. It is for that small number of Canadians that I believe another option should be made available. One of those Canadians was Sue Rodriguez. It is because I believe the other option, the other choice should be made available, with very strict safeguards to be sure, that I am presenting once again this private member's bill to amend section 241 of the Criminal Code.
I believe it is profoundly unjust and inhuman to force people to make that choice between suffering and anguish on the one hand and complete stupor and sedation on the other.
There have been some developments both in the law and in Parliament since the last debate in this House. The Northern Territory legislature in Australia became the first jurisdiction in the world to legalize, again with strict safeguards, changes in the law to allow for choice in dying.
Circuit courts of appeal in the United States, the second circuit, the ninth circuit, both ruled in favour of choice in dying.
A special committee of the Senate studied this issue in great depth and came to the same conclusion on the issue of assisted suicide as the Supreme Court of Canada. Again, by the narrowest possible majority, four to three, the Senate committee recommended against a change to section 241 of the Criminal Code.
However, I think it is particularly significant to note that the dissenting senators were Senator Joan Neiman who chaired the committee, a very distinguished senator who no longer sits in that place, Senator Sharon Carstairs and Senator Wilbert Keon, one of the most distinguished heart surgeons in Canada, who in the end supported the change in law which my bill would seek to achieve.
The committee members heard from many witnesses and made a number of profoundly important recommendations. Many of the recommendations I agree with. They recommended that governments make palliative care programs a top priority in the restructuring of the health care system. They recommended that the Criminal Code be amended to clarify the practice of providing treatment for the purpose of alleviating suffering that may shorten life. They recommended that the Criminal Code be amended and necessary legislation be enacted in order to explicitly recognize and clarify the circumstances in which the withholding and withdrawal of life sustaining treatment is legally acceptable. They recommended that provinces move ahead on advance directives.
As I said, a minority, three of the seven senators, recommended changes to section 241 of the Criminal Code as well as voluntary euthanasia for competent individuals who are physically incapable of committing assisted suicide.
Recently Senator Sharon Carstairs presented a bill in the other place, Bill S-13. I commend Senator Carstairs for her leadership on this issue. Her bill would provide that no health care provider who honours the wish of a competent person for the withholding and withdrawing of life sustaining treatment would be guilty of an offence under the Criminal Code.
We are told by a number of people that is the existing law and yet Dr. Wilbert Keon, who seconded Senator Carstairs and who strongly supports her bill, has said that there remains great uncertainty in the law in this area. He said that many doctors are looking for more definition and more direction from society as to how the subject should be addressed. He said that dying patients are suffering needlessly because their doctors do not want to provide adequate sedatives to reduce pain just in case the drugs themselves cause death and they find themselves facing criminal prosecution.
We should listen to the very powerful plea of Dr. Keon and others to at least take this modest step. When the bill ultimately comes to the House of Commons I hope members will see fit to support that change.
I am somewhat discouraged. If members of the government were not prepared to support a very straightforward proposal to effectively codify the existing law, it is clear to me the proposal to amend section 241 of the Criminal Code is still some way off in terms of support from the Government of Canada.
The Liberal politicians in this case and others are way behind the public. I commend the leader of the Reform Party, the member for Calgary Southwest, who some time ago canvassed the opinion of his constituents. In his survey he found that 82 per cent of his constituents supported this change in the law. The leader of the Reform Party has said that he would vote in respect of the recommendations of his constituents on the issue.
The fundamental issue is one of personal autonomy, the right of a competent adult to make this choice for himself or herself. There are a variety of models before the country. I do not have the time to outline them now.
The Right to Die Society, for example, has put forward a proposal by Dr. Eike-Henner Kluge that warrants serious examination. Dr. Stanley Rosenbaum on behalf of Choice in Dying and a number of people in Ottawa put forward another option. Dying with Dignity has yet another suggestion. There are a variety of proposals. There must be strict safeguards, but at the end of the day choice should be available.
Many doctors believe the law should be changed. A study presented last September to the annual conference of the Royal College of Physicians and Surgeons of Canada by two Calgary doctors, Dr. Douglas Kinsella and Dr. Marja Varhoef, found that a significant majority of doctors supported a change in the law to facilitate and allow physician assisted suicide. That survey was very extensive.
Dr. Marcel Boivert, a very respected palliative care physician at the Royal Victoria Hospital in Montreal, said:
We are playing ostrich if we do not believe that covert, active euthanasia is being practised right now. On Fridays, people who are near dying are having their doses of morphine increased by 50 per cent, 100 per cent or 150 per cent.
Surely it is time to take this issue out of the shadows. It is time to listen to the doctors, other health care workers and social workers like Russel Ogden who pointed out the extent to which this is happening without any safeguards. It is sometimes horribly botched in the community of people who are dying of AIDS.
Sooner or later our laws will change to end this cruelty. I hope it is sooner. It is clear we cannot rely on the courts. Perhaps it will take a brave doctor to challenge the law. I do not believe in the narrow circumstances that any jury would unanimously convict. We recall it was another doctor who challenged the law on abortion which ultimately led to the Supreme Court of Canada striking down the law.
I urge Canadians who are concerned about the issue to ask candidates in the upcoming federal election where they stand on this important issue.
In closing, I remind members of this House that in her final public words Sue Rodriguez said:
I hope my efforts will not have been in vain and that the Minister of Justice will introduce legislation into Parliament soon so that terminally ill people will have another option available, thereby permitting physician assisted suicide for the terminally ill.
I quoted those words in concluding my remarks in September 1994. I wanted to quote those words again and leave the House with them. As I said at that time, I profoundly hope Parliament will respond to this plea.
I have to ask how much longer we must wait before the law changes. How much longer must we wait before the House is allowed to vote on the issue? How many more people and families must suffer in some cases unspeakable pain, anguish and indignity before the law is finally changed?
Mr. Gordon Kirkby (Parliamentary Secretary to Minister of Justice and Attorney General of Canada, Lib.): Mr. Speaker, I rise today to comment on Bill C-304, an act to amend the Criminal Code (aiding suicide), introduced in the House by the hon. member for Burnaby-Kingsway.
Let me begin my remarks by recognizing that the hon. member has on a number of occasions attempted to bring the issue before members of the House for discussion and debate. Clearly it is a matter of particular concern to our colleague. I commend him for his efforts in trying to deal with what he perceives as weaknesses in the current provisions of our Criminal Code which deal with aiding suicide.
Before I turn to the specific provisions contained in Bill C-304 I would like speak of the work undertaken in the Senate to examine this and relate issues. The matter of assisted suicide and a variety of subjects related to the end of life care and decision making such as palliative care, cessation and withdrawal of treatment and euthanasia were examined in great detail by members of the Special Senate Committee on Euthanasia and Assisted Suicide. The special committee issued its report on life and death following many months of hearings and deliberation.
The Senate currently has before it Bill S-13, an act to amend the Criminal Code (the protection of health care providers), which is now the subject of second reading debate. The purpose of the bill as stated by the hon. senator who sponsored the bill is to implement the unanimous recommendations and chapters 4 and 5 of the Senate report which deal with pain and pain control and the withholding of and withdrawal of life sustaining treatment.
Senator Carstairs has taken great care to point out when discussing the subject matter and merit of the proposed amendment to the Criminal Code that it does not deal with either assisted suicide or euthanasia. Why is that? I suggest that it is because the members of the special Senate committee were not unanimous with respect to the matter of assisted suicide.
After months of study and deliberation they were unable to agree that the Criminal Code should be amended to remove the prohibition against aiding suicide. I further suggest this lack of unanimity may well reflect the views of many Canadians with respect to the issue. There is great public interest in issues surrounding the end of life. These are issues which every one of us must face. We must bear in mind, however, that there are many perspectives from which to examine these issues, be they medical, legal, social or ethical.
In addition, we must remember these issues are not confined solely to an analysis of assisted suicide or physician assisted suicide.
I would like to take a few moments to provide a brief overview of the analysis of the particular provisions contained in the bill proposed by the hon. member for Burnaby-Kingsway.
Bill C-304 provides that no qualified medical practitioner commits an offence of counselling, aiding or abetting suicide or any other criminal code offence where the practitioner aids a terminally ill person to commit suicide at the request of and with the voluntary consent of that person, with the approval of at least one other qualified practitioner.
Some may think at first glance that this provides concise and sufficient guidelines. I am of the view that if we were to agree at any time that such an amendment is required more work would be necessary to give Canadians the appropriate legal framework within which to reach this kind of decision.
Save for the exception presented in the proposed subsection 241(2), aiding suicide would remain an indictable offence with a maximum of 14 years imprisonment. The circumstances in which the protection would operate must be clear. I suggest that a number of clarifications would be required.
First, the term terminally ill is not defined. There is no generally accepted medical definition for this term, only operative definitions, for example, for placement in palliative care. This would prove problematic.
Second, as set out in Bill C-304 the patient must provide voluntary consent without spelling out what constitutes voluntary consent. One potential difficulty is that there is no requirement that the patient be competent to consent. I suggest by way of example that persons suffering from depression may not be competent and may still provide voluntary consent.
Third, there are no provisions in the bill regarding the situation of the incompetent patient. This was an issue raised during argument in the Rodriguez case before the Supreme Court of Canada, that is how the case of the incompetent patient would be dealt with if competent patients were permitted to request assisted suicide.
Fourth, the bill does not deal specifically with children. Though the general language of the bill would include children, there are no provisions dealing with substituted consent in the bill. Are children who may be able to give valid consent to be permitted to request assisted suicide? If substituted consent is to be provided who may validly give that consent?
Fifth, we are all aware that family and friends of patients are sometimes prevailed upon to assist the patient in dying. As written Bill C-304 would provide no protection even to the most sympathetic cases of this kind. It would provide protection only for those in the status of a physician. While it is not suggested that this is or is not the manner in which the House may decide to deal with the issue, it is important to ensure that when we do so we are cognizant of and discuss all situations where the need to address the question of assisted suicide may arise.
As the Prime Minister has indicated this is a highly complex social and moral issue. Assisted suicide, euthanasia and cessation of treatment are difficult matters for all Canadians. The Senate committee after many months of consultation produced a very thoughtful report which must be considered by everyone concerned with these issues. They were unable to agree on how the matter of assisted suicide should be addressed.
We have been assured by the Prime Minister and the Minister of Justice that it is the intention of government to provide through Parliament at the appropriate time a forum for informed discussion to allow members to consider matters relating to the end of life decisions.
Therefore, while I commend the hon. member for Burnaby-Kingsway for the steps he has taken to see that parliamentarians turn their minds to these issues, in my view it would be inappropriate for members of the House to deal with the amendments proposed in Bill C-304.
[Translation]
Mr. Maurice Bernier (Mégantic-Compton-Stanstead, BQ): Mr. Speaker, I am pleased to participate in this debate on Bill C-304 introduced by our colleague, the hon. member for Burnaby-Kingsway, and I have several reasons for that, the main one being that the debate stirred by our colleague is one that has been going on for years in our society. I am convinced-and I will get back to it later in my remarks-that a great many people wish the government would move on this.
First of all, I would like to congratulate the hon. member for Burnaby-Kingsway and commend his courage on this issue and others in the past, particularly what he did for Sue Rodriguez. Through his courageous actions, he keeps the debate alive and gives it credibility. This is much to his credit.
As he pointed out, assisted suicide is a serious issue that deserves consideration. Again, this is a moral issue and, as such, it necessarily calls for a free vote in this House and, as hard as it may be to deal with psychologically and emotionally, it needs to be addressed and solutions need to be found.
In debating bills in this House, it is often argued that, when a government at any level adopts legislation, there is already a broad public consensus on this issue. Governments always act after the fact, because governments are seldom proactive, and this issue is a perfect case in point.
My hon. colleague from Burnaby-Kingsway mentioned surveys, and several could be quoted here, all of which clearly show that the public is far ahead of politicians, and government members in particular, because, so far, they have not had the courage to fulfil their commitments in this respect. They are way behind because there is a broad public consensus that this issue should be addressed not only on a legal level but also on a human level.
We all recall that, just a few years ago-I am sure it must have been the same in the rest of Canada as in Quebec-one would go out of his way to maintain anyone who was ill, especially the terminally ill, by any therapeutic means available, whether drugs or technology.
The medical community, and particularly the public, protested against what was then called aggressive therapy. The expression became widely known. Eventually, a stop was put to this practice, except for rare isolated cases. Now, the medical community and the public at large recognize the need to respect the individual.
This is a fundamental notion that comes into play when a person reaches the end of his life. I believe an individual has the legal right, but should also have the opportunity to die with dignity, when faced with a disease that leaves him no hope and nothing to do but wait for a lingering death.
We can think of the physical and psychological pain of the person who is going to die, but let us not forget the psychological torment of the close ones. That pain too must be taken into account. This is why, in Quebec, the lawmakers introduced a legal provision with a very limited scope, whereby any individual can make what is called a living will. This means that the person can, in an official legal document, decide how he wants his life to end, should he find himself be in a situation where he is unable to make that decision, particularly if faced with an incurable disease that could unduly prolong his life in excruciating pain.
Although I do not have with me figures to support my contention, I know through my family and the people I meet, that an increasing number of people have a living will. In other words, more and more people not only hope, but demand to die with dignity.
It is strange to have a debate on one's right to die with dignity, considering we usually make sure of this for our pets.
Indeed, anyone who owns a sick cat or dog will immediately seek to put an end to its suffering. I am not saying that measures must be adopted blindly that would lead to decisions being taken lightly. I am saying that, when it comes down to it, it seems a bit odd-ridiculous even, I would say-for there to be a discussion of the need to die with dignity. This ought to be an automatically recognized right, which does not need to be proven.
Our present system involves hypocrisy, as the hon. member for Burnaby-Kingsway has said. At the present time, the practice in Quebec-and in the rest of Canada, I understand-is to relieve the suffering of patients who are headed inexorably toward death by stepping up their medication, even if this hastens their end. This cannot, however, be done openly. Physicians or nurses who do so could be brought before the courts at any time, unless the Criminal Code were amended along the lines the hon. member for Burnaby-Kingsway wishes. Let us put an end, then, to this hypocrisy, given the public consensus on this.
I will close on this point. A new term would also have to be adopted to replace ``assisted suicide''. It is true that, in reality, if someone asks to have his life shortened, this is a form of suicide, but I believe that presenting it in this way is putting it in a negative light, whereas all the person is asking is to die with dignity. Everyone ought to have that right.
[English]
Mr. Grant Hill (Macleod, Ref.): Mr. Speaker, I have listened to the speeches today and I must admit that the arguments are seductive. I listened to the member for Burnaby-Kingsway say that very few people in Canada would require these mechanisms.
I have up to date research from a country that has practised euthanasia and assisted suicide. This study from the Netherlands is brand new research which I received last week. This discussion has engaged the Netherlands for some 20 years. Although it is not legal, for about 10 years in the Netherlands there have been no sanctions against euthanasia and assisted suicide, if certain criteria are met. These are the criteria that the Netherlands required for euthanasia or doctor assisted suicide to take place.
It must be voluntary. It must be a well informed, well considered request. There must be a persistent wish to die. There must be in the patient intolerable and hopeless suffering. The procedure requirements are such that another physician must be consulted so that not just one doctor is involved. Finally, a report of the case must be sent to the coroner's office. Those are the tight, nice strict criteria that doctors in the Netherlands must follow.
What has happened in Holland? I am going to be selective in the information I give here. The information is quite vast. About 2,000 people per year have been euthanized in the Netherlands following those criteria supposedly.
In the survey of the family physicians in this study it was found that 9 per cent of those individuals had on one or more occasions deliberately terminated the life of a patient without the patient's explicit request. Let us round out the figure to 10 per cent. About 200 people per year are euthanized in Holland, and I am being very specific, without the patient's consent.
One of the first criteria for euthanasia was that it must be voluntary, then well informed, then well considered, then a persistent wish to die, intolerable and hopeless suffering. For 200 people in Holland none of those things existed. A physician, by himself or herself, decided that the quality of life was no longer worth living. It is the only country in the world where there is this sort of experience.
I believe that the criteria were well meant, were well discussed, were well laid out and failed. The colleagues of mine in the Netherlands who debated this, set down very strict criteria. They failed. They flopped.
I am going to give two examples of how I think this path is the wrong path. The first one is from my own practice experience. I had a terminal cancer patient in hospital. She was suffering all the bad things at the end of life. She said to me in the evening: ``Doctor, could you just give me something to end my suffering?'' I said to her: ``I anguish for you. I feel for you. My heart goes out to you. I think we might be able to find an alternative''. I talked to the nurses on the station telling them my patient was really down. ``We need to change her medication. We need to alter her treatment. Instead of giving her shots, we need to give her some intravenous medication''. We changed the palliation that I had been giving her. My palliation was not good enough.
I got the nurses to stay with her. She needed some personal support that night. Then I phoned her family and said: ``Grandma is really, really tough tonight. Could anyone from the family please come and be with her. She needs some support''. Things did settle down. The medication worked better and she was no longer suffering so badly and I went home. When I went back the next day to the hospital I found her sitting up, playing chess with her nephew. This was a different woman over this span of time.
The next day she said to me: ``Dr. Hill, thank you so much for not listening to me two nights ago''. From that I took it her plea to me was based more on depression and intolerable pain. The change I had made was a palliative change.
I will give another example that is much worse. It is from the Dutch experience. A doctor I know had a compatriot with an 85-year old patient with congestive heart failure, treatable only in a hospital and needing a shot of a medication called Lasix. She did not want to go to the hospital because, she said, they performed euthanasia on 85-year-olds in that place. The physician promised to look after her, so she agreed to go to the hospital.
She received her shot of Lasix which makes the kidneys more effective. She voided all this extra fluid in her lungs and felt much better the next day. It was a Friday and her physician was off duty. He had left to do the normal things a doctor does on weekends.
He returned on Monday to find that the covering physician whom he did not know well had needed a bed for a younger patient. He just went down the list and found the 85-year-old and determined that she was the least likely to live a worthwhile life. Members know the rest of the story. She was gone on Monday when he got there.
He will never be able to face what he did. He had promised her that she would be fine. The best intentions, the best safeguards and the best ideals did not work for that 85-year old individual. It was the wrong way to go.
I can quote my own constituents on the issue. I have polled them and it was fascinating. Thinking there would be a free vote on the issue I did a quick poll. I asked: ``What do you think of doctor assisted suicide?'' The poll came back with 55 per cent in agreement.
When it became obvious I had more time and it would not be a sudden thing, I polled my constituents in a much more specific way. I laid out the options of palliative care, the options that are available, and the switch in my constituents was dramatic. They no longer supported doctor assisted suicide when it was educationally explained to them.
My stand was very plain to them on both surveys. I am against doctor assisted suicide from my personal experiences and my view from international experience. It is the wrong way to go and I do not support any move toward doctor assisted suicide. I will do everything in my power while I am in the House to move down the road toward palliative care, the road toward care for those who are dying rather than snuffing them out.
The Deputy Speaker: There being no further members rising, the hon. member for Burnaby-Kingsway is entitled to sum up the debate fairly briefly.
He has indicated he does not wish to do so.
[Translation]
The Deputy Chairman: As there are no more members wishing to speak and as the motion was not selected as votable, the time provided for the consideration of Private Members' Business has now expired and this item is dropped from the Order Paper.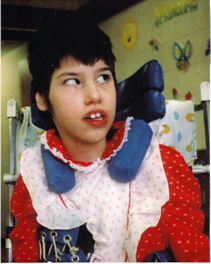 Tracy Latimer
The Latimer case directly concerned the rights of persons with disabilities. Mr. Latimer's view was that a parent has the right to kill a child with a disability if that parent decides the child's quality of life no longer warrants its continuation. CCD explained to the court and to the public how that view threatens the lives of people with disabilities and is deeply offensive to fundamental constitutional values. Learn more.