Act Now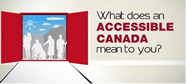 Empower U: Learn to Access Your Disability Rights Training on Canadian Human Rights, the Convention on the Rights of Persons with Disabilities (CRPD) and its Optional Protocol (OP) training aims to increase awareness of how to address discrimination using more familiar Canadian human rights laws such as Human Rights Codes and the newer international Convention on the Rights of Persons with Disabilities (CRPD). This is training for persons with disabilities by persons with disabilities. The training is part of a project funded by Employment and Social Development Canada and implemented by the Council of Canadians with Disabilities (CCD) in collaboration with Canadian Multicultural Disability Centre Inc. (CMDCI), Citizens With Disabilities – Ontario (CWDO), Manitoba League of Persons with Disabilities (MLPD) and National Educational Association of Disabled Students (NEADS). Read more.
Sign Up for our monthly digest
A monthly newsletter from CCD about what is happening in the community
People with Disabilities Appear in Federal Court and Argue that Two Agencies of the Federal Crown have Failed to Accommodate Their Needs in the York Steps Project
For Immediate Release | April 7, 2008
Ottawa—The Council of Canadians with Disabilities (CCD), the national voice of persons with disabilities, was granted permission to participate in the case of Brown and the Canadian Human Rights Commission v. National Capital Commission (NCC) and Public Works (PW) being heard this week by the Federal Court of Canada. The York Steps were constructed in 1999 by the NCC to provide a convenient thoroughfare between Sussex Drive and MacKenzie Avenue. Despite an abundance of information on the need to consider the needs of all persons, the NCC persisted in erecting the steps without regard for the access needs of people who cannot use steps (i.e. people who use wheelchairs, people with limited stamina, people with mobility and agility limitations, parents with strollers, etc.).
In 1999, Bob Brown, a resident of Ottawa decided to fight this outmoded approach to public facilities and filed a complaint with the Canadian Human Rights Commission. A human rights Tribunal concluded that indeed the NCC had acted in a discriminatory manner by failing to accommodate the access needs of persons with disabilities. The Tribunal further ruled that Public Works also discriminated against persons with disabilities by failing to cooperate with the NCC to find an acceptable solution to the problem of the inaccessible steps.
The PW manages the Connaught building adjacent to the York steps. With some renovations, an elevator located in the Connaught building could provide an accessible route for those persons who cannot use the York steps. Unfortunately, PW refused to cooperate arguing that the problem should be solved by the NCC. Both agencies are now seeking judicial review of the Tribunal's decision.
CCD asserts that the inaccessible York Steps represent a bleak view of Canadian society where persons with disabilities continue to be segregated and excluded from the mainstream community. "We are taking a stand for our right to enjoy public spaces without discriminatory barriers like any other Canadian," states Yvonne Peters, Chairperson of CCD's Human Rights Committee. "It is shameful when Government Departments and agencies decide to use tax payers' dollars to fight a Canadian Human Rights Commission ruling supporting inclusion and access."
Today, in support of Mr. Brown's battle for disability rights, CCD had two practical pieces of advice for the Court on how the NCC/PW could have avoided the discrimination created by the lack of accommodation by the York Stairs: consult with experts with disabilities when developing accommodations and adhere to universal design principles when constructing public space.
CCD argues that the developers of an accommodation have a duty to consult with people with disabilities throughout the design and development process. People with disabilities have unique expertise about what is needed in a particular accommodation and this knowledge must be included. "When this expertise is ignored the result is failed accommodations that do not adequately meet the needs of their users. Discrimination and inequality is entrenched," states Laurie Beachell, CCD National Coordinator.
By following Universal Design, NCC, and indeed all builders and designers, would create public space usable by people with the widest range of human abilities. "Universal Design is a formula for an inclusive and accessible Canada and we hope that the Court sends a strong message in favor of this practical method for making all public space welcoming to everyone," states Yvonne Peters, Chairperson of CCD's Human Rights Committee.
-30-
For more information contact:
Yvonne Peters, Chairperson CCD Human Rights Committee: 204-832-0681
Laurie Beachell, CCD National Coordinator: 204-947-0303
Debra McAllister, Legal Counsel: 416-482-8255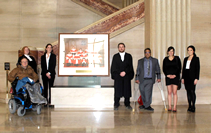 Some members of the CCD team at the Supreme Court of Canada on April 25, 2018 to intervene in S.A. v. Metro Vancouver Housing Corporation. (L. to R. Bob Brown, CCD Human Rights Committee member, Dianne Wintermute, legal counsel (ARCH), Dahlia James, a second year JD candidate at U. of Ottawa and Prof. Ravi Malhotra's Research Assistant and Luke Reid, legal counsel (ARCH) , and Prof. Ravi Malhotra, a member of the Human Rights Committee, Prof. Anne Levesque, Chair of the Human Rights Committee, and Erin Carr, a second year JD candidate.
The Latimer case directly concerned the rights of persons with disabilities. Mr. Latimer's view was that a parent has the right to kill a child with a disability if that parent decides the child's quality of life no longer warrants its continuation. CCD explained to the court and to the public how that view threatens the lives of people with disabilities and is deeply offensive to fundamental constitutional values. Learn more.