Act Now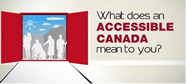 Empower U: Learn to Access Your Disability Rights Training on Canadian Human Rights, the Convention on the Rights of Persons with Disabilities (CRPD) and its Optional Protocol (OP) training aims to increase awareness of how to address discrimination using more familiar Canadian human rights laws such as Human Rights Codes and the newer international Convention on the Rights of Persons with Disabilities (CRPD). This is training for persons with disabilities by persons with disabilities. The training is part of a project funded by Employment and Social Development Canada and implemented by the Council of Canadians with Disabilities (CCD) in collaboration with Canadian Multicultural Disability Centre Inc. (CMDCI), Citizens With Disabilities – Ontario (CWDO), Manitoba League of Persons with Disabilities (MLPD) and National Educational Association of Disabled Students (NEADS). Read more.
Sign Up for our monthly digest
A monthly newsletter from CCD about what is happening in the community
Building An Inclusive and Accessible Canadian Transportation System
For Immediate Release | September 29, 2008
Canada's federally regulated transportation system is neither inclusive nor accessible, states Marie White, CCD Chairperson. "The airlines have repeatedly broken my walker, so I have firsthand knowledge of the barriers in the Canadian transportation system." The Council of Canadians with Disabilities, a national human rights organization, has heard from people with disabilities about such problems as planes that are too small to transport wheelchairs in the cargo area, a traveler, who deemed herself able to travel unaccompanied, was denied transport because the airline wanted her to travel with an attendant, in-flight entertainment units that are not accessible to vision impaired and deaf travelers. "New barriers are being created and old ones, such as carriers questioning a disabled traveler's ability to self-determine whether or not to travel with an attendant, keep coming back. It is a very frustrating situation for a traveler with a disability because you just never know if your trip is going to be uneventful or plagued with frustrating obstacles," states White.
Accessibility standards are a thing of the past for Canada's federal transport system. Voluntary codes of practice are the current Canadian way. The result: travel denied. Once a world leader in accessibility, Canadian access levels fall below other developed countries. CCD seeks the adoption of the US regulatory accessibility model and utilization of US Access Board guidelines and expertise. The disability community's National Action Plan on Disability includes a focus on transportation access. "We are hoping that all the Federal Parties will commit to working with the disability community to regulate the federal transportation system for access," states Marie White, CCD Chairperson.
In April 2000, the Federal Government gave VIA Rail $400 million to purchase new trains. VIA purchased inaccessible cars. Seven years later, the disability community finally won its case at the Supreme Court of Canada. VIA is now required to retrofit the coach cars to make them accessible. "Going to court is not CCD's first choice, but in the current political climate, where there is no social policy agenda, litigation is the only solution that remains," states White. "It is our sincere hope that all Federal Parties agree to work collaboratively with the disability community to eliminate the barriers that exist in the transportation system. Accessibility regulations are long overdue."
-30-
For more information contact:
Marie White, CCD Chairperson - 709-739-8233
Claredon Robicheau, CCD Executive Member - 902-769-2474
John Rae, CCD Vice Chairperson - 416-941-1547
Laurie Beachell, CCD National Coordinator - 204-947-0303 or cel 204-981-6179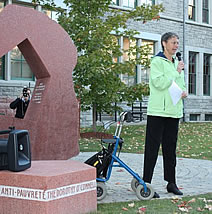 Marie White, a former Chairperson of CCD, addresses anti-poverty rally.