Act Now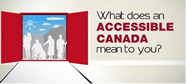 Empower U: Learn to Access Your Disability Rights Training on Canadian Human Rights, the Convention on the Rights of Persons with Disabilities (CRPD) and its Optional Protocol (OP) training aims to increase awareness of how to address discrimination using more familiar Canadian human rights laws such as Human Rights Codes and the newer international Convention on the Rights of Persons with Disabilities (CRPD). This is training for persons with disabilities by persons with disabilities. The training is part of a project funded by Employment and Social Development Canada and implemented by the Council of Canadians with Disabilities (CCD) in collaboration with Canadian Multicultural Disability Centre Inc. (CMDCI), Citizens With Disabilities – Ontario (CWDO), Manitoba League of Persons with Disabilities (MLPD) and National Educational Association of Disabled Students (NEADS). Read more.
Sign Up for our monthly digest
A monthly newsletter from CCD about what is happening in the community
Questions for You to Ask Federal Election Candidates (CRPD)
UN Convention on the Rights of Persons with Disabilities (CRPD)
Will your party commit to delivering on the intent of the CRPD for people with disabilities, particularly women and girls with disabilities and others facing multiple forms of discrimination, by:
Ratifying the Optional Protocol to the CRPD?
Designing a strategy for implementation of the CRPD? (CRPD Article 4, 33)
Naming the Canadian Human Rights Commission to monitor implementation of the CRPD? (CRPD Article 33)
Restoring the Court Challenges Program, which provided resources to disability associations (and other groups) seeking to establish or to confirm their rights under the Canadian Charter of Rights and Freedoms, as a vehicle for promoting a fuller measure of inclusion and citizenship? (CRPD Article 5, 13)
Implementing the strictest possible safeguards and restrictions on assisted suicide? (CRPD Article 4, 10, 19, 25, 26)
Ensuring effective access to palliative care, including rural communities – to meet unmet needs and support caregivers, and to help ensure assisted suicide is a last resort. (CRPD Article 25)
Recognizing ASL/LSQ as an official language? (CRPD Article 2, 21)
Inform Candidates about the CRPD
The CRPD is a new international treaty that envisions a world where people with disabilities have full enjoyment of their human rights. The CRPD is consistent with the guarantees of the Charter of Rights and Freedoms and Canadian human rights laws
The Optional Protocol (OP) is also an international treaty. The OP allows individuals to bring before the CRPD Committee information about violations of their rights and it allows the Committee to undertake investigations of serious violations of the CRPD after all available domestic remedies have been exhausted.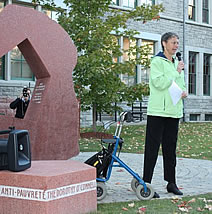 Marie White, a former Chairperson of CCD, addresses anti-poverty rally.